MKE Your Vision for the Year
January 12, 2021 /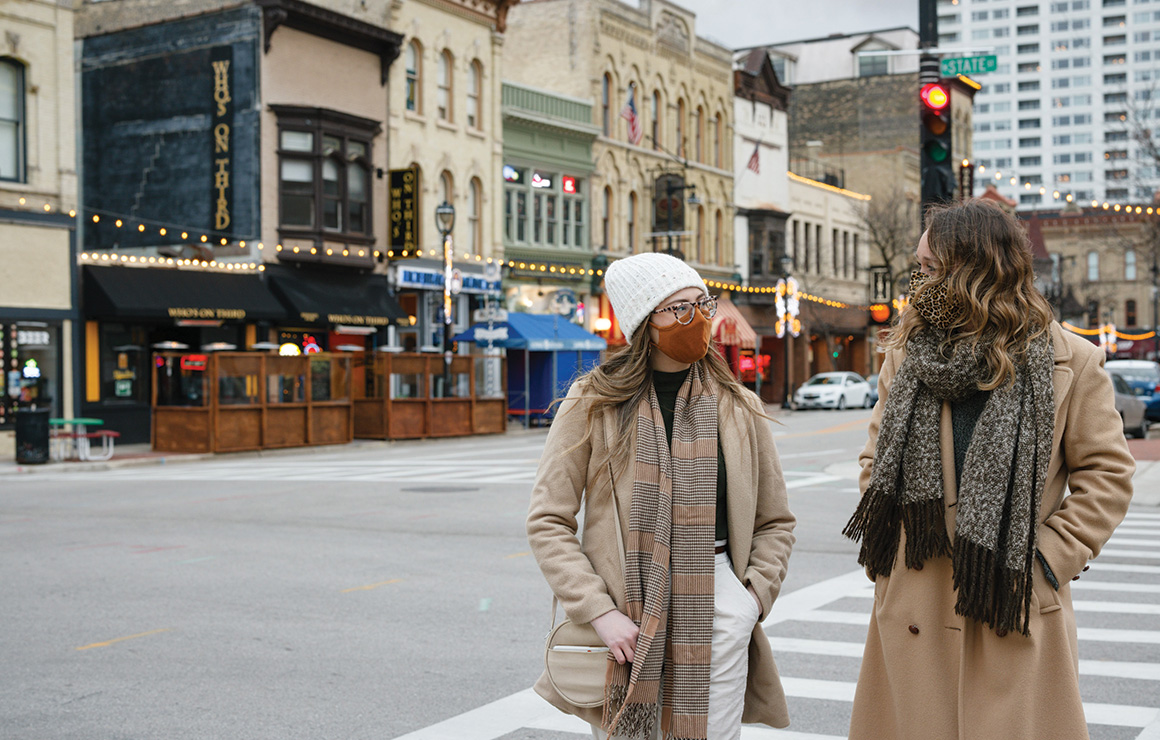 This New Year, let's bust out of the familiar and fall in love with aspects of Downtown Milwaukee we've never experienced before. Join me in trying these 5 ways to kick off the new year by safely exploring and celebrating Milwaukee.
Try a local restaurant you've never been to

New year, new cuisine. We all have our go-to restaurant that we know and love, but it's time to try something out of your comfort zone. Or finally place an order at that restaurant all your friends are raving about. A few on my list are Alem Ethiopian Village, Taco Bar MKE and Meat on the Street. Make your own list and find new eats in our MKE it Back Bar & Restaurant Guide.
Looking for restaurants that offer takeout or curbside? See some of our recommendations here.
Spend time in a park during this winter
Downtown Milwaukee has quite a few charming parks perfect for a winter walk. Stroll through Cathedral Square Park or take your takeout into the gazebo at Pere Marquette. If you are looking to stay active in the colder season, grab your mask and reserve a skate session at Slice of Ice @ Red Arrow Park. With all these accessible parks right in downtown, it's easy to find a coffee shop to warm you up after your picturesque park visit.
Visit an iconic Milwaukee landmark 

Whether you've lived in Milwaukee your whole life or just got here, there are so many incredible landmarks to check out. Off the top of my head, we have the Milwaukee Art Museum, the newly lit Hoan Bridge, City Hall and the Fiserv Forum. Even our Central Library is gorgeous to look at! If you're already a MKE landmark expert, go revisit one you've missed or recommend your favorite to a friend.
This is a fun way to get outside and observe stunning architecture from the sidewalk. Make sure to call ahead or check online for open hours. Find more Downtown Milwaukee landmarks and attractions here.
Walk Milwaukee
Even in the chillest of times, you can still get outside and stay active just by walking. Explore Downtown's 3.1 Mile Riverwalk, the lakefront and the Oak Leaf Trail. As I slowly walk my way around Milwaukee (usually with a hot cocoa in hand), these walking routes are great for when you have 30 minutes, an hour and 2 hours.
Support a Milwaukee cause
As we enter into the New Year, challenges don't just disappear. Yet Milwaukee continues to create solutions and rise to the challenge. For example, Classy Girl Cupcakes is partnering with Food is Free MKE, a community food sharing in Sherman Park. Drop off needed items like microwave meals or bathroom supplies downtown at Classy Girl and get free cupcakes! Giving back is rewarding, but a bonus cupcake sweetens the pot. Find more information on how to donate here. No matter where, a donation of your time, money or supplies to a cause you care about is an awesome way to start your year.  
This Local Nonprofits List shares a handful of Milwaukee nonprofits, but is in no way exhaustive. Milwaukee is full of powerful initiatives, so take the time to find and support a local one! 
Photography by Andrew Feller
About the Author: Terese Radke is a recent graduate of the University of Wisconsin-Milwaukee and the Special Events & Marketing Intern with Milwaukee Downtown, BID #21, advancing downtown's strategic priorities through marketing, events and social media.
Posted in:
Arts & Culture
Posted in:
Shopping
Posted in:
Dining & Nightlife