Stay Cozy Under the Christmas Lights
December 22, 2020 /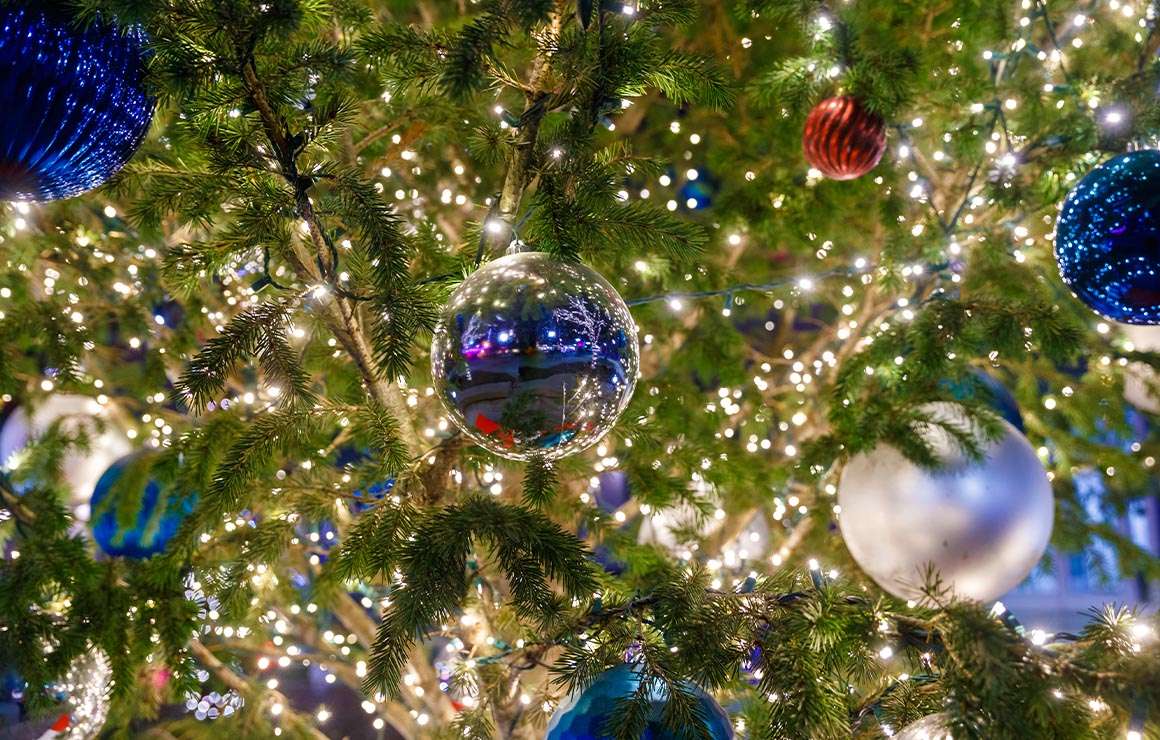 Coffee shops and Christmas lights go together like marshmallows and hot chocolate. So, to make your nights even cozier, we have paired up downtown's best coffee shops and holiday lights.
Stone Creek Coffee Factory and Zeidler Union Square

Before you strike a pose at "Polar Plaza powered by We Energies" in Zeidler Union Square, take a 5 minute walk to Stone Creek's factory location. With many exciting seasonal specials, like the Toasted Marshmallow Latte, it's the perfect stop for a pre-photoshoot warm-up. Stone Creek Coffee Factory, 422 N 5th St.
City.Net Café and Wisconsin Avenue Chandeliers 
If you're looking to feel like the main character of a holiday movie, first enjoy your coffee and lunch at City.Net Café on Wisconsin Avenue. Once you've finished your tasty meal, start skipping down the festively lit street, maybe throw in a twirl or two under the Wisconsin Avenue chandeliers. City.Net Café, 306 E Wisconsin Ave.
Canary Coffee Bar and Westown Holiday Tree presented by 310W

Walking through a winter wonder Westown? Check out Canary Coffee Bar's extraordinary coffee located across the street from the plaza. Indulge in a Mint Hot Cocoa from their special hot chocolate menu as you gaze at the Westown Holiday Tree presented by 310W. Canary Coffee Bar, 720 N Old World 3rd St. 
Classy Girl Cupcakes or 600 EAST Cafe and Cathedral Square Park 

Very little beats a warm coffee drink, but a sweet treat from Classy Girl Cupcakes just might. You'll feel the holiday cheer, with a cupcake in hand, as you stroll through the pop-up forest at "Community Spirit Park" in Cathedral Square Park, presented by Madison Medical Affiliates. Classy Girl Cupcakes, 825 N Jefferson St.
And if you're strolling through the park during daytime hours, pick up a warm beverage from nearby 600 EAST Cafe. You can't go wrong with a Peppermint Patty Mocha or a Crème Brûlée Latte. 600 EAST Cafe, 600 E Wisconsin Ave.
Anodyne Coffee and Christmas in the Ward 
Stop by Anodyne Coffee at the Milwaukee Public Market for an evening cup of joe. It's a great place to grab your drink before you walk to the end of Broadway, for the Historic Third Ward Christmas tree at Catalano Square. Anodyne Coffee, 400 N Water St.
Starbucks and Red Arrow Park
Next to Red Arrow Park's delightful outdoor ice rink is a Starbucks. If you can't feel your toes after skating for a few minutes, pop into Starbucks and revel in a delicious drink (and the festive cup it comes in). Remember to bring your mask and reserve a skate session at Slice of Ice @ Red Arrow Park. Monitor the rink's hours here. Starbucks, 920 N Water St.
Make sure to check each shop's hours so you can perfectly pair your coffee experience with your downtown holiday lights tour.
About the Author: Terese Radke is a recent graduate of the University of Wisconsin-Milwaukee and the Special Events & Marketing Intern with Milwaukee Downtown, BID #21, advancing downtown's strategic priorities through marketing, events and social media.
Posted in:
Dining & Nightlife