Walking routes for when you have 30 minutes, an hour and 2 hours
July 31, 2020 /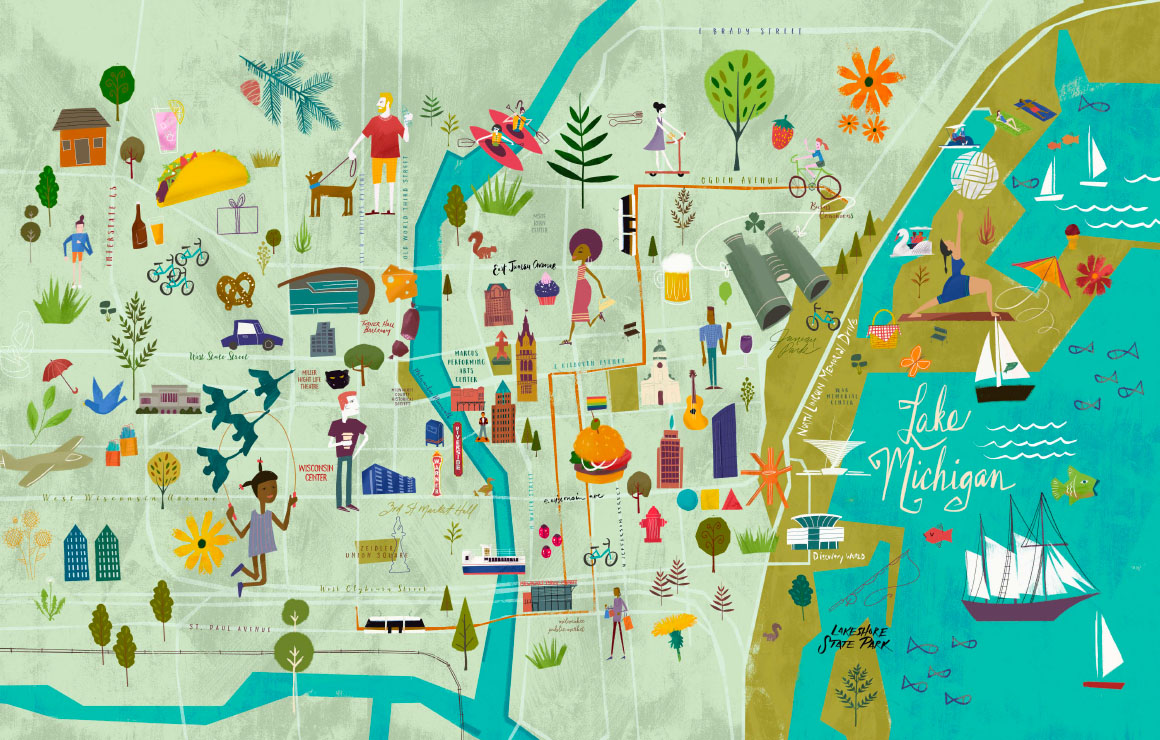 Getting out and about in the early morning to watch the sunrise, during a lunch break or after work for a little exercise is the perfect way to see some of the best aspects of Milwaukee. 
If you have 30 minutes…
Start at: Wisconsin Avenue bridge, facing west (looking at the Riverside Theater marquee)
Points of interest: "Westown in Bloom", Milwaukee Public Library, Zeidler Union Square, "Kindred"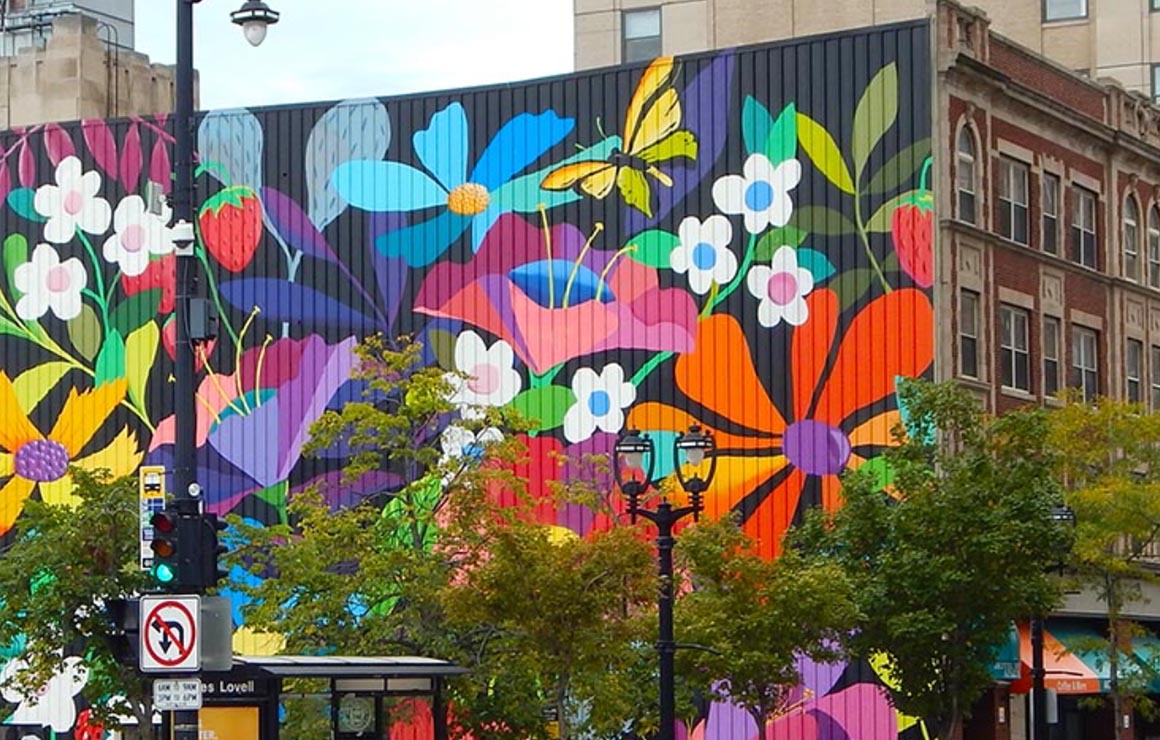 There's already public art to be seen when you start on the west side of the RiverWalk. Gertie the Duck is waiting with her ducklings on the river. Head down West Wisconsin Ave. to see the latest construction of the Bradley Symphony Center, the new home of the Milwaukee Symphony Orchestra, and if you're feeling groggy, you could even stop for a coffee at Canary Coffee right across from the new façade of The Avenue. 
Don't forget to peek around the corner of Dunkin' at Wisconsin Ave. and James Lovell Street to see Emma Daisy Gertel's mural "Westown in Bloom." From there, walk a short distance to the Milwaukee Public Library. It has some of the most incredible architecture in the city! Then, walk south to Michigan St.,  maybe stopping in Zeidler Union Square if you've got time! You'll find the Wisconsin Workers Memorial here, with relics of the industrial age incorporated into the central gazebo, bus shelter and decorative chain around its perimeter. You'll even see our bright, yellow picnic tables, routinely sanitized by our Public Service Ambassadors.
Make sure to turn left down 2nd St. so you can peek at the downtown's newest mural, "Kindred" by Jaime Brown! From here, you can head back to the river and maybe even extend your walk down the RiverWalk. 
If you have an hour…
Start at: Museum Center Park (formerly O'Donnell Park)
Points of interest: "The Calling", Cathedral Square Park, Bronze Fonz, Pompeii Square
Start your walk at Museum Center Park near one of Milwaukee's biggest and brightest sculptures, The Calling. At this location you'll also be able to see the new look of "Holiday Home" from Sculpture Milwaukee in 2019. Walk north to Mason Street and then head west to Jackson St. Once there, take a right towards Cathedral Square Park. Feeling hungry? Some great places, like Flannery's and Elsa's on the Park, are open for takeout or patio seating here! 
After you've enjoyed the park, time to head to the Bronze Fonz on the RiverWalk down Wells Street. From there, enjoy the RiverWalk all the way to the Milwaukee Public Market. The perfect place to grab a smoothie or snack!
Follow St. Paul Ave. east until you hit Jackson St. where you can head north past Pompeii Square that will be getting a facelift soon. Continue north to Wisconsin Ave. and you're almost back to the park, just head east for a few blocks and you're there!
If you have 2 hours…
Start at: State Street bridge facing east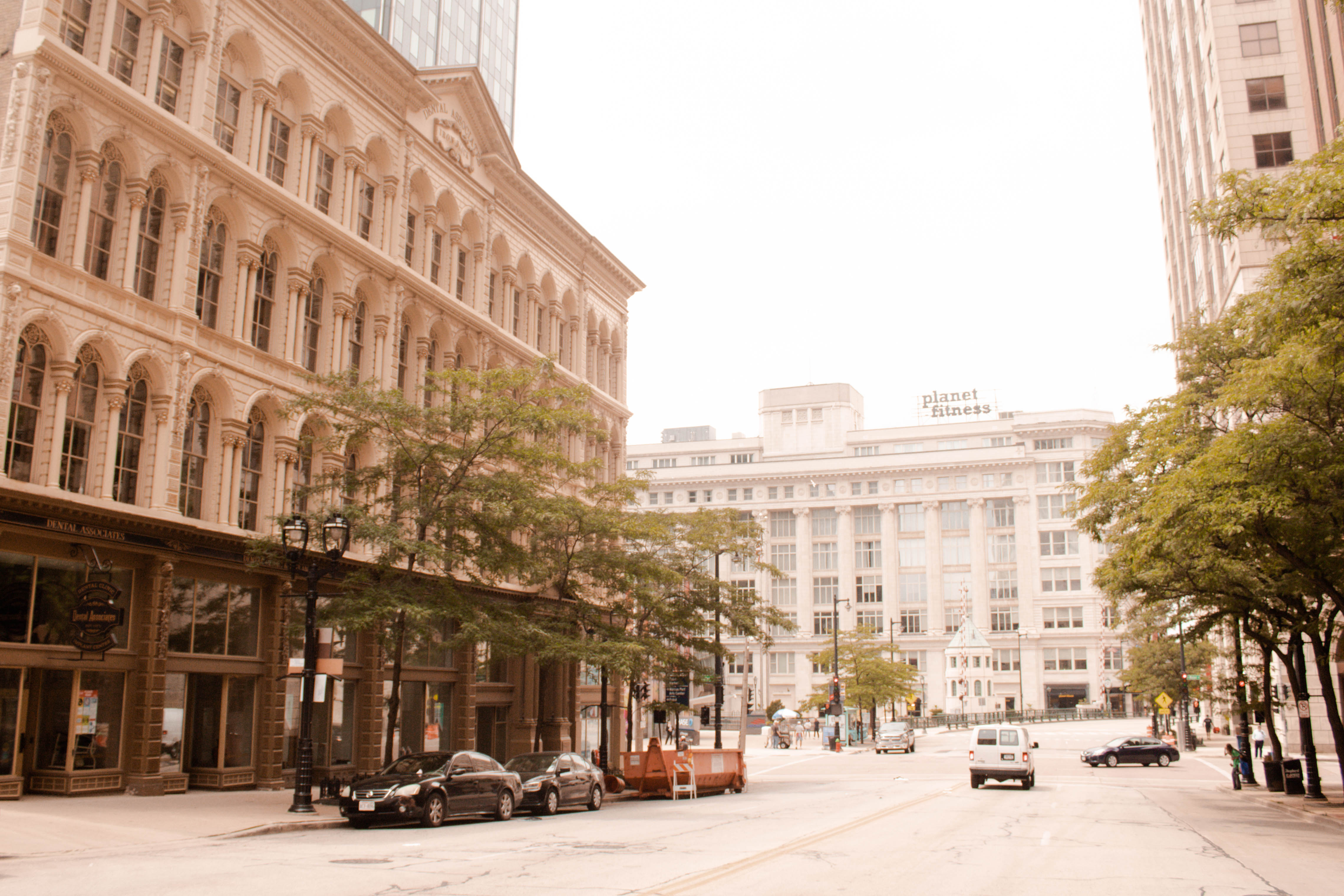 Points of interest: City Hall, great views of the Lakefront, "Kindred", "The Hero in You", The Deer District, Swing Park, Burns Commons
Follow this map to Humbolt Ave, then this one. 
Ready to see Downtown Milwaukee, its civic spaces and public art? First, you'll start by the river behind the Marcus Performing Arts Center, stroll down State Street to Red Arrow Park and then take a right towards City Hall. If you're feeling adventurous, stop inside to see the amazing architecture.
Then, walk east down Wells Street all the way until Prospect Ave. You'll see amazing views of the lake here! Next, follow Prospect Ave. to Wisconsin Ave., passing The Calling, Betty Brinn Children's Museum and views of the Milwaukee Art Museum. Continue on Wisconsin Ave across the river and take a quick detour to the left on 2nd Street to peek at "Kindred," the newest Downtown Milwaukee mural by Jaime Brown on the 2nd Street Skywalk. 
Head back out to Wisconsin Ave. to James Lovell Street. Go north on James Lovell Street to view another new mural by Ken Brown titled "The Hero in You." From here, go east down State Street until you hit Vel R. Phillips Avenue and continue north until you're at The Deer District and Old World Third Street. Take in the juxtaposition of old and new – from the historic, Germanic architecture along Old World Third Street to the modern Fiserv Forum, this district features some of the best places to dine outside. Continue north and across the river, passing Schlitz Park, which recently announced a $6 million redevelopment and the North End, a vibrant and diverse residential development near downtown's northern boundary, then follow Water Street to Swing Park and the Butterfly Mural underneath the Holton Street Bridge. From here, you're just steps away from the Brady Street neighborhood. With iconic local shops and restaurants on every block, it's the perfect place to continue your adventure.
Walk east on Pearson Street to Humboldt Ave., making your way to Burns Commons for a quick break. From there, follow Prospect Ave. and the way to where you started at the River!
Posted in:
Arts & Culture