Meet the Muralist: Ken Brown's "The Hero in You" Speaks a Universal Language
July 24, 2020 /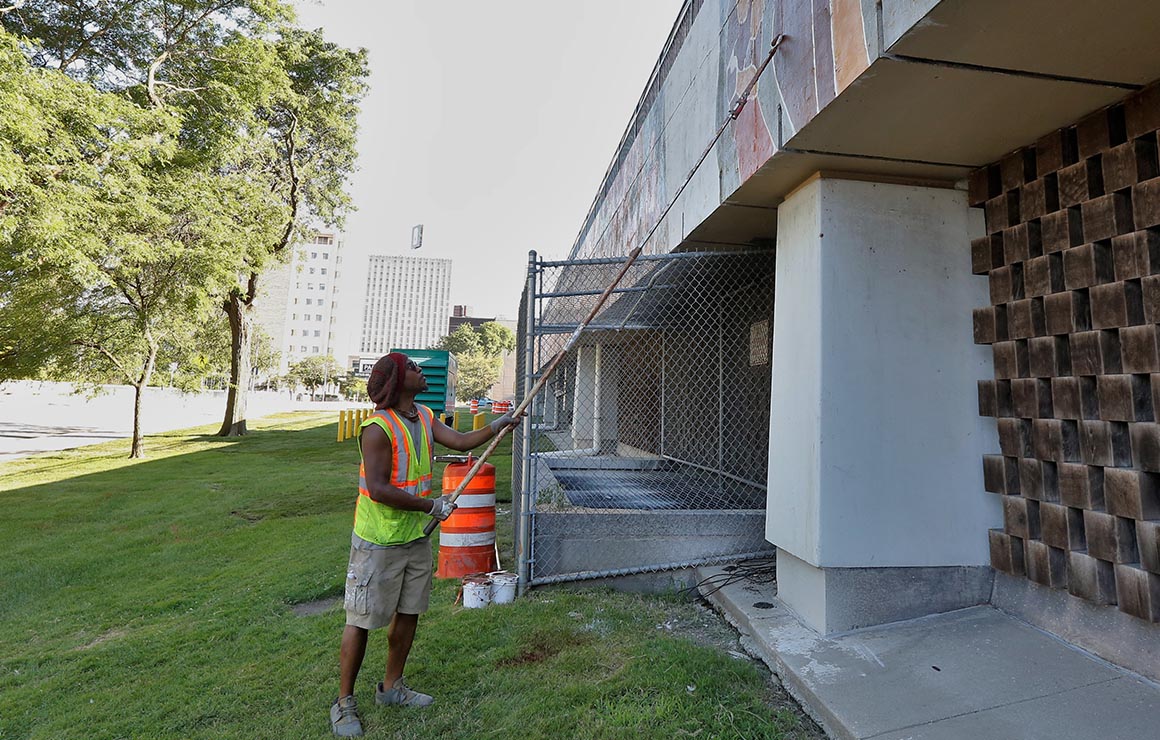 In early spring, Milwaukee Downtown, BID #21 and the Downtown Placemaking Task Force announced plans for a new mural on the 620-foot long MacArthur Square parking structure surface, in partnership with the City of Milwaukee's Department of Public Works. After an extensive review process in response to a public Request for Qualifications, the Placemaking Task Force selected Milwaukee artist Ken Brown for the project. Then, in mid-March, the world came to a sudden halt, as Safer-at-Home ordinances were put into place. To serve as a timestamp of this historic moment, project partners and the artist pivoted the content of the mural to salute the city's essential workers and frontline heroes. Some of their stories were highlighted in our previous blog posts. In May, Brown presented his final concept, which has ultimately become a symbol of "Milwaukee Strong," a Mayoral-led initiative, in partnership with Imagine MKE and 88Nine Radio Milwaukee.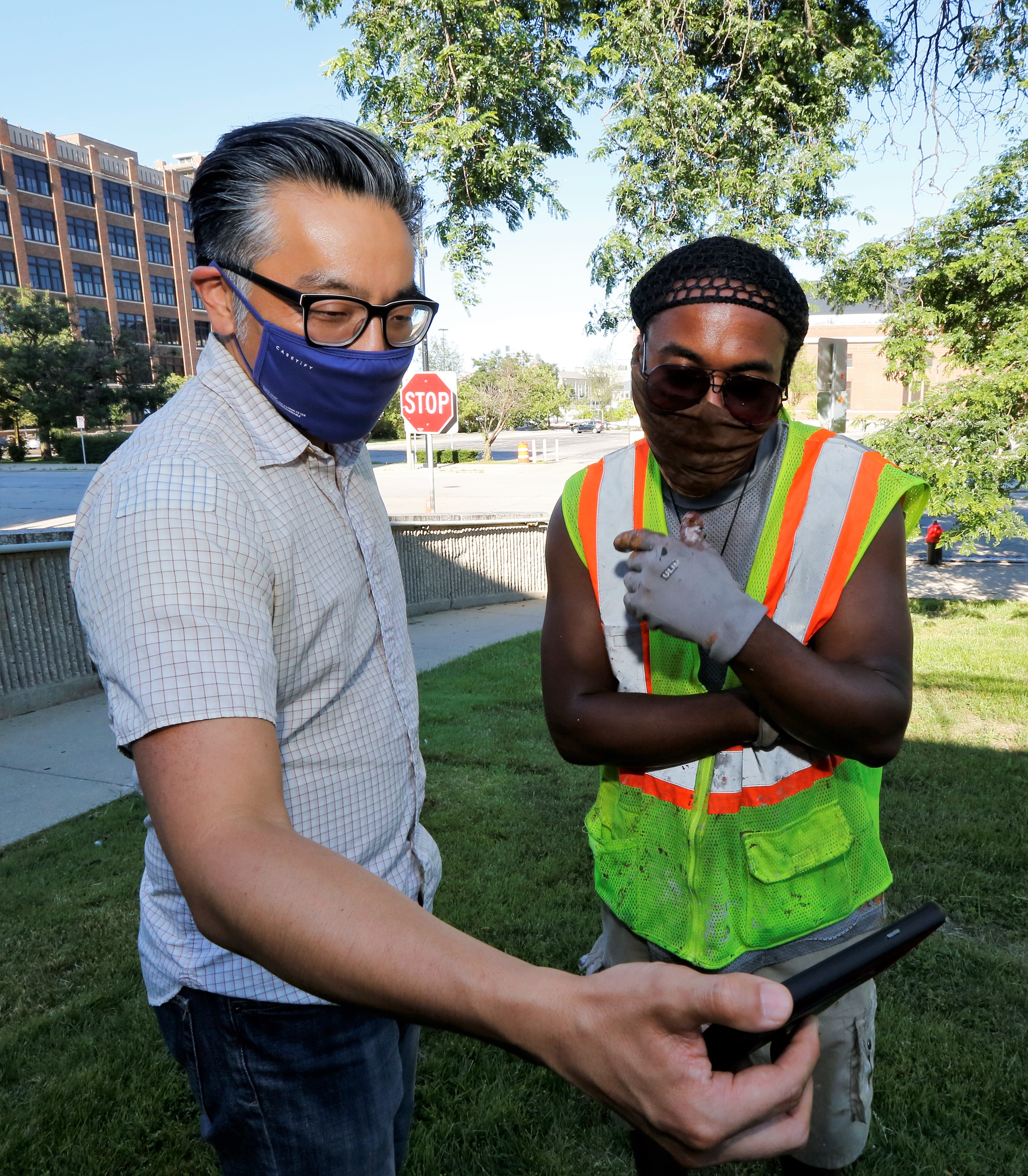 As Brown nears completion of his mural named "The Hero in You," he reflected on what it means to him. Ken emphasizes that he wants the mural to tell a story to those who see it and experience it. He hopes it will allow people to share stories, personal or otherwise. 
When the mural is finished, Ken hopes people will come to experience the mural. "I hope that someone will see one of the images and feel a sense of love, hope, vision, excitement, adventure, color, imagination, innovation. Really feel the healing properties." He adds, since art speaks any language, people from diverse backgrounds can view the art and experience it without a language barrier.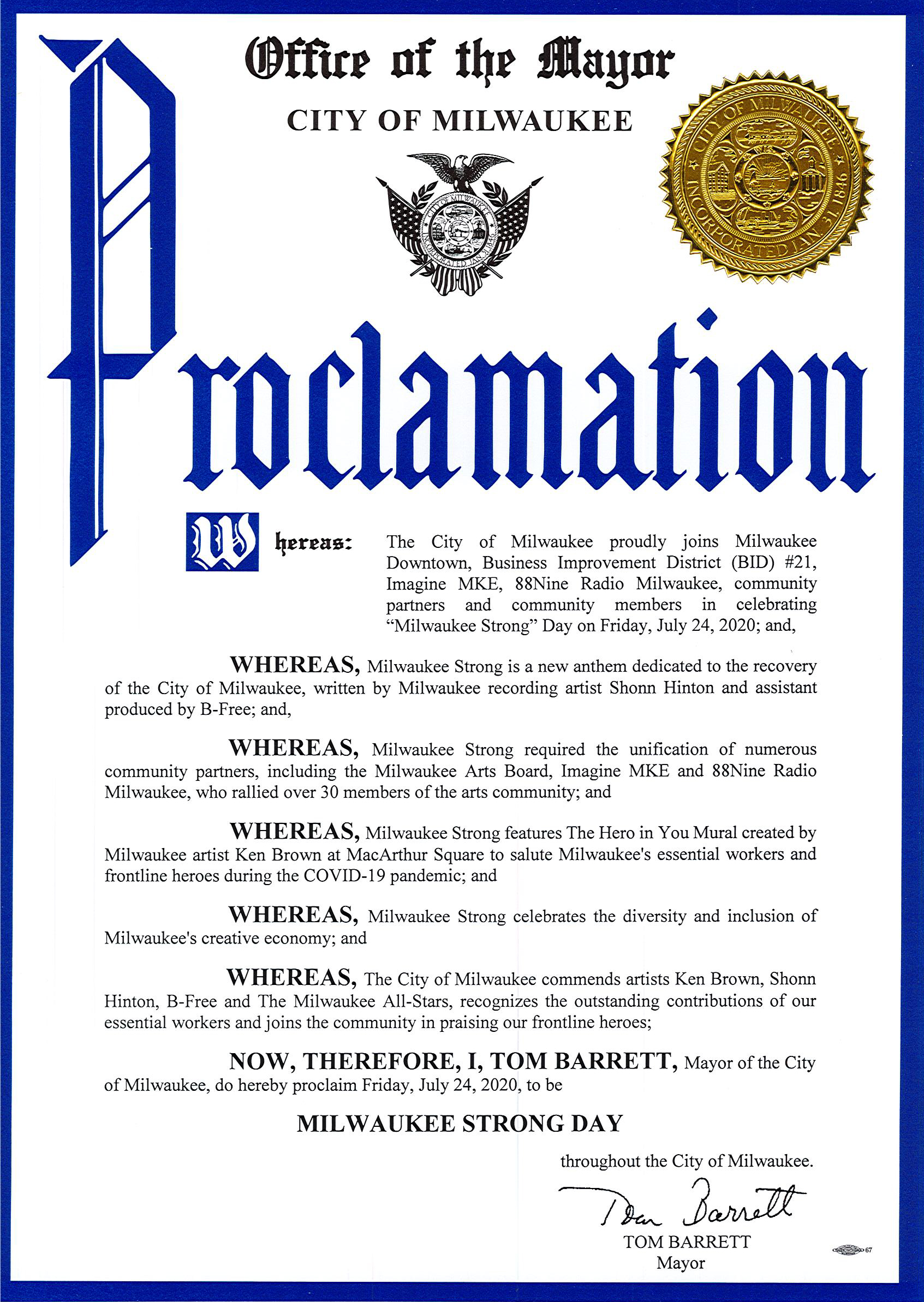 "'The Hero in You' by Milwaukee artist Ken Brown salutes our city's essential workers and frontline heroes who continue to report for duty during the COVID-19 pandemic. It's because of their selfless acts of heroism, our city will emerge stronger and more united than ever," says Beth Weirick, CEO of Milwaukee Downtown, BID #21.  
The mural will be completed soon, along with the release of the "Milwaukee Strong" song and music video featuring over 30 Milwaukee musicians, assembled by Imagine MKE, 88Nine Radio Milwaukee, Milwaukee Downtown, BID #21 and the City of Milwaukee. Watch the previously recorded live stream here and the "Milwaukee Strong" music video here. 
Photos by Pat A. Robinson.
About the Author: Claire Neville is a graduate of the University of Wisconsin-Milwaukee and Special Project Intern with Milwaukee Downtown, BID #21, advancing downtown's strategic priorities in the realm of economic development and public space management.  
Posted in:
Arts & Culture