9 ways to explore Milwaukee by water this summer
July 21, 2020 /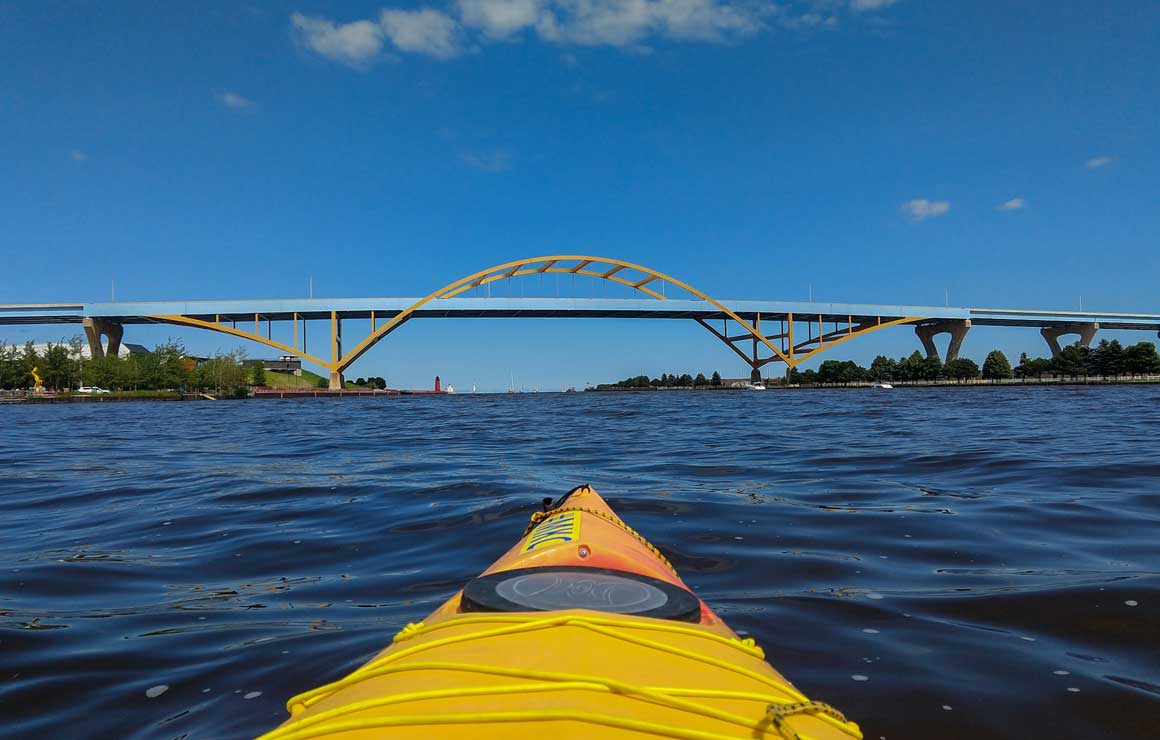 Exploring open waters feeds your mind, body and soul, and Milwaukee has no shortage of options for embarking on your own aquatic expedition. Pick a vessel (or a few!) from the list below. Note that each option also includes links to specific COVID-19 safety measures, so that you can dip your paddle in the water worry-free.
A reminder that the City of Milwaukee's mask ordinance requires masks in indoor public places, and outdoors within six feet of a non-family member or non-household member.
Kayaking
Don't let the summer end without a kayaking adventure. Milwaukee Kayak Company offers online reservations, easy parking and access to riverfront food and beverage options. You can push off daily from the dock at their main location (318 S. Water St.) or further north Thursdays through Sundays at Schlitz Park (1555 N. RiverCenter Drive).
If you're looking for route suggestions, take a short jaunt south from the main docks down the Milwaukee River and snap a few photos at the Hoan Bridge, then paddle north through the Historic Third Ward and downtown. At many of the public docks along the river, you can tie up your kayak to order snacks or beverages from riverfront eateries.
Click here to review Milwaukee Kayak Company's COVID-19 safety procedures.
Paddle boating & hydrobiking
In business for 24 years, Lakeshore Paddle Sport Rentals is doing something right. Next to Discovery World and Lakeshore State Park, you'll find paddle boats and hydrobikes for rent at great rates. Plus, owners Val & Tim embody the welcoming Milwaukee spirit that visitors love about our city.
Paddle boats seat up to 4 and include a canopy for shade. And if you've never tried a hydrobike, now's the time – these pedal-powered water bikes are a unique experience for individuals and groups.
Click here to review Lakeshore Paddle Sport Rental's COVID-19 safety procedures.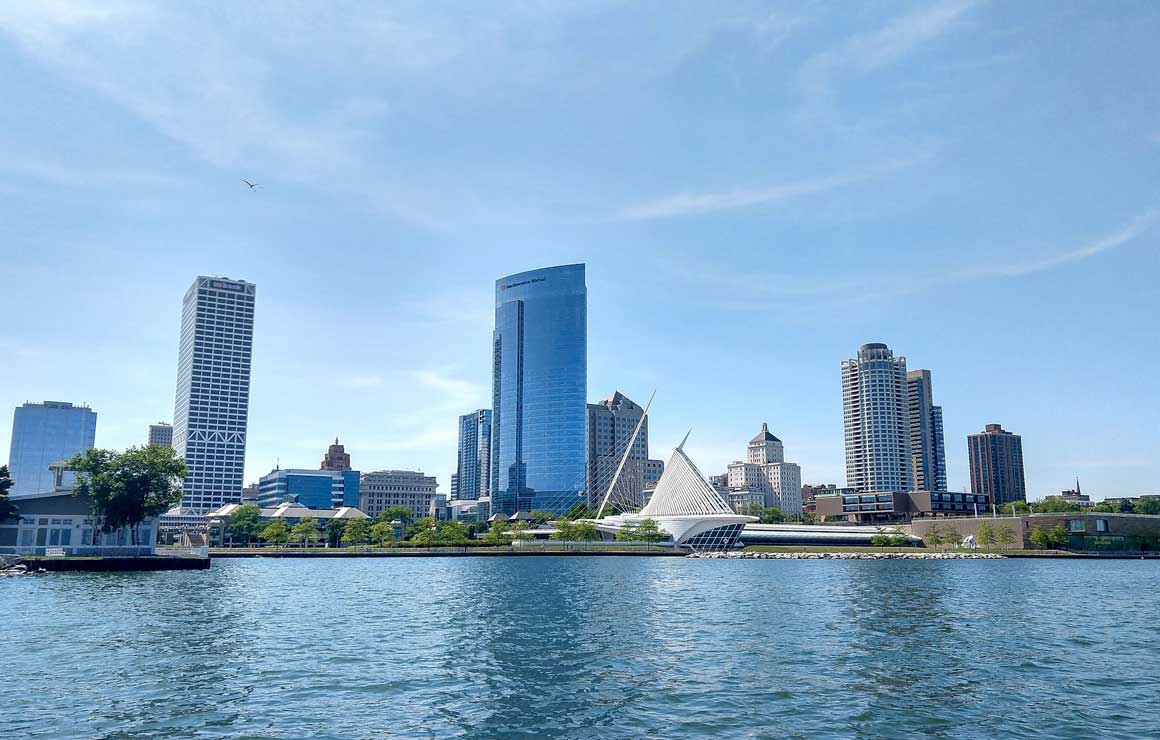 Pontoon boating
If you're craving a self-guided afternoon cruising the open water, consider booking a pontoon. Riverwalk Boat Tours & Rentals offers hourly, half-day and full-day pontoon rentals, which seat up to 10. Larger captained vessels are also available for private charters.
Board at Pere Marquette Park, where you'll also find vinyl-wrapped picnic tables to safely enjoy a pre- or post-excursion bite to eat. On your boat ride, keep an eye out for Sculpture Milwaukee pieces visible from the water – including Carlos Rolon's stunning Gild the Lily (Caribbean Hyrbid I, II, III) near the Wisconsin Avenue bridge and Robert Indiana's The American LOVE, facing the lake at the Milwaukee Art Museum.
Click here and scroll down to review Riverwalk Boat Tours & Rentals' COVID-19 safety procedures.
Cruising
Step aboard a larger vessel for a luxury cruise experience. Multi-level vessels provide ample options to take in the view, snap photos, maintain physical distance, and relax as the captain and crew manage your trip.
With Edelweiss Cruises & Boat Tours, you can choose from public tours like the Beer & Brat Cruise or Historic Milwaukee Boat Tour. Private cruises with full menu and bar options are also available.
Milwaukee Boat Line hosts guests aboard the double-decker Voyageur and Vista King. Saturdays in the summer mean concert cruises, where you'll enjoy live music on the open water. Plus, a host of other themed cruises round out the docket.
Review Edelweiss Cruises' & Boat Tours' and Milwaukee Boat Line's COVID-19 safety procedures.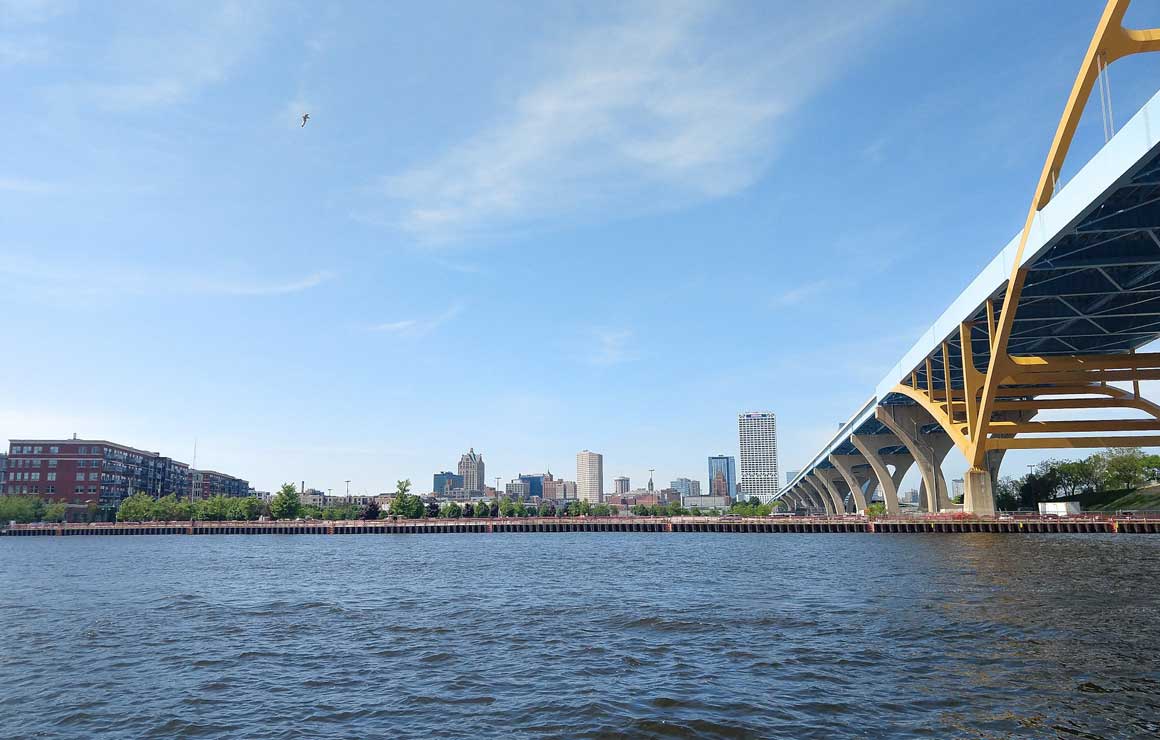 Swan boating
New in 2019, the swan boats at the Veterans Park lagoon are a whimsical way to explore the water. In addition to swan boats, which seat up to five, Wheel Fun Rentals also has bikes and specialty cycles available. 
Click here to review Wheel Fun Rentals' COVID-19 safety procedures.
Sailing
If you're not already, you'll get hooked on the feeling of the wind catching your sails on Lake Michigan. Sailing is an excellent way to enjoy Milwaukee's fresh coast. The Milwaukee Community Sailing Center, based at Veterans Park, offers sailing courses and private lessons for all skill levels. You can also become a member and earn access to the Sailing Center's fleet of boats.
Click here to review the Milwaukee Community Sailing Center's COVID-19 safety procedures.
Donut boating
It's like circling up in a comfortable restaurant booth that's perfect for conversation - but on the open water. Bring your beverages and snacks and cruise "the only round boat on the river." Boat MKE, now in its second year, also offers retro boat rentals (restored 1950s cruisers), classic cruisers and yacht rentals. 
Contact Boat MKE for information on COVID-19 safety procedures.
Tiki lounge
Savor the luxury of your personal floating tiki bar with Kanaloa Tiki Lounge. Your time enjoying the water will be maximized thanks to several unique features, including an onboard restroom and the option to add a staff boat driver at no extra charge.
Contact Kanaloa Tiki Lounge for information on COVID-19 safety procedures. 
Paddle tavern
Onboard the Milwaukee Paddle Tavern, your pedal power helps propel the vessel along the river (don't worry, there's also an onboard motor helping out). Built-in bar coolers keep your drinks fresh. Groups can also elect to stop at a favorite bar along the river, or spend their full rental period on the water. A staff captain and first mate are included.
Click here and scroll down to review Milwaukee Paddle Tavern's COVID-19 safety procedures.
Written by Erica Chang, Milwaukee Downtown's Marketing, Events & Social Media Director
Posted in:
Sports
Posted in:
News