December Events to Keep You in Holly Jolly Mood All Season Long!
November 25, 2022 /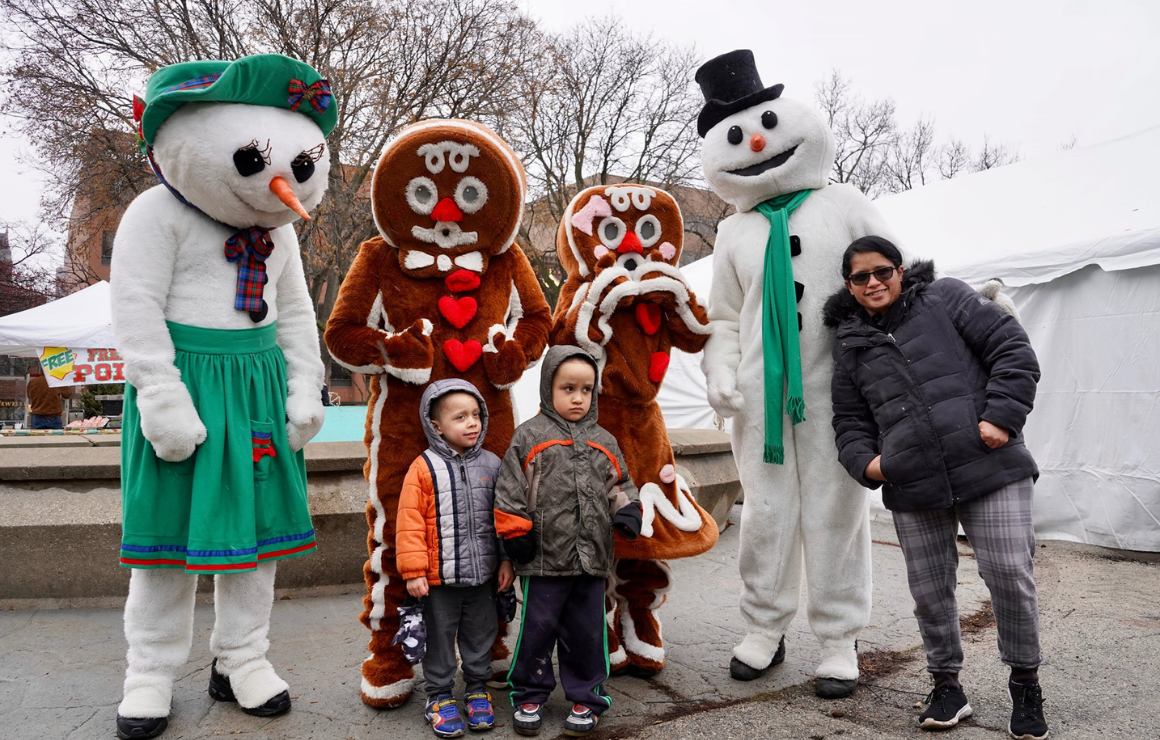 The holiday season is in full swing. Get ready for a full month of family-friendly events that will get you in the holiday spirit!
Santa's Christmas Cavalcade
NEW DATE: December 11 | Departs at 5:15 pm from the Milwaukee Public Market (Dec. 9 cavalcade rescheduled to Dec. 11 due to forecasted inclement weather. We apologize for the inconvenience.)
Santa and Mrs. Claus will be riding in style atop a vintage fire truck. Kiddos can wave and say hi to Santa while he makes his way through downtown's magical light displays. On both nights you can catch Sarah Fierek singing holiday tunes alongside Santa and Mrs. Claus. December 11 will feature Black Santa and Santa Mickey.
The cavalcade travels east on Wisconsin Avenue to the lakefront, with visits to Pere Marquette Park, Cathedral Square Park, Zeidler Union Square, and Light the Hoan between 5:30 pm - 7:30 pm. 
December 10 | 11 am to 2 pm at Cathedral Square Park
Kiddos, get your wish list ready! Parents, don't forget a camera!
Santa and Mrs. Claus are heading to Cathedral Square Park along with elves and other holiday characters. It's the perfect time for kids to meet Santa and share their wish list and snap some photos. Keep warm at this outdoor event with complimentary hot cocoa and cookies sponsored by Taste of Home.
While you are in Cathedral Square Park, don't forget to drop your letter in Santa's Mailbox! No postage is required but leave a return address to receive a personalized response from Santa. Sponsored by Educators Credit Union with Support from Serving Older Adults and Letter Carriers Union Branch 2, Santa's Mailbox is open now through December 12.
December 23 | 4 to 6 pm at "Slice of Ice" at Red Arrow Park
It's the last chance to see Santa before the big night! Kiddos can visit with Black Santa along with his sleigh full of helpers. Come see the new twinkling lights in the park, courtesy of MGIC and Saint Kate.  Enjoy ice skating, hot chocolate, and donuts, courtesy of Dunkin'.  

Different ways to explore the Holiday Lights Festival presented by Johnson Financial Group
The Holiday Lights Festival is happening now through January 1. Three parks are decked out with themed, interactive holiday displays.
Hop in the Jingle Bus for a 40-minute narrated tour of the Holiday Lights Festival. The tour includes Cathedral Square Park, Red Arrow Park, Pere Marquette Park, and Zeidler Union Square as well as a ride down Wisconsin Avenue to see the wonderful lighted streets.
The fun doesn't start and end at the bus- the Jingle Bus Warming House at The Avenue will be full of holiday fun. Free treats will be available inside the Warming House while you explore the food and game options in the 3rd Street Market Hall. Check out the hundreds of children's books with the Friends of Milwaukee Public Library book cart, available for a voluntary donation.
Tours are $5 per rider and pre-booking is required. Tours are offered in English and Spanish.
Click here to book your tour in English.
Click here to book your tour in Spanish.
Explore the Holiday Lights Festival on bike! Bublr Bike stations are located at each of the lighted parks. Bublr put together a recommended 2-mile loop to enjoy the festival. 
Posted in:
Arts & Culture
Posted in:
Dining & Nightlife