Sculpture Milwaukee Kicks Off Third Annual Outdoor Gallery
June 13, 2019 /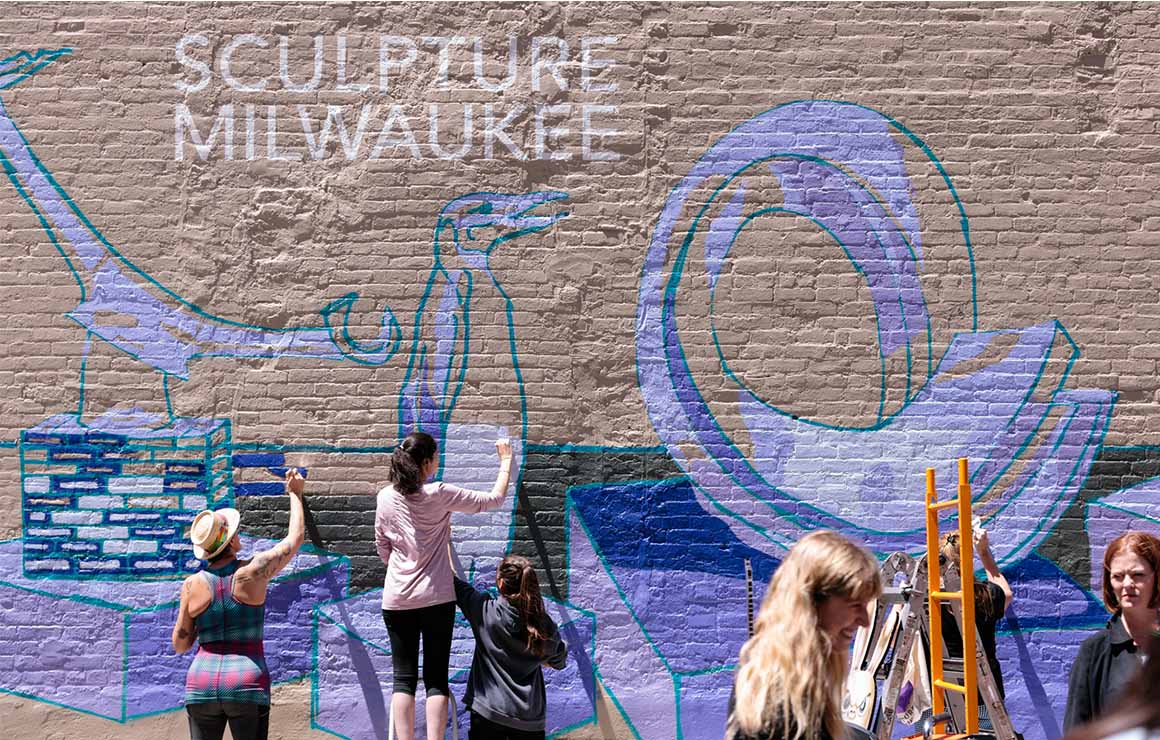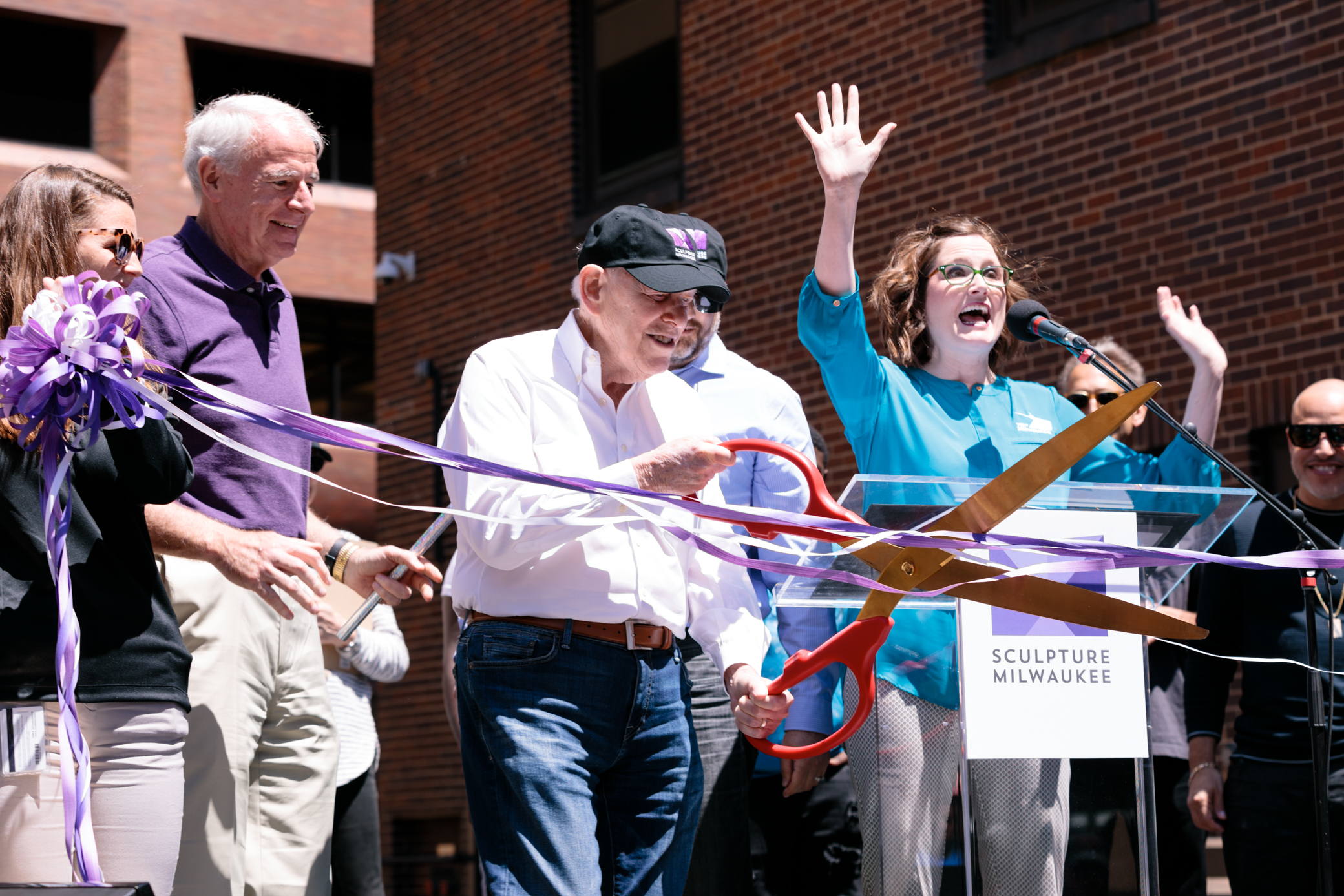 There was a lot to celebrate last Friday with Sculpture Milwaukee launching its annual art exhibition showcasing sculptures along Wisconsin Avenue. To kick things off, hundreds of people gathered and activated the parking lot at 600 E. Wisconsin Avenue, and enjoyed a free lunch, live music and art, and good Milwaukee company. The event was sponsored by Associated Bank. 
For the third straight year, Sculpture Milwaukee has placed world-class art up and down Wisconsin Avenue. Along one of Milwaukee's busiest and most historic streets, you will now find twenty-two unique sculptures by twenty emerging, mid-career, and blue-chip local and international artists. As each sculptor comes from a wide variety of artistic backgrounds, each sculpture illustrates unique techniques, styles, and messages.
Friday's event created the opportunity to celebrate these divergent backgrounds and cultures. With people from all over Milwaukee coming together, the love for art proved once again to unify the community. Before the formal kick-off and ribbon cutting ceremony, Milwaukeeans enjoyed a free lunch provided by 600 EAST Cafe. Within the space, muralists Fred Kaems and John Kowalczyk finished off a Sculpture Milwaukee mural, which depicts five of the twenty-two sculptures on the tour. Along with the mural, people were able to interact with artist Katie Geis, who live painted a canvas picture of Wisconsin Avenue.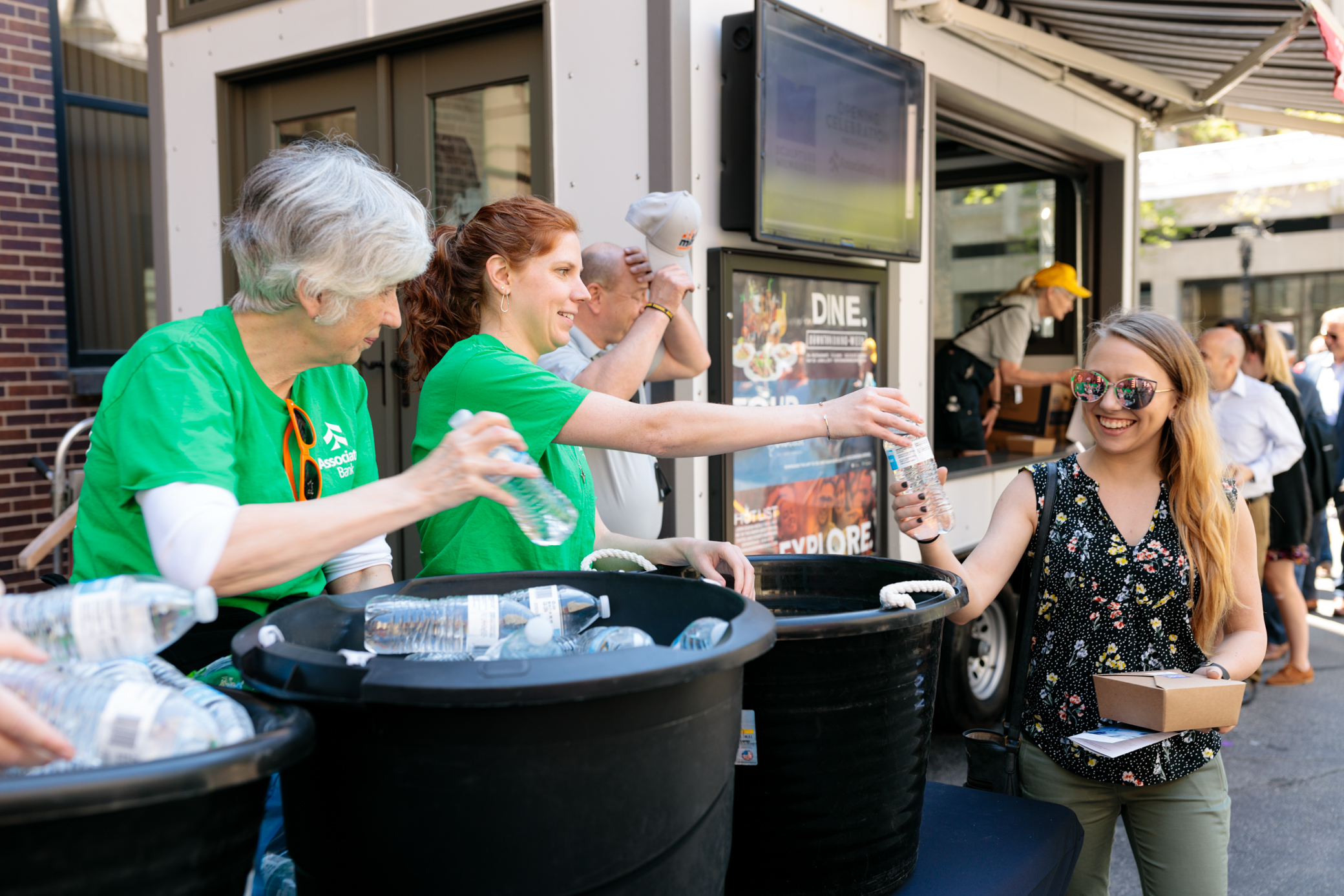 With all the different activities going on, the parking lot space was in full activation mode. "The energy was high and shared enthusiasm was evident on Friday. And it was a bonus that the sun shined on us, too," said Cory Ampe, Chair of Sculpture Milwaukee's Marketing Committee, "It was so fun and exciting to launch the 2019 exhibition as a community. Sculpture Milwaukee adorns our downtown—and for five months, it belongs to everyone who works on and visits Wisconsin Avenue. In Milwaukee, we know how to celebrate and Friday was no exception." 
Steve Marcus, board chairman of The Marcus Corporation and founder of Sculpture Milwaukee, was joined by numerous other Milwaukee visionaries to formally kick off the art exhibition, including Mayor Tom Barrett. While many gave their separate remarks about Sculpture Milwaukee and its impact on the city, all came back to the same cordial point: without the vision, direction, and leadership from Steve Marcus, this annual exhibition would not be possible.
No one's remarks for the project, however, stood out more than Brian Schupper's, Executive Director of Sculpture Milwaukee. His remarks were not only hopeful but clear and pointed, "Sculpture Milwaukee is the only place in the world that annually assembles over 20 monumental, museum-quality sculptures each year, places them in a mile-long urban setting that is publicly accessible and free to enjoy, and offers most of the sculptures for sale." Not only is Brian excited about the aesthetics the sculptures will add to Wisconsin Avenue, but the possibility for Milwaukeeans of all stripes to rediscover their community by bringing people out into the heart of the city.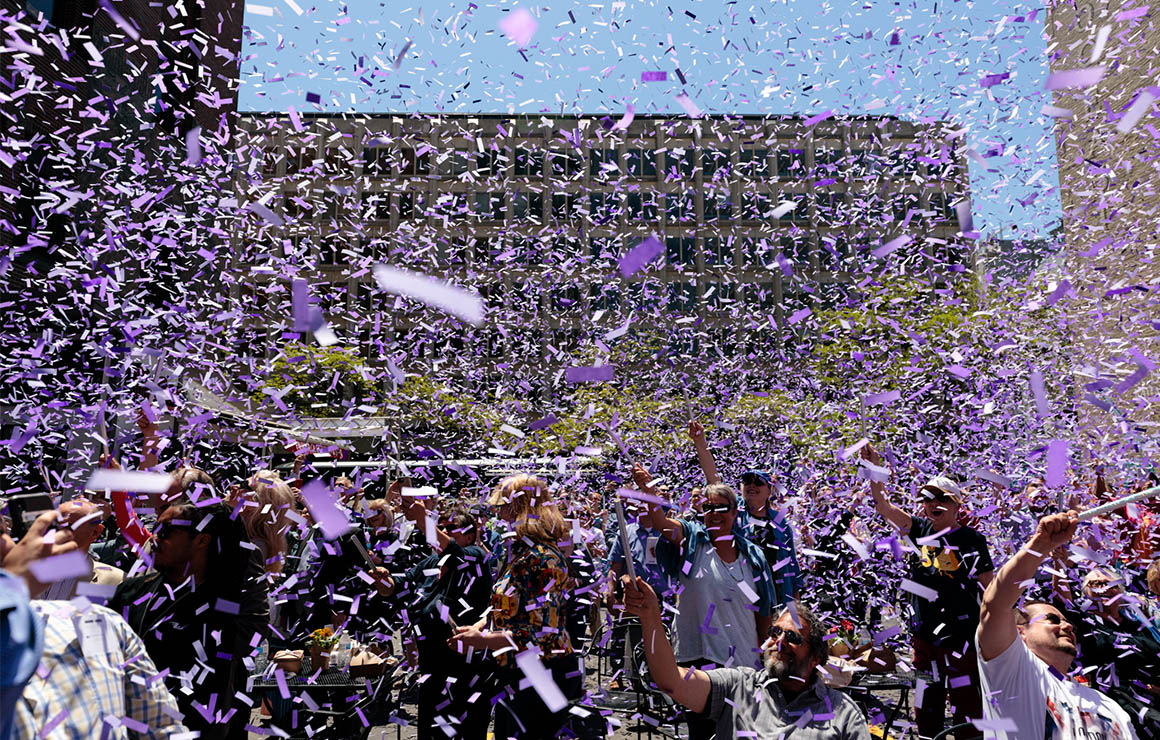 As the speakers' wrapped up, all of the key players took the stage to cut the ceremonial ribbon. With everyone joining in the count down, Mr. Marcus split through the ribbon as the crowd waved their confetti batons, sending a flurry of purple into the air.
Now only a few days later, it is not confetti that fills the streets of Wisconsin Avenue, but rather people, coming to see the newly installed, world-class art.
The sculpture tour will be able from now until October 27th. For more information on Sculpture Milwaukee, visit their website here.
*Confetti used is biodegradable and eco-friendly; photo credit Andrew Feller Photography. 
About the Author: Joe Franke is Milwaukee Downtown's Economic Development and Public Space Intern, and engages with stakeholders to promote the downtown business environment. 
Posted in:
Arts & Culture