MKE'ing It Back Downtown
May 4, 2022 /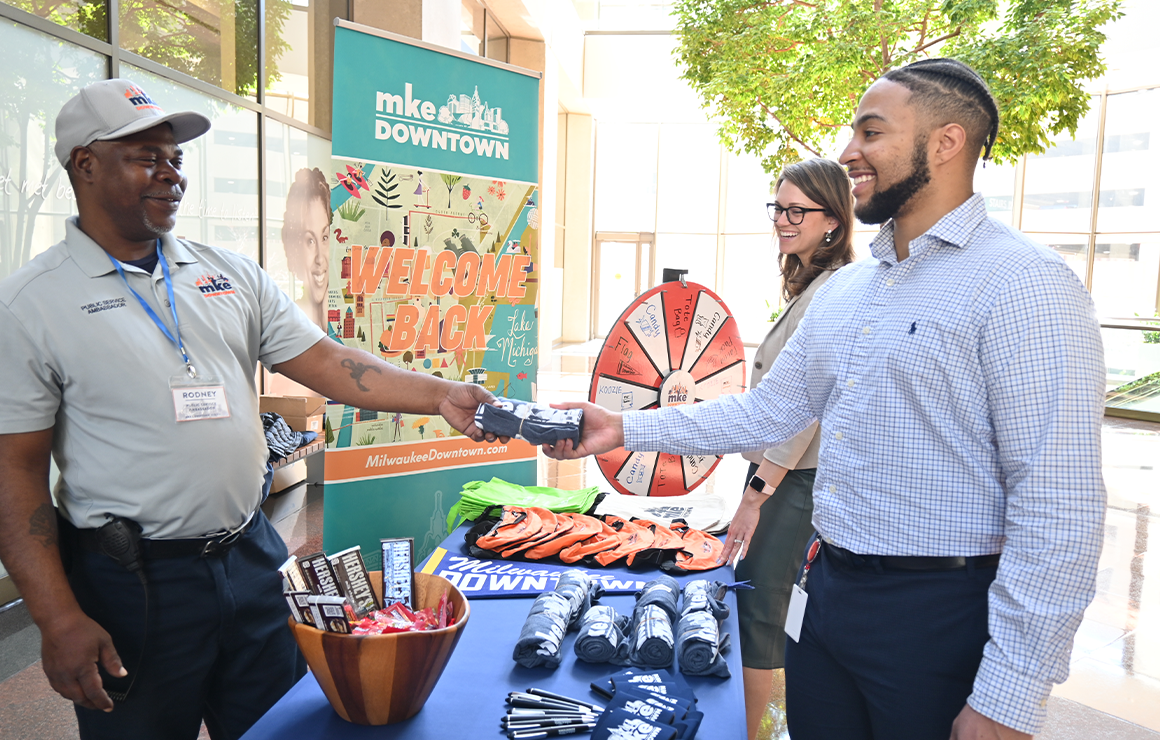 T-Shirts, Sunglasses, Brochures, Oh My! 
"Welcome Back" Tables Greet Downtown Workforce Return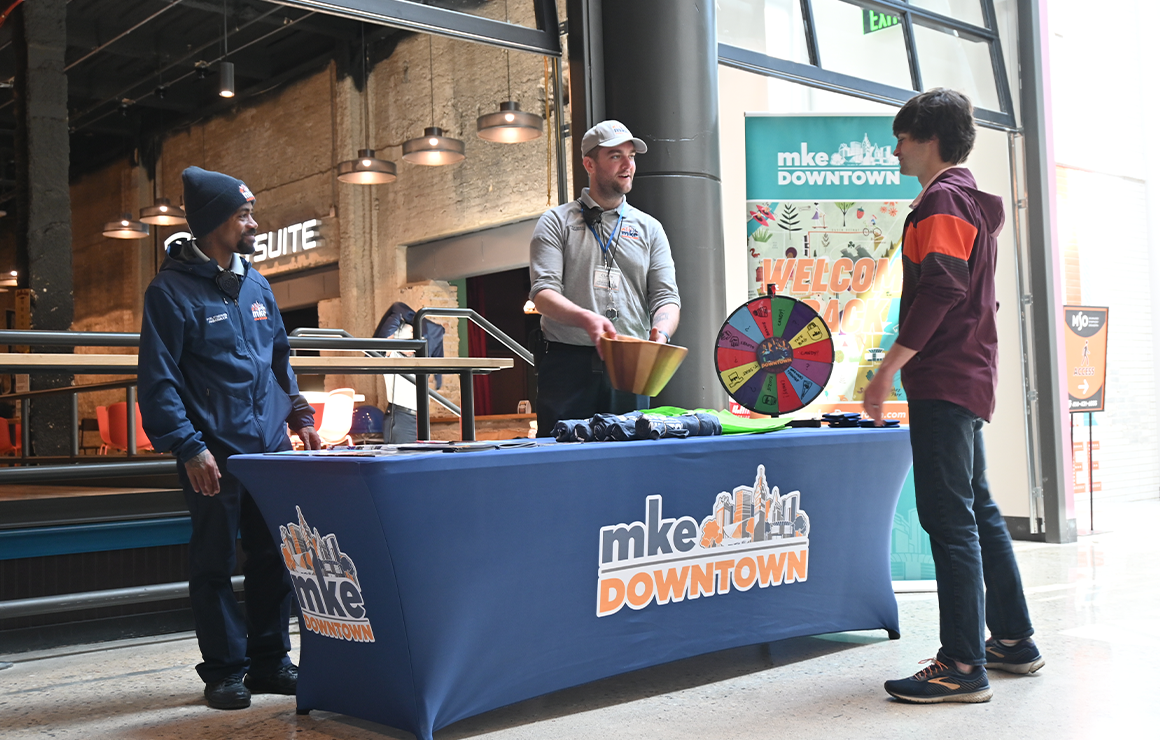 With more and more downtown employees returning to their offices, Milwaukee Downtown, BID #21's Public Service Ambassadors, or PSAs, are rolling out the red carpet for the next several months. In partnership with downtown office buildings, Milwaukee Downtown is setting up shop to welcome employees back downtown with information on our core services and upcoming events, along with our popular spin-to-win wheel, complete with free swag and prizes, like 3rd Street Market Hall gift cards.
Since mid-April, PSAs have staffed Welcome Back tables at Schlitz Park, 411 East Wisconsin Center, and 3rd Street Market Hall. Next week, from Tuesday, May 10 to Thursday, May 12, catch our spirit squad at Chase Tower at Water & Wisconsin, just outside of Grassroots Salad Company, between 11 AM - 1 PM. 
"One of the best parts about being a PSA is the opportunity to engage with our downtown workforce," said Brian Johnson, Homeless Outreach and Public Service Ambassador Supervisor. "It's really exciting to see more employees make it back downtown."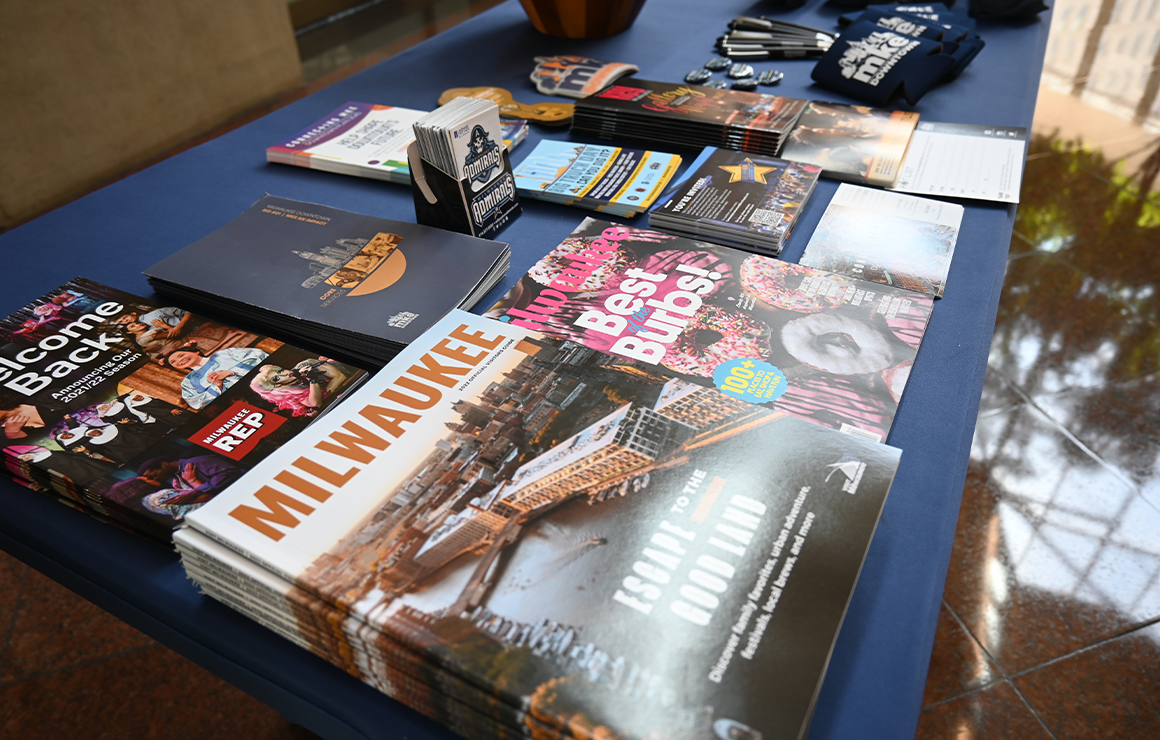 Speaking of building up camaraderie with our downtown workforce, the popular weeklong spirit week, Downtown Employee Appreciation Week, returns August 15 - 19 with 1,000-item lunchtime giveaways, Office Challenge Games, trivia competitions, happy hours, and more! Plus, Milwaukee Downtown recently announced weekly concerts coming this summer. So get ready to round up your coworkers for a midweek recess at "Heart(beats) of the City powered by MGIC" every Wednesday in June and July at Red Arrow Park. The brand-new concert and food truck series features the area's best bands, food trucks, and vendors. Food trucks will begin serving at 11:30 AM with bands set to rock your lunch break from 12 - 1 PM. Meanwhile, PNC presents Tunes@Noon returns with poolside concerts all summer long at 411 East Wisconsin Center. Catch some sun and great tunes every Thursday, June 2 through September 1. For downtown's summer calendar of events, visit our Summer in the City webpage.
Interested in hosting our Welcome Back table at your downtown office building? Contact us today at gyeager@milwaukeedowntown.com. MKE It Back Downtown!
Posted in:
News