How Downtown Buildings Are Opening Safely
July 23, 2020 /
As downtown companies continue to phase staff back into the office, many buildings, such as 411 East Wisconsin Center, have added new safety protocols to help tenants and visitors return to a healthy environment. At 411 East Wisconsin Center, employee, guest and member health has been a top priority since the original Safer-at-Home Order went into effect in March 2020. Janitorial staff uses CDC recommended cleaning techniques and all tenants have been offered Personal Protective Equipment. There are numerous sanitizer dispensers throughout the common areas of the building, and they have implemented elevator limits to allow for social distancing. Directional signage on the ground assists in one-way traffic as well.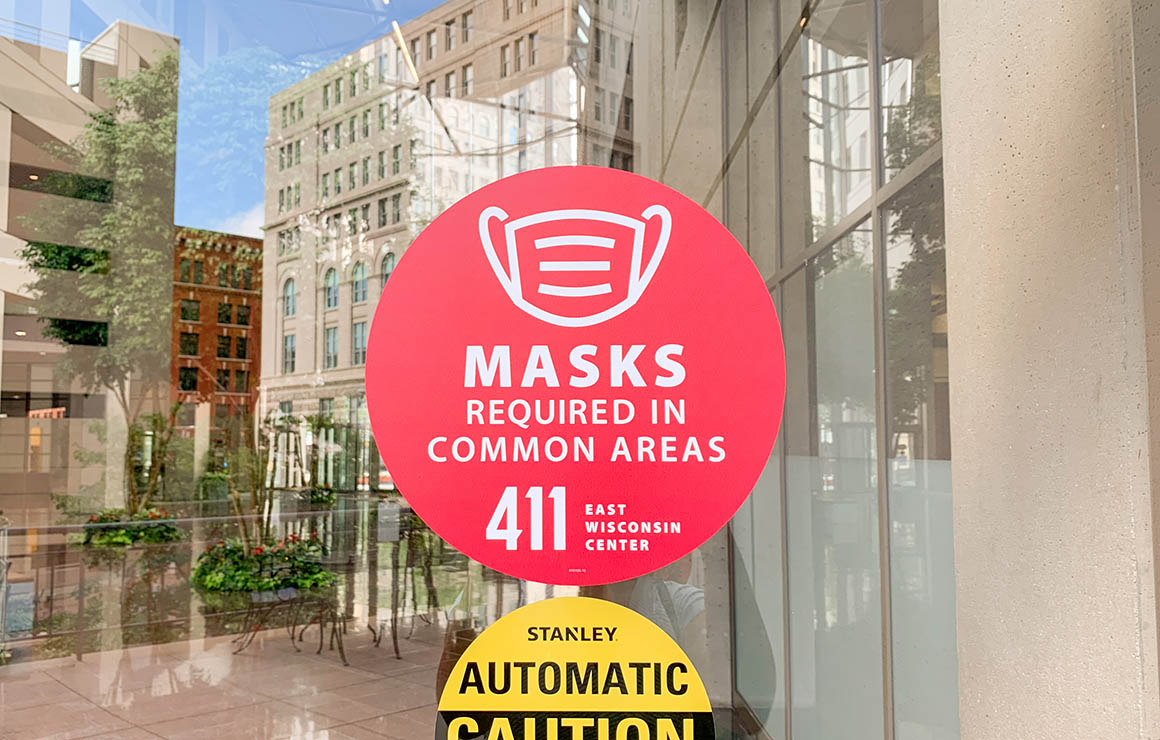 On a larger scale, a number of mechanical and operational changes have occurred, such as increasing outdoor air intake percentages within their HVAC system and running fans 24/7. As more tenants return to their offices, additional sanitation, signage and cleaning will be added. 
Braeden Flood, Assistant Property Manager of 411 East Wisconsin Center explains that constant communication between tenants and the building staff has been crucial to establishing safe re-occupancy plans. "The atmosphere downtown has been ever-changing and will likely be changing in the months to come. The continued education, communication, partnership, and trust between individuals is crucial to returning to a sense of normalcy," Braeden adds.  
Although local businesses may not be making a presence at local festivals and events, they still would love to serve you! 411 East Wisconsin Center and its tenants have adapted through events like Tunes@Noon that are streaming virtually and restaurants such as Davians at 411 Café that is operating in new ways to best support a safe environment. It's easy to grab a boxed lunch to-go and utilize their sunken courtyard for socially distant outdoor seating. Supporting local businesses is one of the best ways to help them succeed during these times and all those at 411 East Wisconsin Center are taking the utmost precautions to allow visitors and occupants to return safely.  
About the Author: Claire Neville is a graduate of the University of Wisconsin-Milwaukee and Special Project Intern with Milwaukee Downtown, BID #21, advancing downtown's strategic priorities in the realm of economic development and public space management.  
Posted in:
News