Experience Downtown in Every Sense – Top 5 Things to Hear This Summer
June 30, 2023 /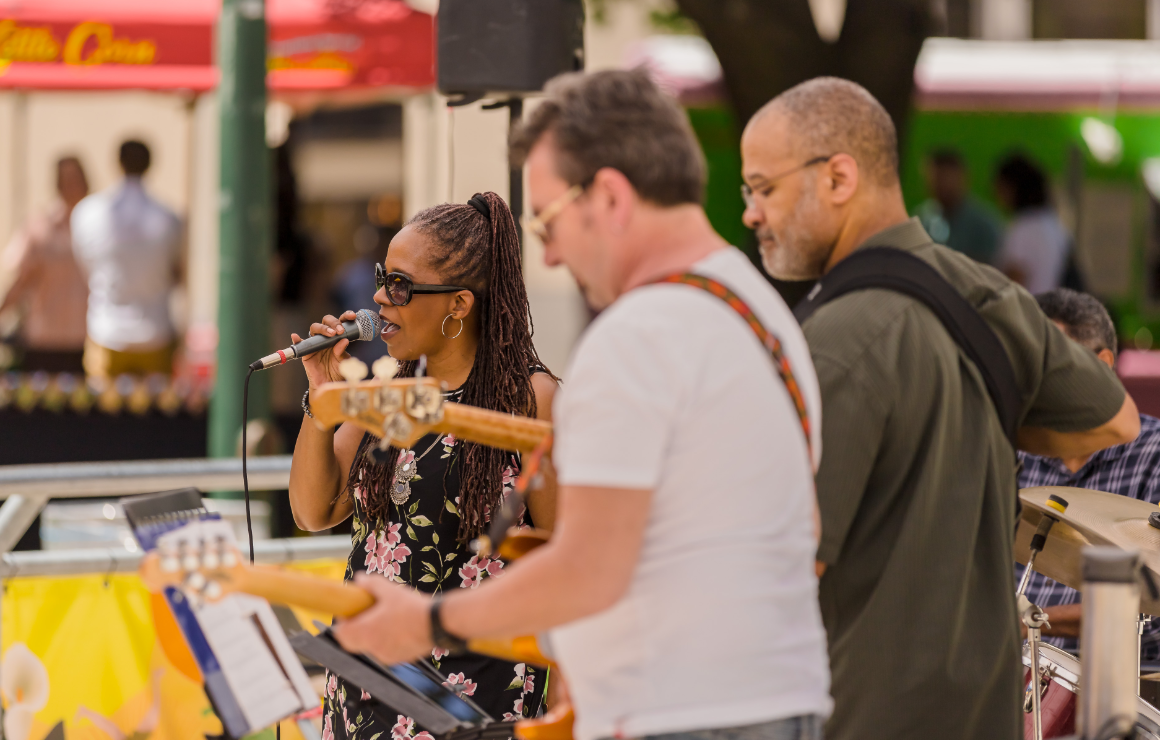 The sounds of summer are already echoing throughout Downtown Milwaukee, with free live music performances on five outdoor stages all season long. They include both midday and evening gigs by some of Southeastern Wisconsin's most beloved performers, as well as various talented Brew Town visitors. Plus, during Rainbow Summer: HIGHLIGHT, the music will be accompanied by "Evanescent," a stunning large-scale art display comprised of shimmering, larger-than-life bubbles. So, here's what there is to hear this summer:
1. Heart(beats) of the City powered by MGIC     
Wednesdays at 12:00 noon, through August 30     
Red Arrow Park, 920 N. Water Street
The lineup of this lunchtime concert and food truck series features a variety of local and national musicians, with something for everyone. In its second season, Heart(beats) of the City powered by MGIC once again promises to shake up the downtown lunch break with get-up-and-dance music each week. Plus, the area's best street eats will be on hand from 11:30 am to 1:00 pm.

2. PNC presents Tunes@Noon     
Thursdays at 12:00 noon, through August 31     
The courtyard at 411 East Wisconsin Center
Live local music is the focus of this charming, intimate venue. The courtyard at 411 East Wisconsin Center – located at 411 E. Wisconsin Avenue – provides an inviting environment to pull up a chair, soak up some sun and enjoy great lunchtime music all summer long.

3. Jazz in the Park presented by Johnson Financial Group     
Thursdays at 6:00 pm, through August 31     
Cathedral Square Park, 520 E. Wells Street
Jazz in the Park is celebrating over 30 years of sweet sounds in Cathedral Square. Downtown Milwaukee's largest weekly free music venue, it attracts scores of folks equipped with blankets and lawn chairs from all over the metro area. Happy hour begins at 5:00 pm, with beverages available to purchase and food vendors nearby. Then, at 6:00 pm, top notch music artists take the stage.

4. Riverwalk Commons Series     
Select Tuesdays at 6:00 pm, through September 26     
Riverwalk Commons, 423 N. Water Street
Dubbed Milwaukee's favorite under-freeway concert series, the Riverwalk Commons Concert Series takes place under the I-794 freeway, next to the Milwaukee River. The music lineup includes a fun variety of local favorites. Performances begin at 6:00 pm, with a pre-performance happy hour featuring beverage specials at 5:00 pm.

5. Rainbow Summer: HIGHLIGHT featuring Evanescent     
July 18 - 22, with activities beginning at 4:30 pm     
Marcus Performing Arts Center, 929 N. Water Street
A Downtown Milwaukee tradition, Rainbow Summer has presented lively musical entertainment and fun summer activities for decades. This year, its diverse lineup spans five nights in July, with a different performer each night. Food trucks will begin serving at 4:30 pm each evening, and activities will begin soon thereafter. Additionally, the art installation "Evanescent" will be on site throughout the festival, which will culminate with Versiti Family Day on Saturday. Family Day activities will begin at 3:00 pm.
 
Bonus sounds!
 
Summer Spinz     
July 21 and August 18 at 5:00 pm     
Red Arrow Park, 920 N. Water Street
The "Slice of Ice" skating rink has been reimagined as a community roller rink for the summer. Skaters can bring their own wheels or they can rent a pair on site – free while supplies last. Meanwhile people who don't want to skate are welcome to show up and enjoy the hopping music tracks being spun by DJ Bam.

Westown Day Market      
Select Thursdays at 12:00 noon, through September 21      
Zeidler Union Square, 301 W. Michigan Street

Cathedral Square Market
Sundays at 10:30 am, through August 27     
Cathedral Square Park, 520 E. Wells Street

These two longtime downtown farmers markets include acoustic performances by a rotating roster of Milwaukee's favorite musicians. As might be expected, a plethora of food and shopping are also available.
So, no matter your mood, you'll be sure to hear the best beats right here, in the heart of the city. Get the details about all the free live outdoor music events in Downtown Milwaukee this summer, here.
Experience Downtown in Every Sense
Posted in:
Arts & Culture
Posted in:
Summer in the City
Posted in:
Music
Posted in:
News