Experience Downtown in Every Sense – Top 5 Things to See Around Milwaukee This Summer
July 19, 2023 /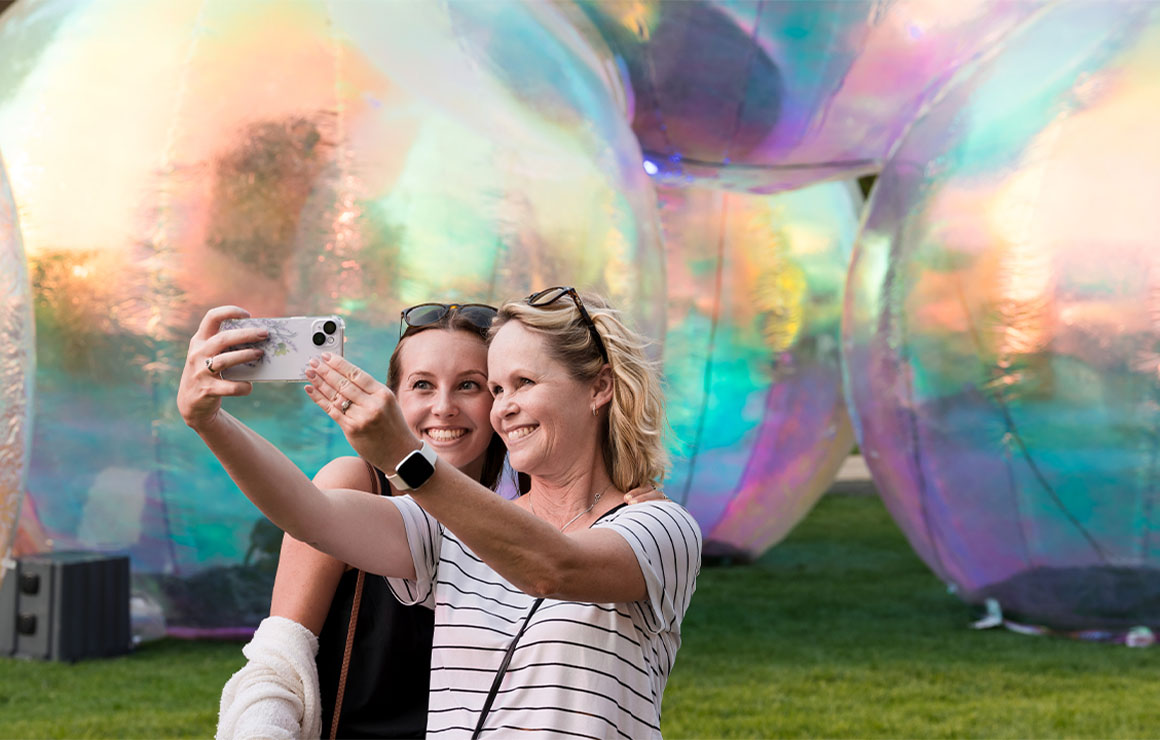 Get those sunglasses ready for a bright and beautiful summer here in Downtown Milwaukee! Brimming with glorious artworks, natural sights, historic architecture and vibrant culture, there is so much to see around town. Enjoy the larger-than-life bubbles with "Evanescent" by Atelier Sisu and free museum-quality pieces on view thanks to Sculpture Milwaukee. Go sight-seeing on one of our iconic boat tours or Historic Milwaukee's Walking Tours. Then, take a gander at the lively performers, food and art vendors, and local culture with Milwaukee Night Market.
1. "Evanescent" by Atelier Sisu
July 18 - 22, with activities beginning at 4:30 pm     
Marcus Performing Arts Center, 929 N. Water Street
A Downtown Milwaukee tradition, Rainbow Summer has presented lively entertainment and fun summer activities for decades. This year, it features an impressive, inflatable, large-scale art display with three sets of four bubbles each, which will have a total footprint of over 1,400 square yards. On Thursday, wander through the colorful Mercadera Market, a Latina-owned market that supports female entrepreneurs. Kids will love the rainbow-painted piano, bubble play time, and a special Versiti Family Day on Saturday with activities beginning at 3:00 pm.
2. Sculpture Milwaukee
Now through October 2024
Downtown Milwaukee
Since 2017, Sculpture Milwaukee has been bringing world-class artwork to the main throughfare of Downtown Milwaukee. This year discover their exhibitions, "Actual Fractals, Act I" through Fall 2024, and "Nature Doesn't Know About Us" through Fall 2023 scattered across the Downtown landscape. They've also worked in collaboration with local universities to create an exhibition called "Dear Nature" located within the 3rd Street Market Hall.
3. Boat Tours
Milwaukee River
One of the best ways to see the city is via boat. It's the perfect way to explore the routes along the waterways that wind through Downtown and get a 360° view of the sights to see. Several operators offer a variety of vessels for your cruise. Take your pick from Edelweiss, Riverwalk Boat Tours, Milwaukee Boat Line, Seadog Sailing. Or try out the Kanaloa Tiki Lounge or Milwaukee Kayak Company for a fun spin on boat tours.

4. Historic Milwaukee's Downtown Walking Tours
Tuesdays, Wednesdays, Fridays and Saturdays at 10am
Departs from 235 E. Michigan Street
Get an up-close look at Downtown's stunning architecture and key sites with a walking tour lead by Historic Milwaukee. Their weekly Downtown Tours offer insights on the most prestigious downtown buildings starting at the Mackie Building and continuing to the Milwaukee Art Museum. This two-hour tour is perfect for getting an up-close look at the details in every corner of Downtown.
5. Milwaukee Night Market
Wednesdays July 19, August 16 and September 13 from 5-10pm
West Wisconsin Avenue between 2nd Street and Vel R. Philips
Plan a meet up with friends at this monthly showcase that flaunts the city's culture and flair. Featuring over 100 vendors, artists and performers, the Milwaukee Night Market turns Wisconsin Avenue into a bustling hangout. Any way you look, you'll be sure to find local talent at this free and lively event.

Experience Downtown in Every Sense
Posted in:
Arts & Culture
Posted in:
Museums & Galleries
Posted in:
Summer in the City