Ambassador of the Month: Brian Johnson
April 17, 2023 /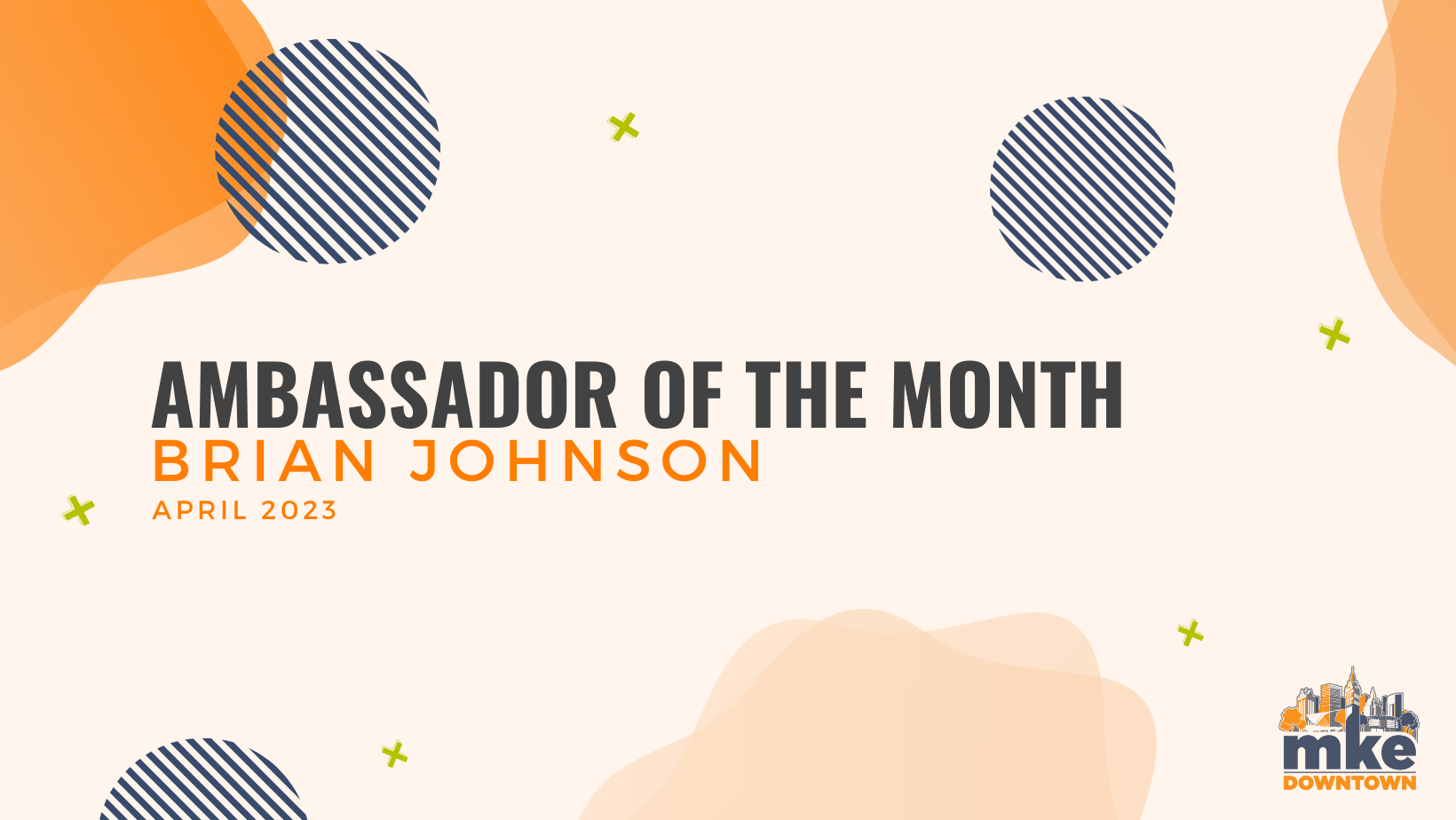 Ambassador of the Month: Brian Johnson
Working as an Milwaukee Downtown Ambassador for around 14 years, Brian Johnson lights up the hearts of both his team, and downtown-lovers. Working through his position as the Homeless Outreach Coordinator as well as a public Service Ambassador, Brian Johnson works to bring safety and joy to those seeking to enjoy Milwaukee. One of Johnson's favorite parts about MKE Downtown is enjoying all the events throughout the year and getting to chat with all  the attendants.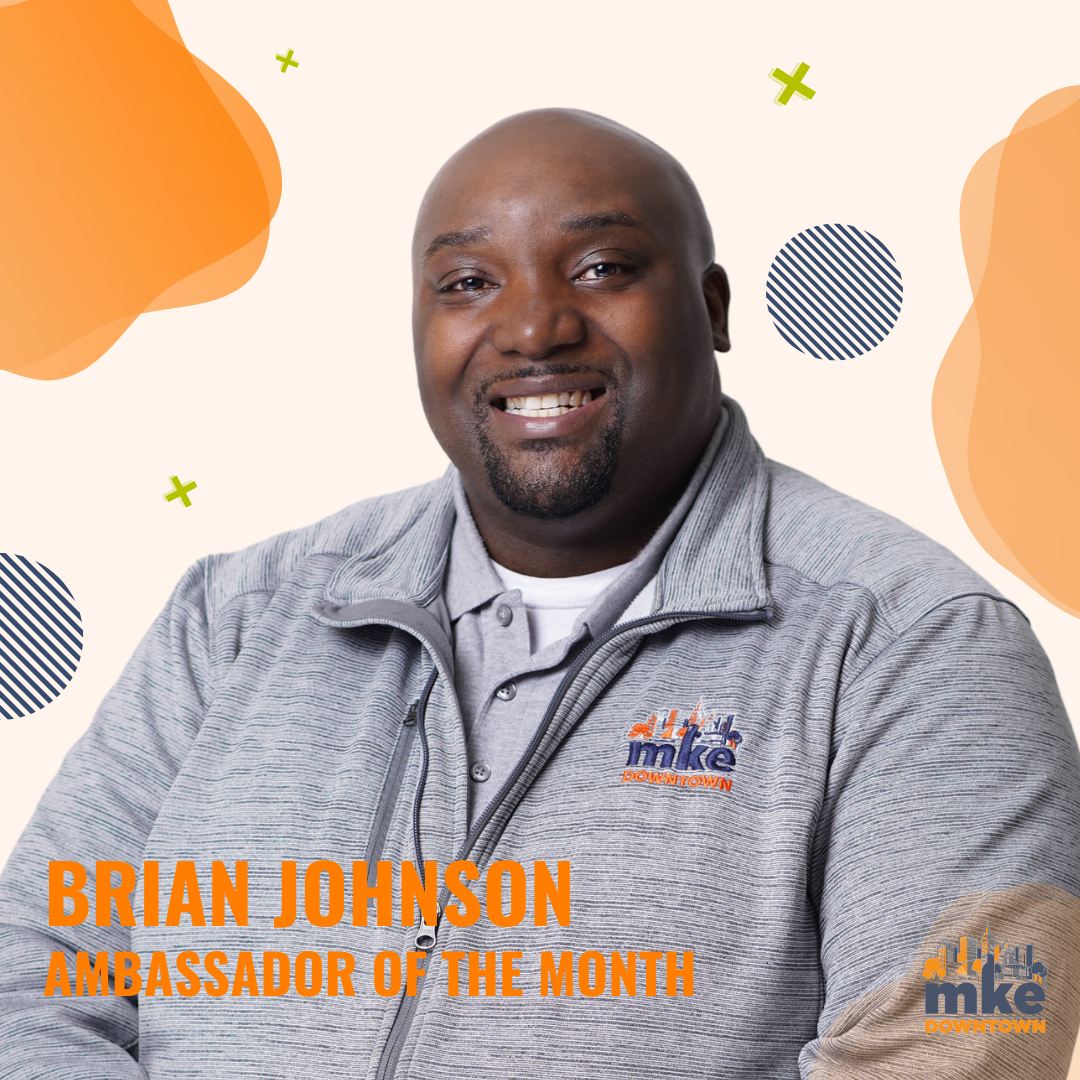 Brian exclaims that one of the best parts of his job is seeing the smile and wonderful energy Miss Carol, another Public Service Ambassador, has. 
Outside of Milwaukee Downtown, Brian is a youth pastor at his church. He loves playing music and enjoys doing sound engineering. Johnson notes that he loves helping and encouraging people. 
In the winter, Johnson enjoys the Jingle Bus the most. "When I first started and I had to participate in the Jingle Bus, the driver noticed that I was nervous and they made me feel really comfortable. All you have to do is be yourself and have fun with it," Johnson states. "Over the years, we've built a relationship and we all work together as a team to make the experience a good time for the people who join!" 
Johnson is not short of a big heart and a good time, but he has also had a few life-saving and life-changing moments as his time as a Public Service Ambassador. 
"It was summertime and I was walking along the river walk. I noticed two men who were in their own canoe boats. One of the men could swim and the other couldn't. Somehow the water got inside the man's boat and it went under. I was able to help him, get him into a life jacket and back on his boat to enjoy the rest of the day," Johnson states. 
We asked Director of Public Ambassadors, Roosevelt Jenkins, why he thought Brian Johnson should be the next Ambassador of the month. Jenkins wrote, " Brian has held the position of our Milwaukee Downtown Bid #21 Outreach Coordinator for about 2 years, and has consistently shown exceptional leadership skills.  Brian has worked with our Milwaukee Police Department as a contact person in assisting with placing homeless in shelters and housing.  Brian has also trained our Public Service Ambassadors on how to safely interact and engage with Persons of Interest (POI).  Brian is a tremendous asset to our organization, and has my highest recommendation as the next ambassador of the month!" 
Lightning Round: 
If you were to have dinner with anyone, dead or alive, who would it be and why? 
First my wife because she's my heart, Beth Weirick, Beth Lappen, Steve Basting, and Tom B. All four of these people have inspired me to be the best PSA, taught me so many things and gave me so much wisdom and knowledge.
Who is your favorite band? 
I am a gospel lover. Lisa Knowles and the Brown Sisters, and Canton Spirituals. 
If you were to take an all-expenses-paid trip, where would you go? Who would you take? 
I would love to go to the Wisconsin Dells and I would take my family because we never had the chance to experience it yet. 
What is your favorite quality about yourself? 
My big heart and the energy I have for everything and everyone. 
As always, thank you Brian for your hard work, big heart and dedication to Milwaukee Downtown! 
Posted in:
Silver Linings