Ambassador of the Month: Carol Robinson
May 22, 2023 /
Ambassador of the Month: Carol Robinson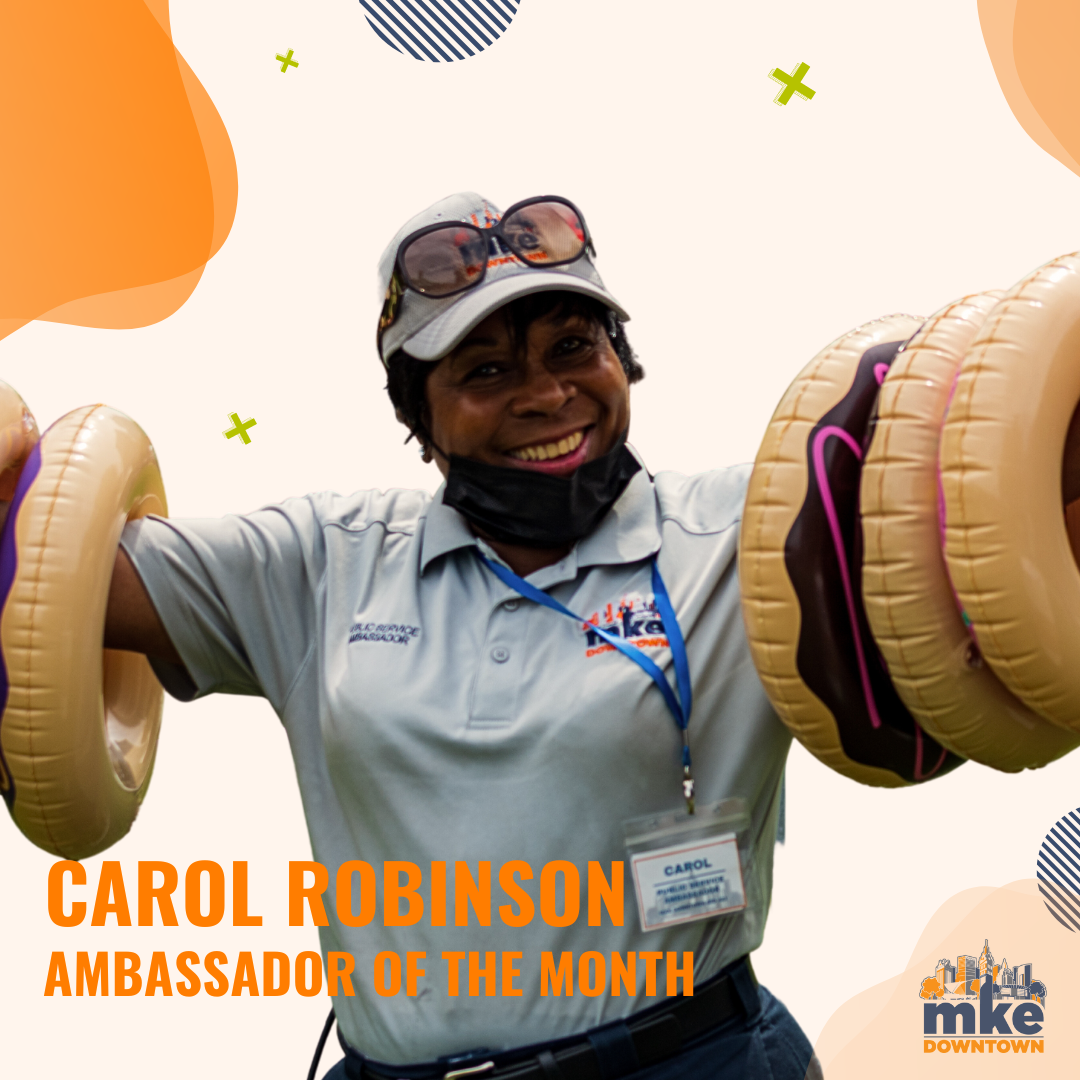 Known for her bubbly personality, ability to put a smile on anyone's face and love for Milwaukee Downtown, it is a pleasure to announce Carol Robinson as this month's Ambassador. 
Known as "Miss Carol", Robinson has been working as an ambassador for 16 years. Upon asking Robinson her role as ambassador, she states, "My role is to extend a warm, hearty welcome to our visitors and locals who visit, and frequent, our downtown. We're the smile of downtown Milwaukee." How Miss Carol views her role in Downtown Milwaukee is a large part of why she is so widely admired. 
Outside of Milwaukee Downtown, Miss Carol expresses her love towards her family. She exclaimes, "God first, others, then myself. I believe wholeheartledly in serving others in a helpful manner." Miss Carol states the Parades are some of her favorite Milwaukee events, and she loves to also explore the Third Ward. Robinson states that she enjoys that she is so easily able to spread positive news daily to those in Downtown Milwaukee. 
On one of her days as an ambassador, Robinson assisted two individuals who had lost their belongings in the Milwaukee River. With the help of the DPW and a team that frequently patrolled the river, they were able to retrieve the items that were lost. "I've gained many friendships with so many wonderful people from near and far," states Robinson.  
Being recognized by her co-worker, Brian Johnson, we believe that Miss Carol is a wonderful nomination for our May Ambassador of the Month. Johnson states in regards to nominating Robinson, "Miss Carol because of the great impact, love, care, missionary, dedication, smile and everything that she is." 
Lightning Round
Who is our favorite band? 
Earth, Wind and Fire 
What is your favorite vacation spot? 
Hawaii, I lived there for four years
What is your favorite quality about yourself?
My Smile! (We agree) 
Posted in:
Silver Linings