9 Ways to Fall in Love with Downtown
February 10, 2021 /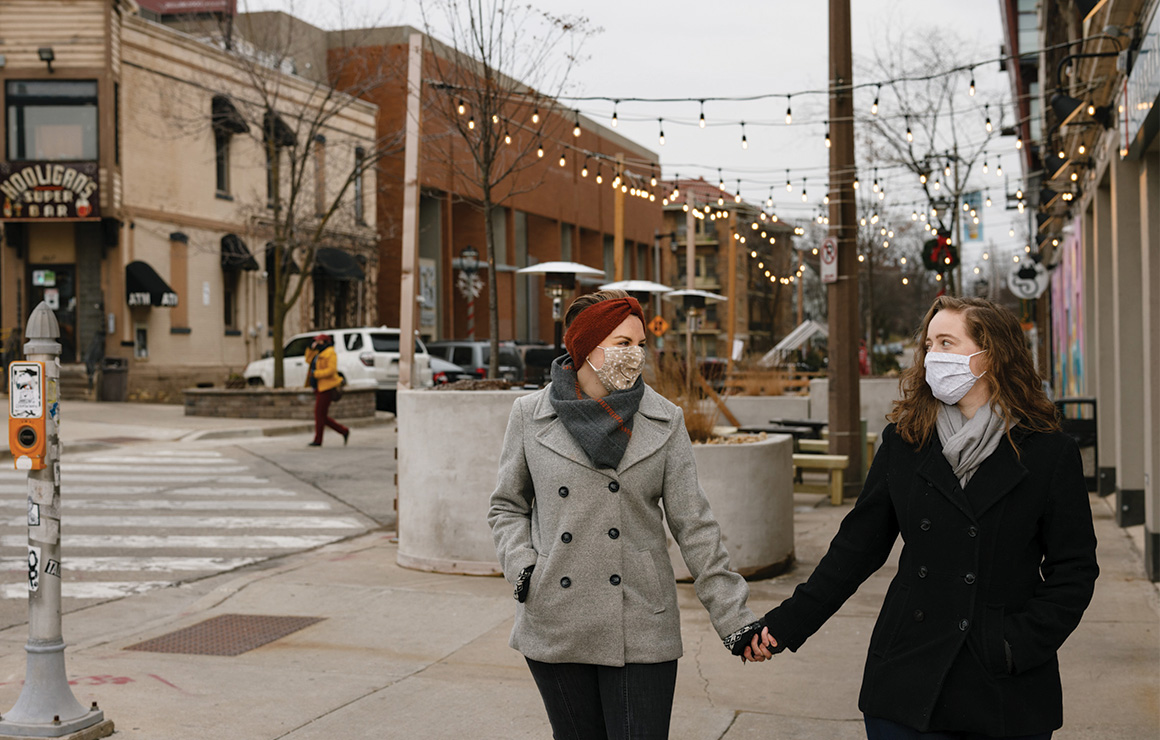 When planning for your Valentine's Day, Milwaukee Downtown is safe and open for business! If you haven't already, fall in love with Milwaukee this weekend with these nine enchanting ventures.
Dig into Downtown's Couple Meals and Deals
Restaurants all over Milwaukee are whipping up special dinner packages for couples this Valentine's.
Buckley's Restaurant and Bar offers Take & Heat Style Meals ($50/person). How can you say no to a piece of Bailey's Red Velvet Cheesecake? Pre-order by Feb. 10 and pick up on Feb. 12-14.
Bacchus has both a dine-in option ($95/person) and a prepare-at-home kit package ($65/person), each with three delicious courses and fun add-ons. Make your dine-in reservation today. Pre-order the take home package by Feb. 10 and pick up on Feb. 12-14.
Sample many dishes with Amilinda's Dinner for Two package, which includes six tapas plates, a bottle of Cava and a bottle of wine ($120). Pre-orders online Feb. 8-11 and pick up on Feb. 13. 
Find more lovely Valentine's Day Meals from OnMilwaukee's list.
Marvel at Glittering Lights 
Get swept off your feet with the gorgeous lighting around downtown. From the blue and purple Northern Lights glowing in Cathedral Square Park to the new dynamic lighting brightening up the four murals on Broadway and Water Street, even the Hoan Bridge will celebrate Valentine's with a spectacular display.
Share Decadent Desserts with your Sweetie
If there's any time to indulge in a treat, it's on your Valentine's date. Try Onesto's Piccino Cafe for a delicious Valentine coffee and homemade bakery. Tua Pasta's gelato might be a cold endeavor, but its flavor is worth the chill. You have to try the Strawberry Shortcake from Elsa's on the Park. There's even a special Valentine's Day-inspired neon heart installation inside the restaurant!
Sneak off for a Valentine's Getaway 
Go all out and book a sweetheart weekend getaway at the Saint Kate - The Arts Hotel. Choose between staying cozy in your room or reserve your spots for the VIP Valentine Celebration, complete with live music and sweet treats.
Pose with Chill Ice Sculptures 
During Valentine's weekend, stop by the Saint Kate - The Arts Hotel to pose with a pair of charming ice carved "angel wings" or snag a cute photo in the "Valent-ICE" frame at Brighten the Passage, underneath I-794. Stop by the Marcus Performing Arts Center to see if the friendly MKE It Local bears are still chilling there, ready for a photo shoot.
Smell the Roses at a Local Shop
Stop by a local floral shop and pick up a bouquet of fresh flowers. Fall head over heels with arrangements from Belle Fiori on the East Side, 414loral on King Drive, or Marius Bell in the Milwaukee Public Market.
Enjoy a Romantic Virtual Event
Plan a virtual happening for your date night. Check out VISIT Milwaukee's Giving Fest for plenty of festive online events. Relax during a morning virtual tour of Milwaukee's Greatest Love Stories and order a Breakfast in Bed Box from Milwaukee Food & City Tours ahead of time to munch on during your tour. Photo courtesy of Milwaukee Food & City Tours.
If you're looking to capture the stars, but aren't too keen on star gazing during this frigid weather, sit back for CUPID'S CONSTELLATIONS, presented by UWM Manfred Olson Planetarium. Pick up takeout for lunch and enjoy the sky!
Support Local Performing Arts During your Date Night
Nothing's sweeter than supporting our local performing arts. Stream a past show from Milwaukee Ballet or The Florentine Opera. Missing movie dates in the Oriential Theater? MKE Film has you covered - your heart will burst with the films featured on Sofa Cinema. Plus, when you watch from home, you can use all the toppings you want on your popcorn. 
Treat Yourself to a Spa Experience
Downtown is home to many phenomenal salon and spa experiences. If you're looking to be pampered, book an appointment at The Pfister's WELLS Spa + Salon, Violet Beauty Lounge or Salon Blanc.
---
About the Author: Terese Radke is a recent graduate of the University of Wisconsin-Milwaukee and the Special Events & Marketing Intern with Milwaukee Downtown, BID #21, advancing downtown's strategic priorities through marketing, events and social media.
Posted in:
Performing Arts
Posted in:
Shopping
Posted in:
Dining & Nightlife
Posted in:
Hotels