7 of the Most Wisconsin-Themed Items Offered During Downtown Dining Week
June 5, 2018 /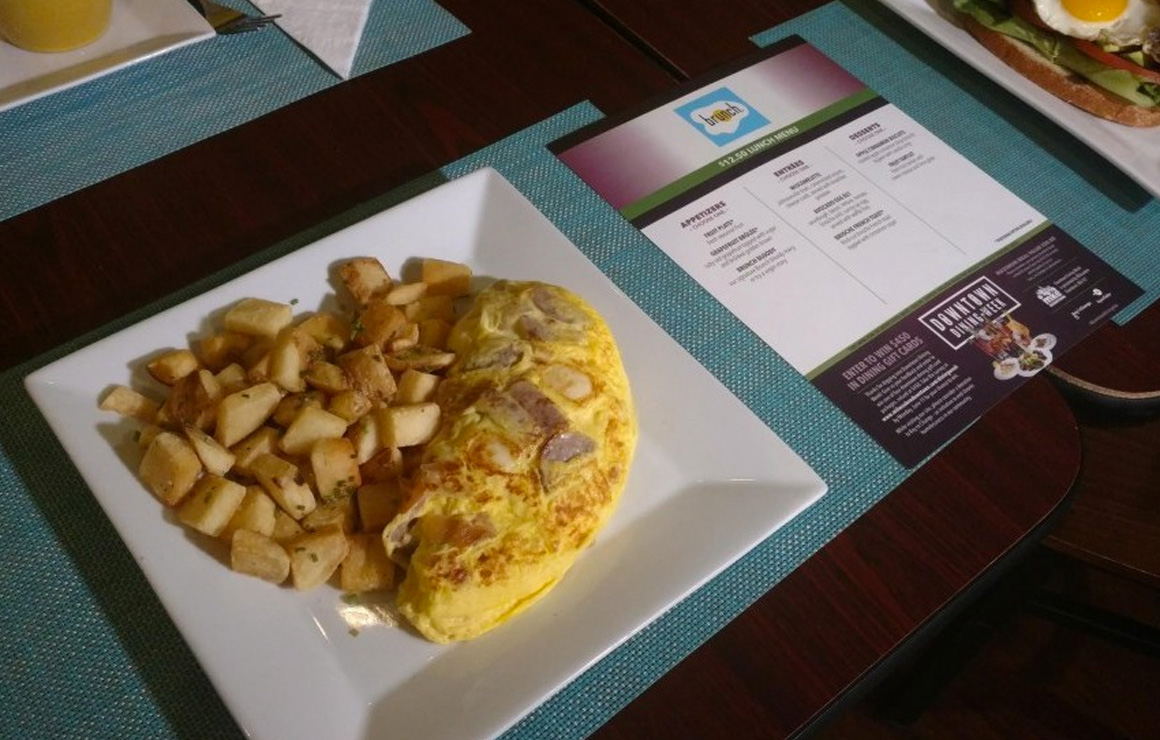 It's a week many Milwaukeeans look forward to all year--Downtown Dining Week (now through June 7) means creative menu items, three high-quality courses and unbeatable deals at 39 downtown restaurants.
During a uniquely Milwaukee event, it's fitting that many eateries showcase food with a special Wisconsin twist. Here's your guide to just a few of the Sconnie-themed options during this year's Downtown Dining Week. View all the menus here. 
WISCOMELETTE AT BRUNCH
In case the name isn't proof enough, this baby is pure Wisconsin. Topping the list of Brunch's Dining Week entrees, the mouthwatering Wiscomelette features cheese curds and Johnsonville brats with a side of breakfast potatoes. Top it all off with their homemade hot sauce for a spicy twist.
USINGER'S SAUSAGE SANDWICH AT DOC'S COMMERCE SMOKEHOUSE
The perfect lunch for a Milwaukeean, DOC's is serving up a satisfying Usinger's hot link alongside cole slaw and chips. For carnivores with a hankering for more meat options, come back after dark and feast on a dinner Sampler for Two.
CHEESE CURDS AT FLANNERY'S
Curds are the definitive Wisconsin staple. Flannery's does them right, battering them in Leinenkugel's Honey Weiss and deep-frying them to golden perfection. If you have visitors in town, this Dining Week appetizer is the ideal intro to classic Wisconsin fare.
CATHEDRAL SALAD AT MI•KEY'S
Something about this fresh, colorful salad seems to pair perfectly with a summer evening in Cathedral Square. Topped with Kalamata olives, tomatoes, red onions, pepperoncini and more, this tasty appetizer option is best enjoyed on Mi•Key's patio bordering the park.
FURTIVE FISH FRY AT SAFEHOUSE
You can pretend it's Friday any day of the week with SafeHouse's fish fry. Beer-battered cod is the centerpiece of this entrée at downtown's one-of-a-kind spy-themed eatery. Plus, it's served with french fries, coleslaw and SafeHouse's top-gun tartar sauce.
BEER & CHEESE DIP WITH PRETZEL CROSTINIS AT MADER'S
German heritage runs deep in Milwaukee, and Mader's is the expert on delivering authentic German fare. This dish from their Dining Week appetizer menu features Wisconsin cheddar and cream cheese with Munich's Spaten beer. Bonus, it's also a great option for vegetarian diets.
CHEESE CURD MELT BURGER AT BRASS ALLEY
When you have a burger hankering, The Brass Alley will deliver. Your burger will include cheese three ways--pepper jack, cheese curds and a five-cheese sauce. And if that's not enough to convince you, it's also topped off with bacon. Sold!
Erica Chang serves as the Marketing & Events Coordinator for Milwaukee Downtown, BID #21.
Posted in:
Dining & Nightlife