Staycation, all I ever wanted
December 9, 2020 /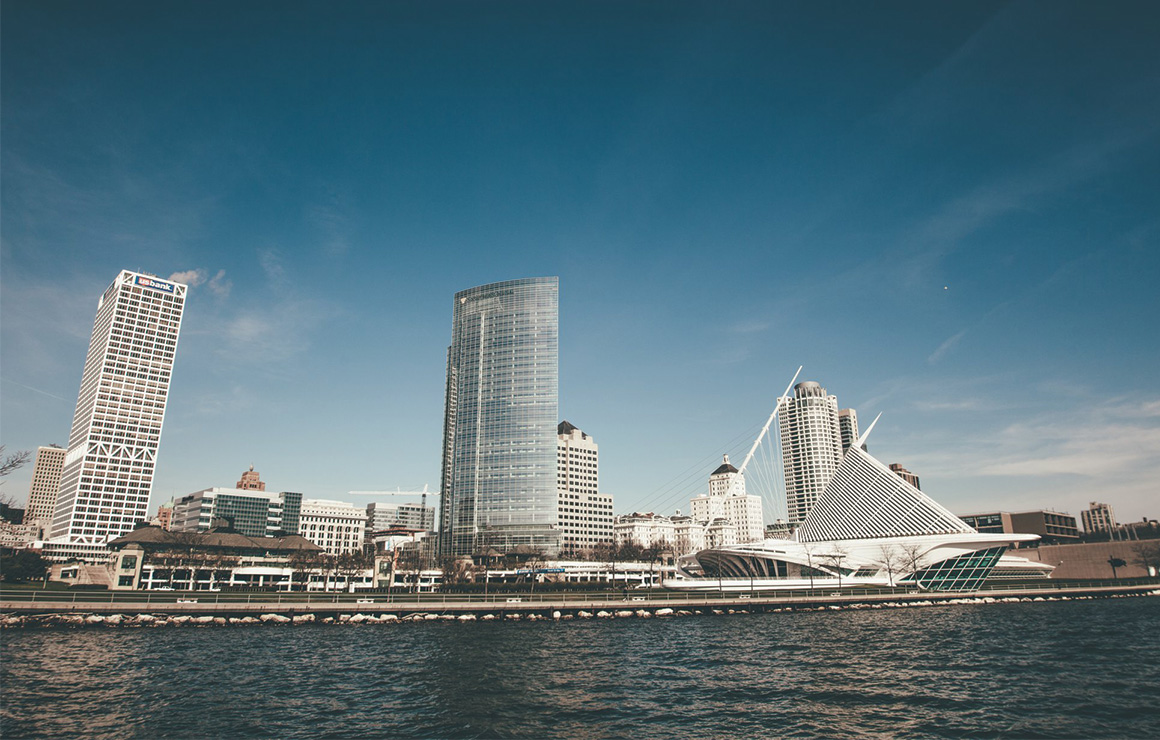 While most of us are not traveling far and wide this holiday season, there's no reason we can't be tourists in our own city. Lately, I couldn't agree more with the Go-Go's "Vacation" lyric, "here at home there's nothin' to do," but outside the four walls of our homes, Milwaukee is as vibrant and exciting as ever with many safe experiences and ways to enjoy downtown. We've crafted a few fun staycations anyone in your life would love since a weekend getaway right now is probably all you've ever wanted.
The City of Milwaukee is operating under the Moving Milwaukee Forward Safely Plan so guests can be confident that they will be dining, shopping and staying safely. As Milwaukee Downtown, BID 21's Clean Sweep Ambassadors ensure that downtown is staying sparkling clean, remember to wear your mask, socially-distance and use the hand sanitizer stations found around the city.
Art-lovers staycation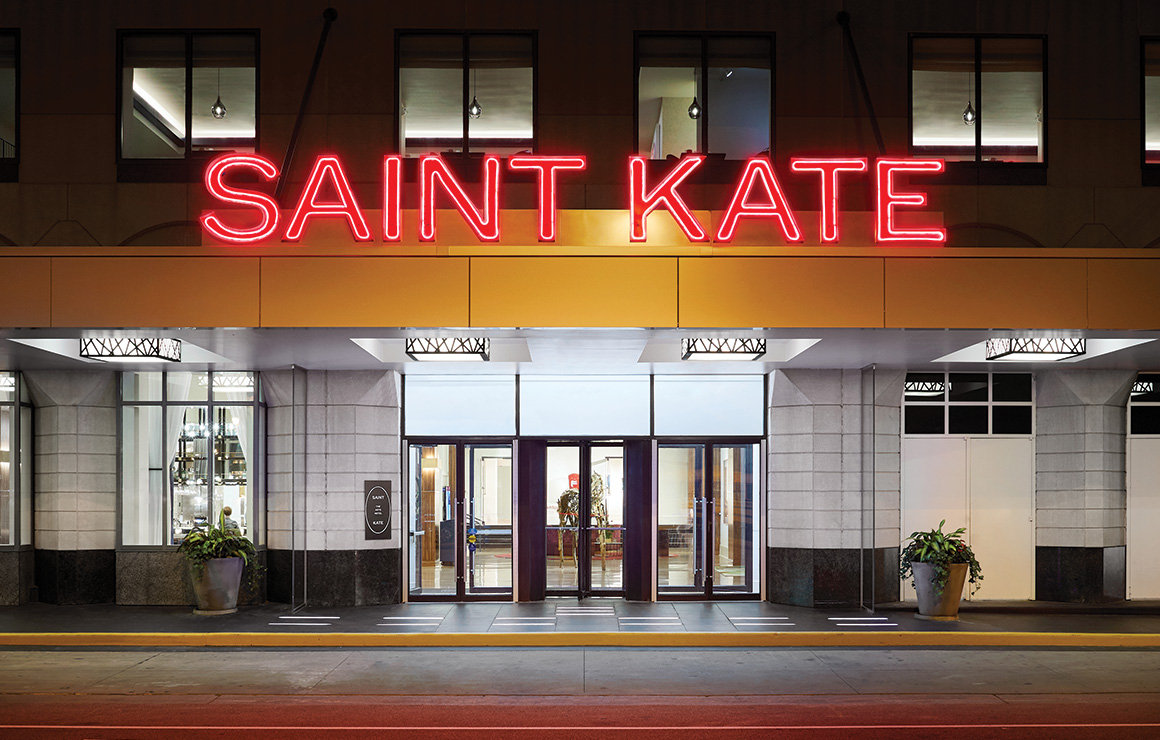 Saint Kate - The Arts Hotel offers a stay like you've never had before! Not only a curated gallery and multiple bars live inside the hotel, but each room is also gorgeously decorated with all types of art. With health and safety top of mind, view the Saint Kate safety plan here. Learn more about their room packages and exclusive rates here. Photo courtesy of Saint Kate.
Get ready to stroll through Milwaukee like it's an open-air art gallery. Find countless inspiration in murals or Sculpture Milwaukee masterpieces. View Milwaukee's world-class public art array of over 140 monuments, sculptures and murals here.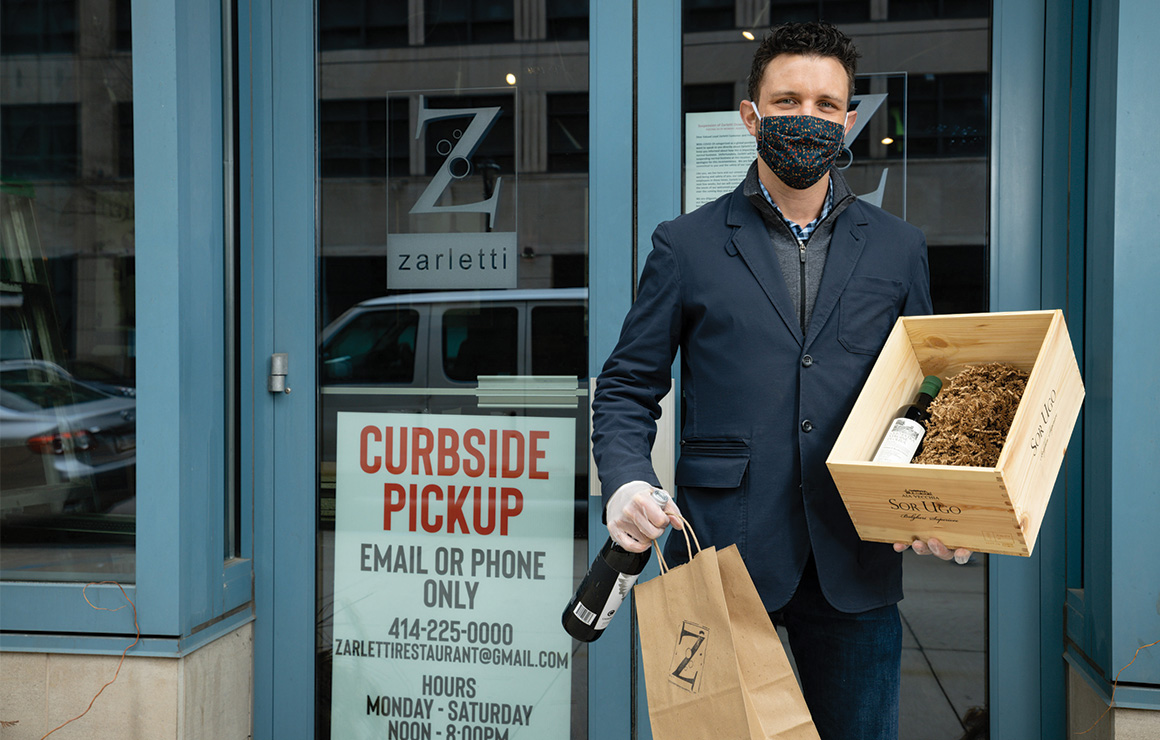 Hungry after exploring our streets? Dine at Zarletti and enjoy the Italian recipes passed down from the owner's grandmother. If you are in the mood for Spanish and Portuguese cuisine, Amilinda is the way to go. Their menu changes weekly to offer you a variety of flavors and options that keeps you coming back for more.
Shop the Pabst Theater Holiday Curbside Popup during your stay. Place your order online from the comfort of your hotel room and pick it up outside the theater. From Pabst mugs to t-shirts to signed posters from past performers, I'm sure you know someone who'd like Neil deGrasse Tyson's autographed poster.
Sport-lovers staycation
While we aren't gathering to watch sports in-person, fans still love to explore the Deer District! With many restaurants and bars safely open, any sports lover would enjoy their stay at the SpringHill Suites or Aloft to get a feel of the area for next season.
As colder weather draws near, it's the perfect time for indoor golfing. Swing by FORE! Milwaukee for a unique experience. New to golf? Have no fear - FORE! offers instructions and games for players of all skill levels. If outdoor winter sports are more your style, grab your mask and reserve a skate session at Slice of Ice @ Red Arrow Park. This outdoor ice rink is in the heart of downtown and free to use when you bring your own skates! No skates, no problem. Rent a pair at the warming house. Monitor the rink's opening here.
You can't beat a giant pretzel and beer cheese while you watch a game over dinner at SportClub (currently only open during the weekends). Or treat yourself to a steak at Carnevor or RARE Steakhouse.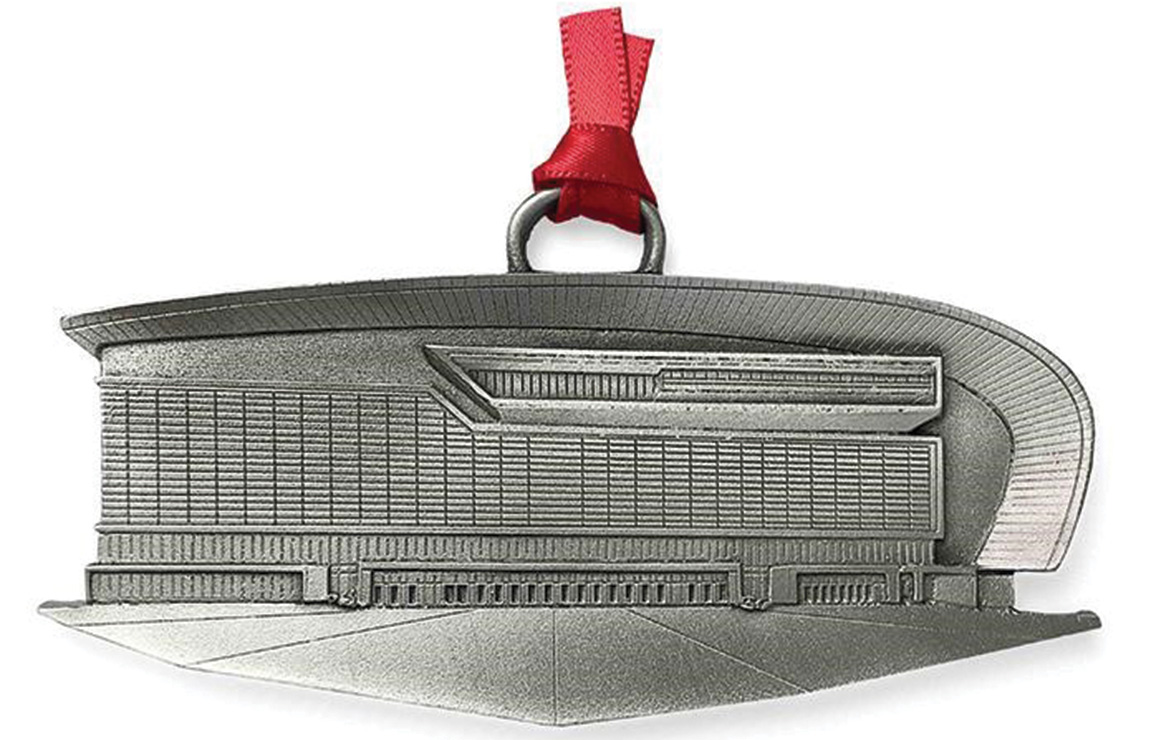 Before you go home, stop by the Bucks Pro Shop at the Fiserv Forum to snag last minute gifts for the basketball fanatics in your life. Top off your vacation with a charming holiday memento - a Fiserv Forum ornament! Check it out here.
Relaxation staycation
Sometimes you just need time to catch your breath, not catch up on house chores. Dubbel Dutch is a new hotel right in Milwaukee's East Town neighborhood. This vacant mansion was transformed into a small historic hotel. Away just enough from the bustle of downtown, each unique room is ideal for a relaxing night in. Hot tip: Check out their 53202 SPECIAL and book a room with a bathtub. Bring your favorite bath bomb to enjoy as you relax in a warm bath.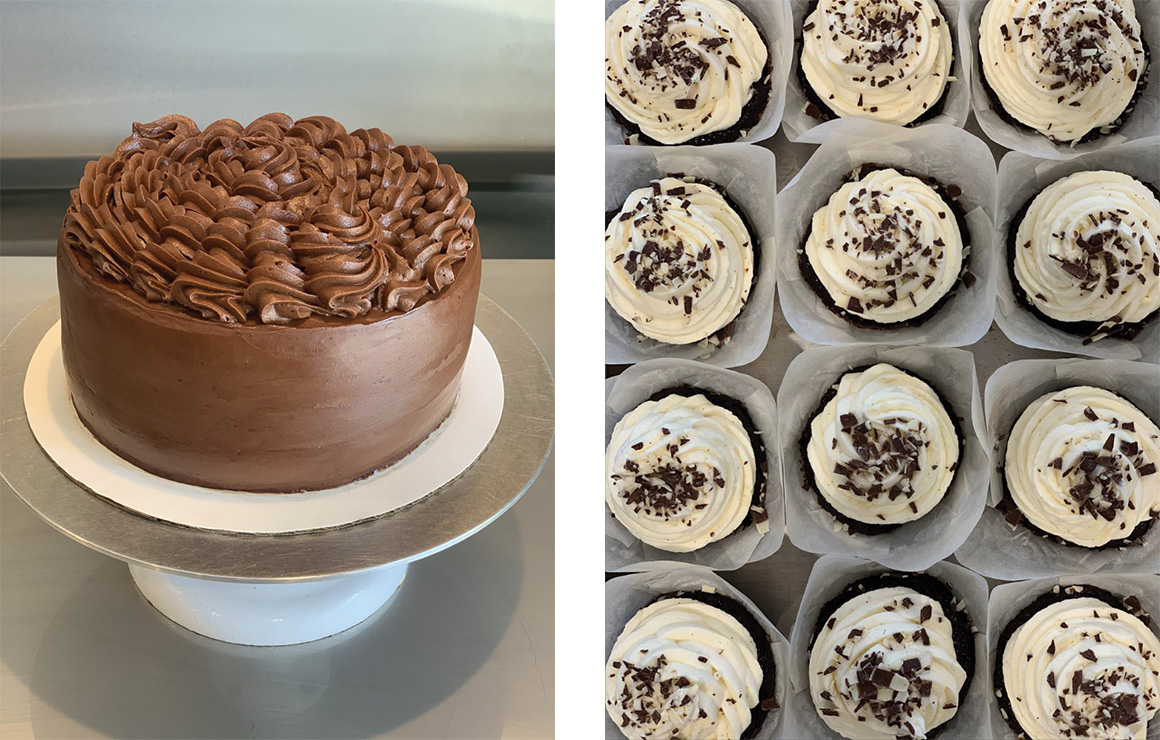 Buckley's makes eating delicious meals, both for dine-in or takeout, easy and safe. Sit in their comfy dining room or pick up a burger to enjoy back at your hotel room. Looking for a more laid-back vibe? Grab a beer at Flannery's on their heated outside patio. Photos courtesy of Buckley's.
What's a relaxing getaway without a spa experience? Make a reservation and indulge in a massage or facial at East Town Spa or The Pfister WELL Spa + Salon.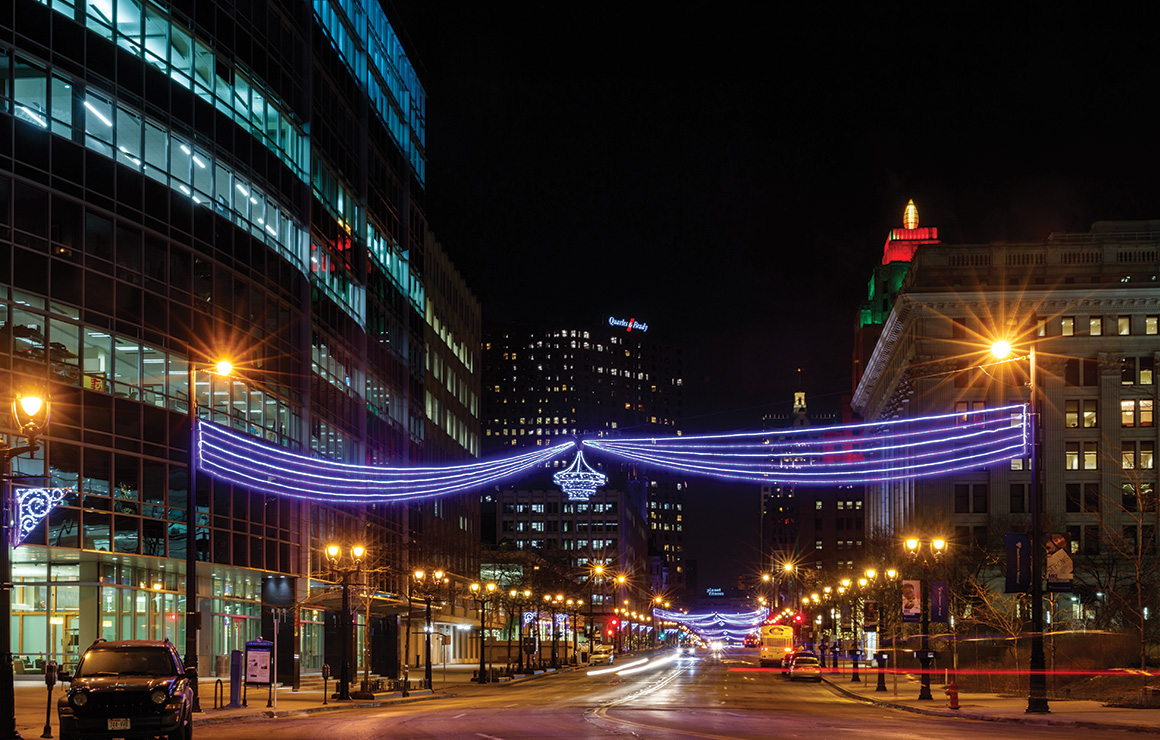 Finish off your staycation with a leisurely stroll or drive along the lakefront or down Wisconsin Avenue. Bask in the glow of the twinkling chandeliers and trees lining the street.
Holiday staycation
'Tis the season to celebrate your holiday dreams! Spend a night at The Pfister Hotel. This iconic Milwaukee hotel offers elegant rooms, exceptional dining and luxurious spa services. Check out their room packages here. The already high standards of The Pfister go above and beyond with their health and safety response, which you can view here.
Live your fancy fantasy and make a reservation for The Pfister Afternoon Tea. Along with delicious tea choices, enjoy sandwiches and pastries served up on shiny silver platters. If you're staying over on Christmas Day, have your holiday meal at A Mason Street Grill Christmas. Private dining rooms are available for your gathering as well. If you find yourself restless on a winter evening, sneak up to Blu on for a classic cocktail. Gaze over the lights and sights of Milwaukee from the 23rd floor, including the forest of sparkling evergreens in "Community Spirit Park" at Cathedral Square Park. Plus, there's live music on Fridays and Saturdays!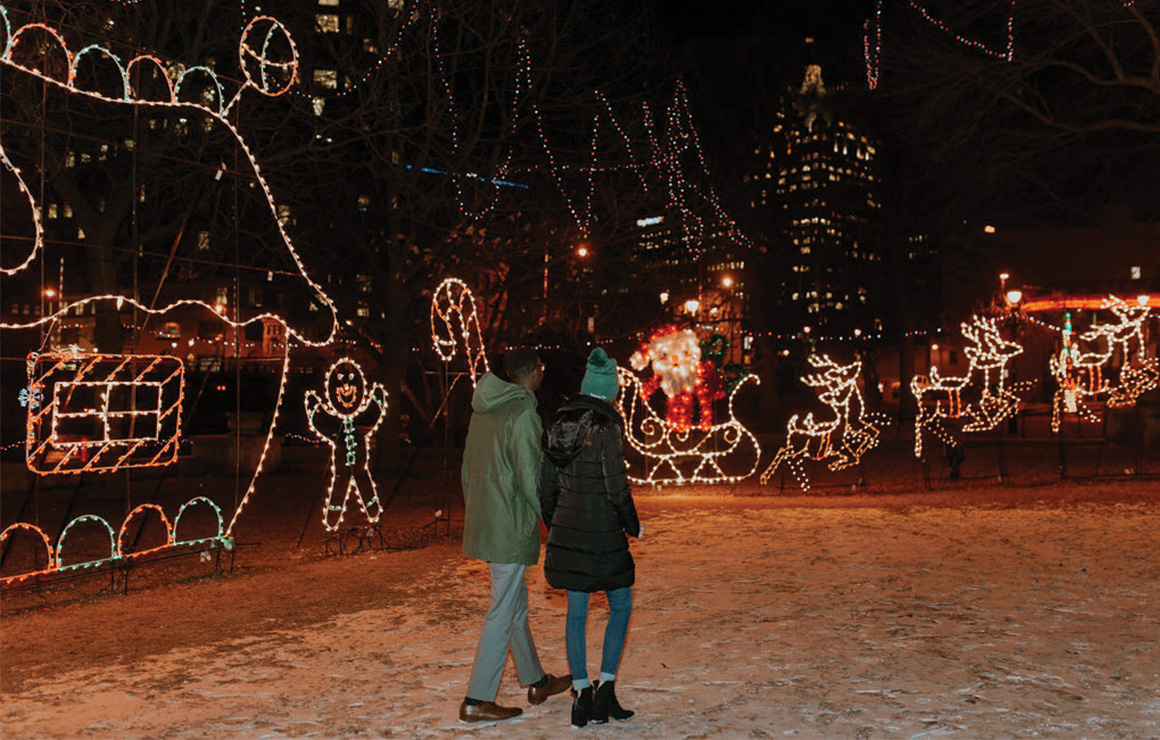 Lose yourself in downtown festivities as you explore the sparkle and shine of Milwaukee Holiday Lights Festival. Remember to stay "snowically-distanced" as you buy a tree or festive wreath from the Ideal Property Tree Lot in the Pere Marquette Park.
Feel like snuggling up inside your luxury room? Stream A Christmas Carol online for FREE December 1-24 from the Milwaukee Repertory Theater. This classic movie will make you feel warm inside as you start to sprinkle in Bah humbug into every conversation.
---
The perfect compliment to any of these staycations is enjoying the must-see destinations of the Milwaukee Holiday Lights Festival! Enjoy a free self-guided audio tour available on the iHeartRadio app, available in both English and Spanish. Whether you follow along by car or on foot, the Jingle Bus audio tours will have you oohing and ahhing at the twinkling lights brightening Milwaukee.
Want to explore Milwaukee's streets, but it's a bit too chilly to walk? Leave your car in parking and jump on The Hop! The Hop is currently free to ride, no tickets or vouchers needed. If you haven't tried The Hop yet, learn more here. Masks are required onboard.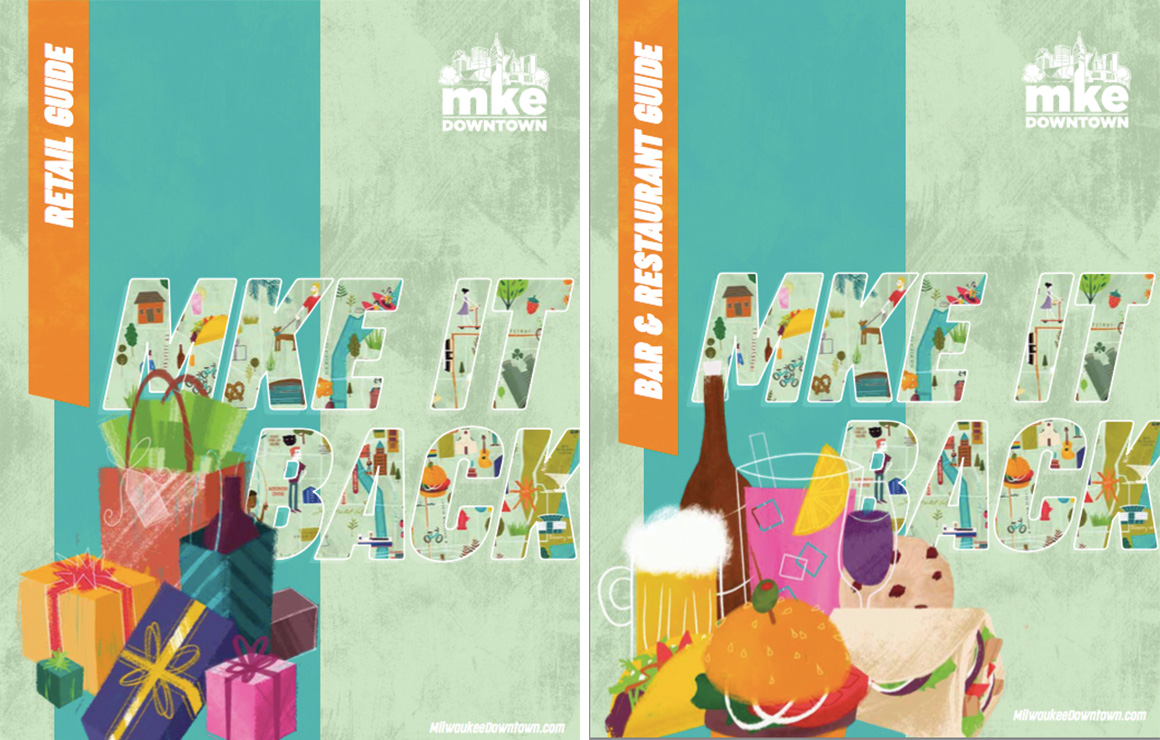 Planning your own Milwaukee staycation? Milwaukee Downtown's BAR & RESTAURANT GUIDE and RETAIL GUIDE make it easy to dine and shop Milwaukee this festive season. You can find more lodging ideas as well in the Milwaukee Downtown HOTEL DIRECTORY. 
About the Author: Terese Radke is a senior at the University of Wisconsin-Milwaukee (graduating December 2020!) and the Special Events & Marketing Intern with Milwaukee Downtown, BID #21, advancing downtown's strategic priorities through marketing, events and social media.
Posted in:
Shopping
Posted in:
Dining & Nightlife
Posted in:
Hotels