Hop to it! Downtown Spots have Special Easter Sweets & Eats
March 30, 2021 /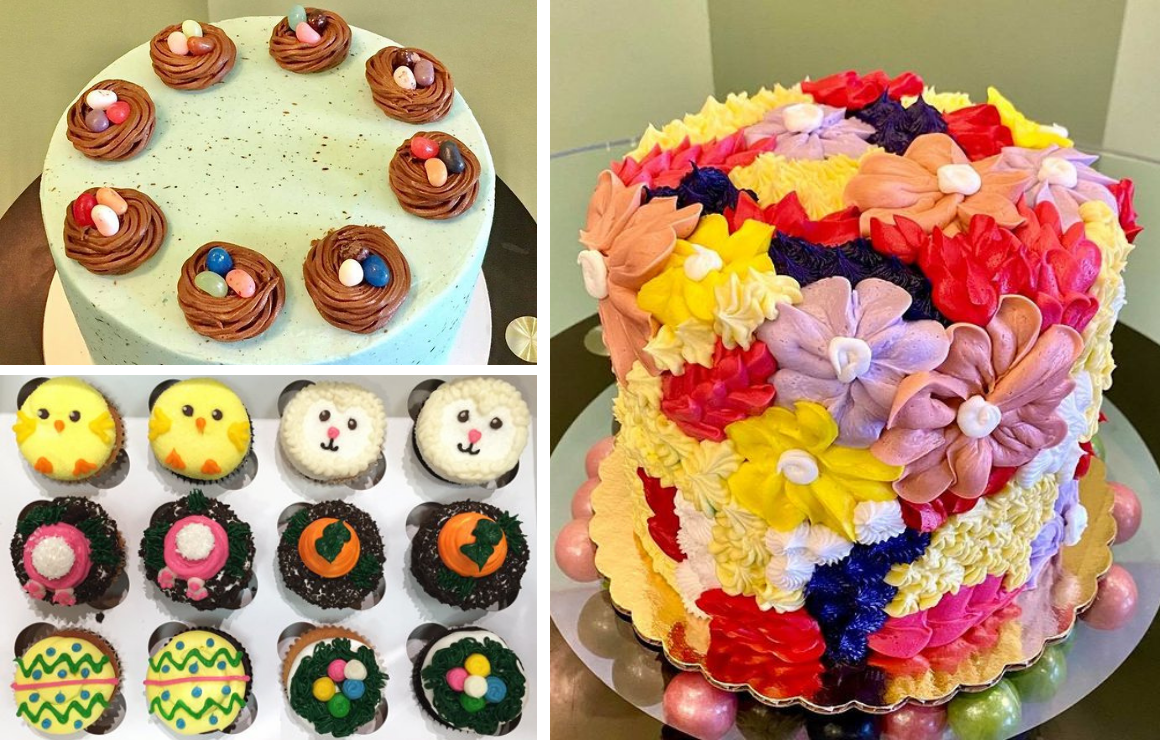 Photos courtesy of Classy Girl Cupcakes
Easter is around the corner and if you're like me, you have no interest in rushing to make a meal…so why not let downtown's chefs do the heavy lifting for us? Keep on reading to find restaurants offering special Easter menus, take-and-heat options, and reservations for dining in on Sunday!
Reminder: these pre-order deadlines for takeout and table reservations are coming up quickly. So, hop to it and make your plans soon!
Dine in 
Dine in for a three-course Easter brunch from 10 AM - 3 PM at Bacchus ($58 per person). The menu has surf-and-turf options like grilled flank steak and sauteed salmon as well as brunch items like eggs benedict, so your can cater to your mood. Desserts range from chocolate cake to lemon tart to a delightful house-made sorbet. Reserve your table here!
Dine in | Takeout
Let Buckley's do the cooking for you this Easter. Make your reservation here if you're looking to to dine in (act quickly, seating is limited).
Or enjoy from the comfort of your home with an Easter Picnic Basket, decked out with a mixed greens salad, scalloped potatoes, and kettle range ham with mustard sauce and a couple of rolls - plus a little Easter surprise ($50 per person). Since it's the holidays, add a cocktail…or more like a 32 oz. jug-full! Choose between the Famous Half & Half Bloody Mary ($40) or Curry Gin Gimlet ($40). Finish off your meal with cupcakes (half dozen $18; full dozen $36) or a slice of cake for dessert and you're all set. Call to pre-order before Thursday, April 1 for pickup during business hours on Saturday, April 3 or Sunday, April 4.
Takeout
Feed your fam with Cafe at the Plaza's Classic Breakfast Easter Family Meal! The package includes scrambled eggs, a choice of mixed greens salad or Café potatoes, cut fruit, breakfast meats, and your choice of pastry ($16.95 per person). Add on a beverage kit for $10 off regular menu prices - the Bloody Mary Kit comes with candied bacon ($30)! Pre-order here before 5 p.m. on Thursday, April 1 and pickup either Saturday, April 3, or Sunday, April 4, 7 AM - 2 PM. 
Dine in | Takeout
Reserve your table for The Capital Grille's Easter brunch on April 4. Enjoy an appetizer, entree and dessert ($49). While you're at it, add on a classic mimosa ($9). There's also a kid-friendly menu with fun entree choices like mini cheeseburgers or french toast ($15).
The Capital Grille is serving up a three-course dinner for you to take home! The Easter at Home package includes a field greens salad with parmesan vinaigrette, whole rack of bone-in filet and horseradish cream, grilled asparagus, Sam's mashed potatoes and flourless chocolate cake ($155+). You can add even more to your order: six lobster tails ($80), 18 shrimp cocktails ($50), and lobster mac 'n' cheese ($50). The chef's have you covered with the simple instructions to warm included. Pre-order here and pick up Saturday, April 3, 12 PM - 5 PM or Sunday, April 4, 10 AM - 12 PM.
Takeout
Classy Girl Cupcakes have delicious Easter desserts at the ready. With specialty decorated cakes and cupcakes, you'll scream over the adorable flower and bunny patterns. There's also a lamb-shaped cake that's one of the cutest things I've laid my eyes on. Anything Easter-decorated needs to be special ordered, 2-3 days notice preferred.
Have a creative vision in mind? Classy Girl boxed up two different decorating kits - Easter Cookie Decorating Kit (includes 12 cookies) and Easter Cupcake Baking Kit (makes 12-15 cupcakes). The kits are still available for pre-order here ($32 each). Gluten-free options are available. Spring into action soon since Classy Girl will be closed on Sunday for Easter.  
Dine in
Usually closed on Sundays, Cubanitas is open for Easter! Stop by for a brunch of French toast made with Cuban Bread and a Mimosa Flight. The full menu will also be available. Make your reservation here as Cubanitas Downtown will be open from 11 PM - 3 PM. 
Dine in | Takeout
Make your brunch or dinner reservation for the Harbor House's three-course Easter menu. The menu has a variety of surf-and-turf options for appetizers and entrees including oysters, prime rib roast and lobster pot pie with sides like Yukon gold potato purée and garlic sautéed spinach. There are also seven dessert choices - warm apple cranberry crumble and key lime pie are just two options. If you're looking for an elegant brunch, Harbor House has breakfast items like yogurt parfaits and a lobster hash as well.  
Staying home? Harbor House created a three-course Curbside Pickup meal ($50-$97 per person). Pre-order here by 4 PM the day prior and pick up Sunday, April 4, either at 11 PM - 1 PM and 4 PM - 6 PM.
Dine in
Join Rodizio for a special Easter celebration with an expanded menu featuring lamb, salmon, grilled shrimp plus select dessert ($42.99 per person). Children can enjoy this same menu with kids' pricing (ages 7-11: $9.99; ages 3-6: $6.99). Reminder: kids under three eat free with a paying adult. As an Easter delight, each group will receive a special offer, good for future visit. Make your reservation here.
Takeout
Looking for smoked meats this Easter? Smoke Shack is offering a takeout package with choose-and-pick options: choose from meats like whole smoked hams, Polish sausage, pulled ham, and/or brisket quiche. Sides include a cheesy potato casserole and asparagus with Dijon lemon sauce with carrot cake cupcakes and pecan pie for dessert. You'll pick up your meal cold, but included heating instructions will have you ready for a quick reheat on Sunday. Pre-order here by Wednesday, March 31 and pickup on Friday, April 2 or Saturday, April 3. 
Takeout
Third Coast Provisions' Easter Pickup Package includes the works: applewood smoked and glazed ham, smashed fingerling potatoes, smoked whitefish deviled eggs, rolls with Cheddar Bay butter, grilled asparagus, chopped salad, and carrot cake with cream cheese frosting. This takeout package is easy to reheat and serves four to six ($99). Pre-order here and pickup on Sunday, April 4, 10 AM - 2 PM. 
Takeout
Get your treats from Uncle Wolfie's for Easter. They're offering a wide variety of baked goods like rice crispy treats, lemon raspberry scones, and gluten-free doughnut holes. Choose from breakfast options like roasted vegetable or ham and cheese quiches ($32) or house-made rolls with ham, pickled onions, mustard, and garlic aioli ($22). Tack on a fully stocked Bloody Mary kit including six chasers, cheese, sausage and pickles ($60 with a bottle of vodka, or $45 without). Top it off with a floral bouquet for the table ($28)! Pre-order here by March 30 and pickup is Friday, April 2, 9 AM - 3 PM and Saturday, April 3, 9 AM - 2 PM.
Takeout
Dig into an Easter-to-go package from Ward's! Ham dinner is available for a group of eight to 10 with sides of mashed potatoes, honey glazed carrots, green bean casserole, salad, rolls, cherry pie, and apple pie ($250). Order a single ham dinner with mashed potatoes and carrots ($19.99). Ward's also offers a to-go prime rib dinner that serves two to 16 which includes a house salad, mushrooms, mashed potatoes and buttered corn ($100-$425). If you're still hungry, add extra sides ($4-$8) and desserts ($6-$7). Call to pre-order by Saturday, April 3 for pickup on Sunday, April 4, 11 AM - 2 PM. 
Takeout
Zarletti will be closed on Easter Sunday, but that shouldn't stop you from enjoying their food at home. Pre-order their take-and-bake lasagna before or on Thursday, April 1. Orders for other curbside pickup options like regular menu dishes, chef's features, and bottles of wines can be placed before or on Saturday, April 3 and pickup in Saturday, April 3, 3 PM - 8 PM. Call or order online here.
---
About the Author: Terese Radke is a recent graduate of the University of Wisconsin-Milwaukee and the Special Events & Marketing Intern with Milwaukee Downtown, BID #21, advancing downtown's strategic priorities through marketing, events and social media.
Posted in:
Dining & Nightlife