Windows of Opportunity
March 25, 2021 /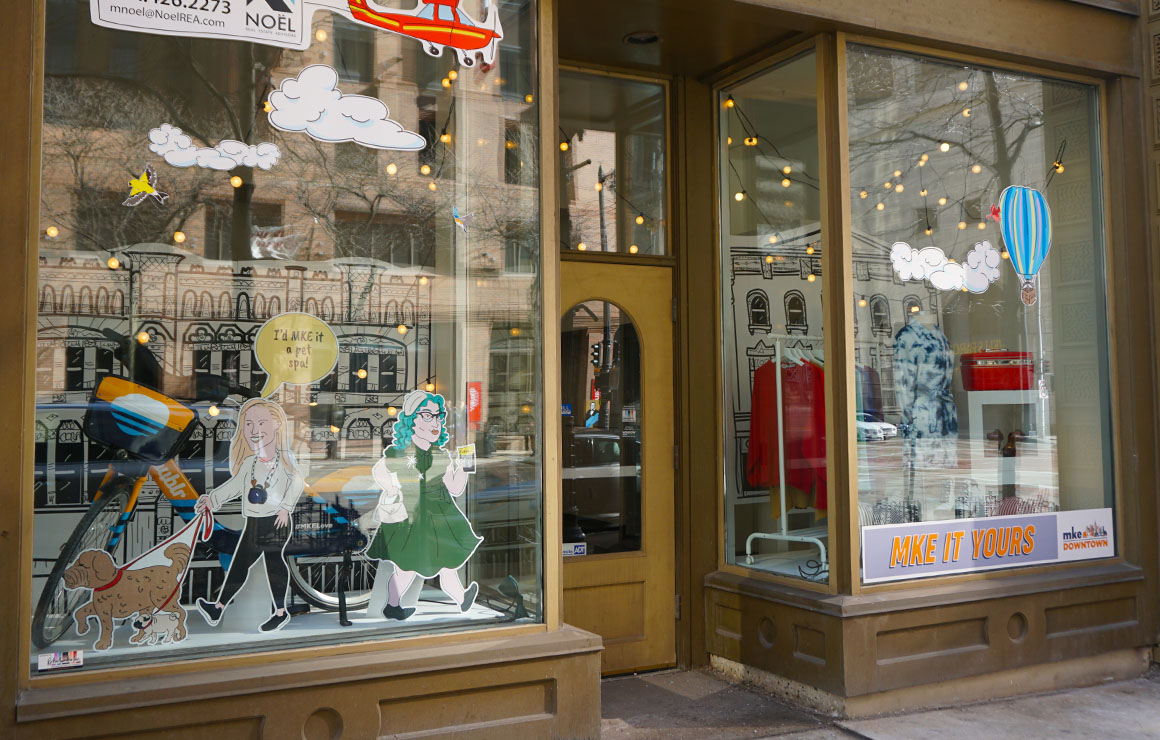 The Transformation of Empty Storefronts on Main Street
With the winter solstice behind us, and spring just ahead, longer days and warmer temperatures have arrived. People are slowly coming out of hibernation and hopefully, soon, our Main Streets will experience an increase in pedestrian traffic. Unfortunately, many downtown landscapes are still dotted with one too many empty storefronts. However, there are ways to turn these empty windows into "Windows of Opportunity." 
Creative Collaboration
Building owners, commercial developers, and business improvement districts all want to see their downtowns thrive. After all, Main Streets are the cornerstone of commercial businesses in this country. With the devastating toll that the pandemic has inflicted on the brick-and-mortar retail industry, now more than ever, it makes sense for these groups to work together to turn the lights back on in shuttered storefronts.
A vacant storefront is a perfect stage to creatively promote the available space or to showcase other businesses and events in the area. Furthermore, clever window displays can tell a story, educate, entertain, lift spirits, and draw attention to downtowns. It's time to transform these blank canvases into attractive and engaging window displays through a visual storefront campaign. 
Successful Site Surveys
The first step to take is to identify the storefronts for the campaign: those empty storefronts that have several large windows and are situated in visible areas. Next, contact the property owners to see if they are interested in showcasing their storefronts for the campaign. Once this is done, set up a time to visit the space and do a visual inspection. 
During the site visit, check for the following LACE features. There are additional items to look for, but these are some of the basic ones to evaluate.
Lights. Are there any existing recessed ceiling lights or track lighting? If so, do they work? If not, are there any ceiling grids from which light fixtures could be hung? Are the lights on timers?  
Accessibility. Are you able to easily access the space and bring in-display items and props?
Cleanliness. Is the space clean? Are the windows clean, inside and out? If not, assign someone to clean the windows and space before props and displays are installed.
Electricity. Are there electrical outlets and are they relatively close to the windows? 
During this time, remember to take dimensions and good notes about the conditions of the windows and the interior of the space. Take photos so you can refer to them with other team members who are not present. 
Setting the Stage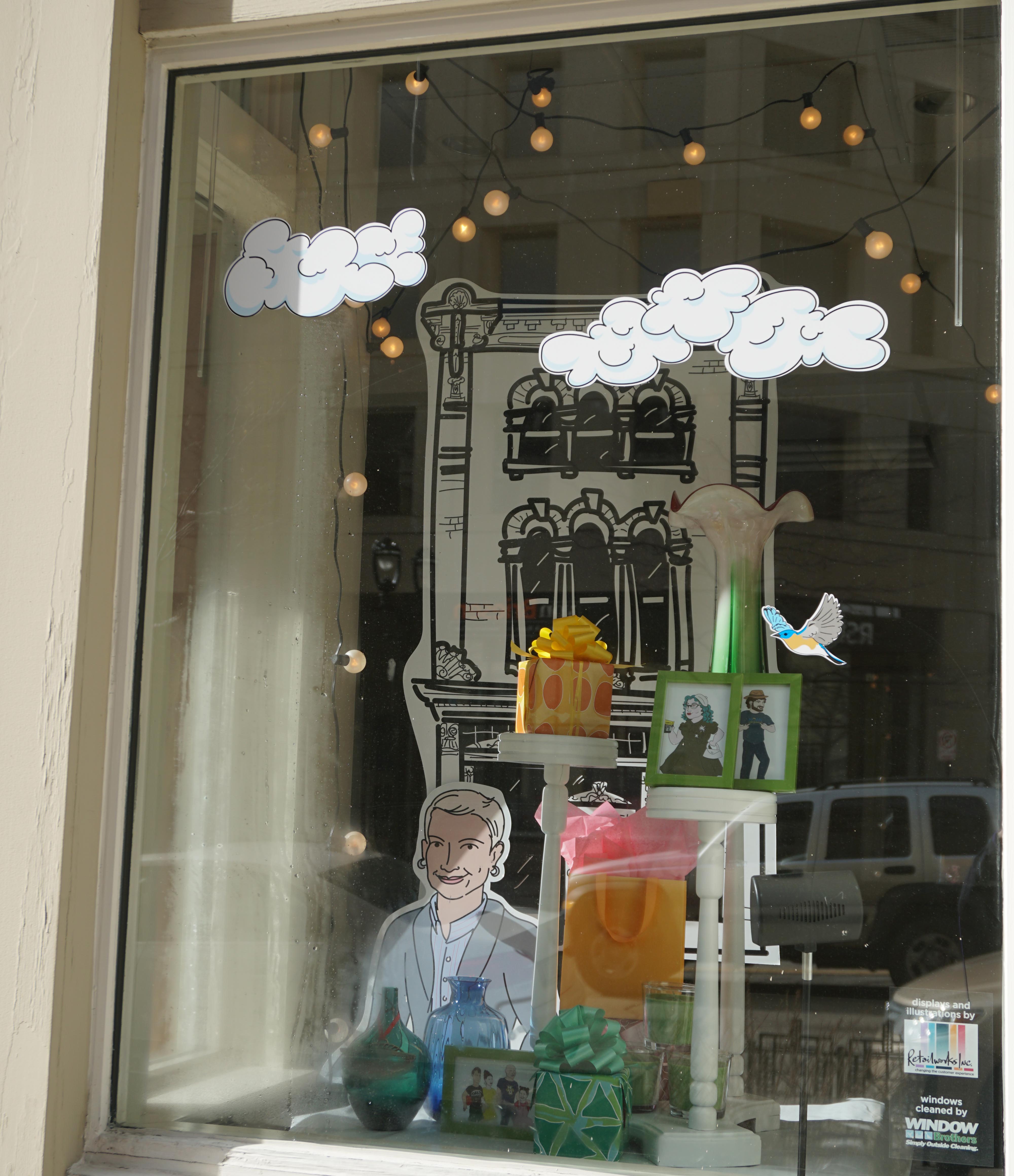 Vacant storefront campaigns can be a place for telling a visual story, short-term events, pop-up businesses, or brands to support a community's mission. To create an effective window display, it's advisable to work with an interior design firm and/or a visual merchandiser. Their professional eye and experience enable them to easily envision and create a captivating space. They may also have display fixtures and props available or know where to get them. Whether you're partnering with a firm or taking a DIY approach, here are some key elements to consider.
Telling a Visual Story. Strive to create a three-layered look in the storefront. The layer furthest from the window should be some sort of backdrop that blocks from view the rear section of the space. This layer could be as simple as a curtain or large pieces of foamcore that have images painted or printed on them. The middle layer, which is in front of the backdrop, is where the main display items are placed. These items are the ones that depict the theme you have selected or the story you want to tell. Finally, the third layer consists of smaller props and/or custom vinyl graphics that are affixed to the windows. And of course, it's important to display a well-designed vinyl window sign with the contact information of the leasing agent.
Promoting Pop-Ups. Empty storefronts can also be used as pop-ups. A recent survey indicates that 25 percent of retailers are investing in pop-up store locations. Due to their temporary location, pop-up stores have a "here today, gone tomorrow" existence. As a result, they provide an alluring, exclusive type of shopping experience and a sense of urgency to buy, which can lead to additional sales. Because of their temporary nature, pop-ups can be more creative and whimsical in design. What a perfect opportunity to get consumers to take notice and to create an Instagrammable moment for them! And what a wonderful opportunity for the retailer to drive up social media traffic and expand their brand.
Planning for Mobility. It's important to design the space so that the visual elements you place inside it are mobile. Make sure they are easy to disassemble and install again. This ensures that when a space is leased, the collection can be quickly moved to another empty storefront or location. A great way to get more bang for your buck!
Milwaukee Downtown, BID #21 Illustrative Example
Activating vacant storefronts has proven to be a great utilization of our resources," said Beth Weirick, CEO of Milwaukee Downtown, Business Improvement District #21, who recently had great success with an empty storefront installation. Working in collaboration with Retailworks, Inc., Milwaukee Downtown, BID #21 transformed 17 windows at four downtown properties into eye-catching displays. These storefront installations called attention to prime real estate space as well as entertained passersby with illustrations of historic downtown buildings and vignettes of different kinds of businesses that could work well in the spaces.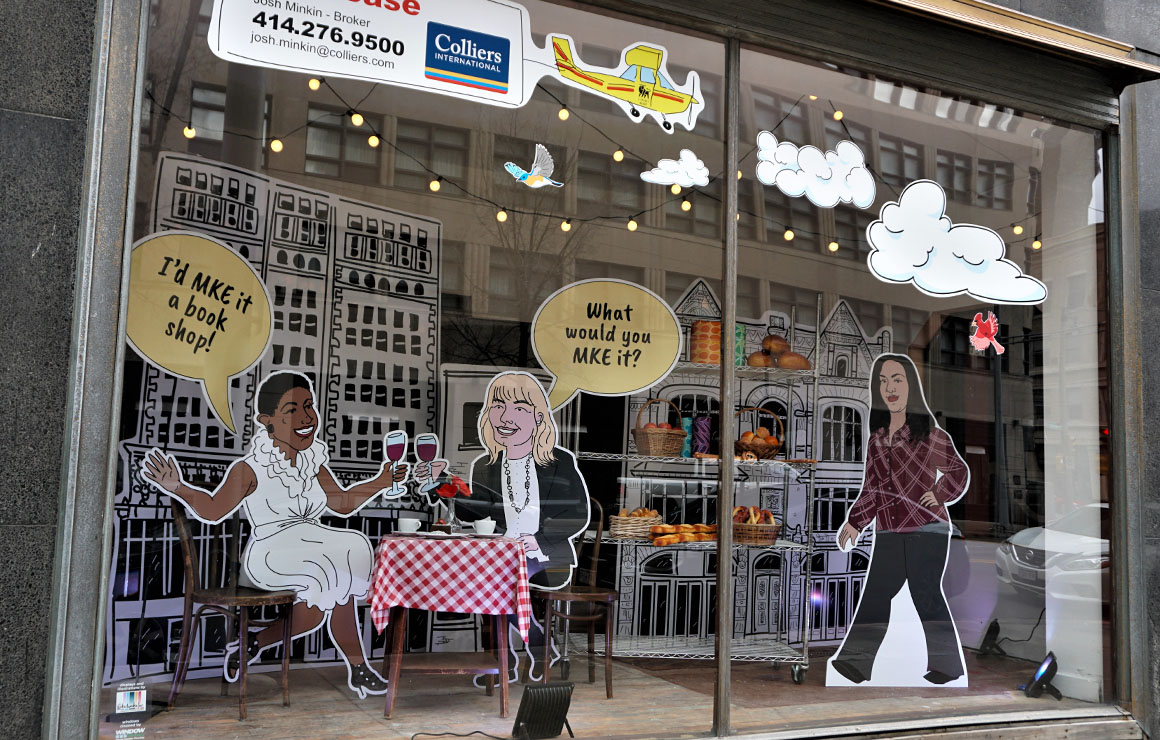 Weirick noted the layers of impact these installations had: "First of all, it sends a message to our property owners and our brokers that we care—we see the opportunities, and we believe in them. On a secondary level, the activation provides delight and joy to our pedestrians which in turn provides a visually appealing and engaging experience. It then prompts people to use their imaginations of 'what could be' in that space."
Also placed inside each space were 2-D illustrations of some well-known Milwaukeeans, creating a lot of buzz. "Our most recent activation… engaged our local celebrities in social media messaging to have some fun with the possibilities," added Weirick. "It was a great call for action with our consumers and our downtown believers, thereby strengthening our social network."
With the right resources, some collaboration, and a little imagination, empty storefronts can come alive, create positive results, and become vibrant community spaces that showcase Main Street opportunities! 
---
About the Author
Lisa Morgen is the Marketing & Communications Director of Retailworks, an award-winning commercial interior design, display, and branding firm. Headquartered in downtown Milwaukee with a satellite office in Tucson, Arizona, Retailworks has been working with a diverse group of businesses nationwide for 26 years. Its talented team of display artists, interior designers, consumer behavior experts, and brand fanatics, creates environments that perform, attract, communicate and connect, plus branded art that surprises and delights. Retailworks is an Allied Member of the National Main Street Center. Contact them at solutions@retailworksinc.com
Posted in:
Shopping