Downtown Shines Thanks to Female Artists
March 24, 2021 /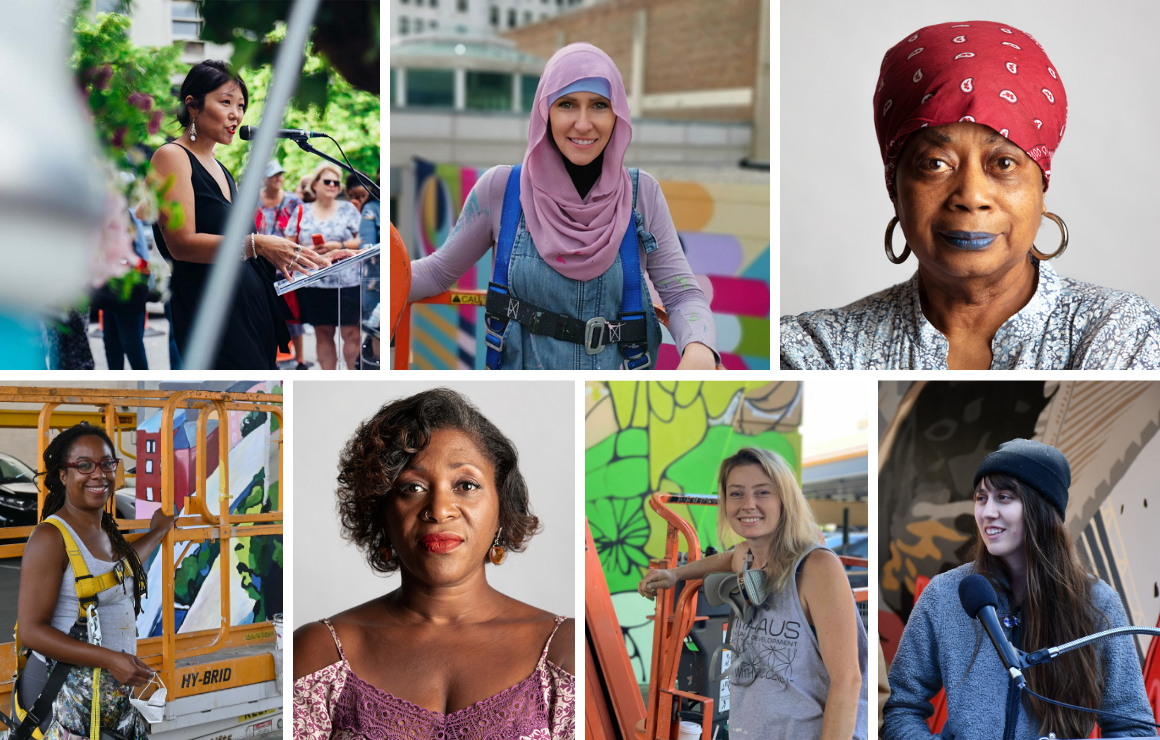 Top left to right: Emma Daisy Gertel, Jaime Brown, Della Wells | Bottom left to right: Tia Richardson, Dasha Kelly Hamilton, Josephine Rice, Katie Batten
When you walk around downtown, Milwaukee feels like an outdoor art gallery. Without dedicated artists like Emma Daisy Gertel, Jaime Brown, Tia Richardson, Josephine Rice, Katie Batten, Della Wells, and Dasha Kelly Hamilton, Milwaukee Downtown wouldn't be full of the colorful, creative artwork we know and love today. As we celebrate these powerful creations, let's appreciate what inspired each of these artists.  
The National Museum of Women in the Arts shares that women comprise nearly half of the visual artists in the country today; however, women only represent about a third of artists shown at museums and galleries. Milwaukee Downtown is honored to showcase the work of women in the arts.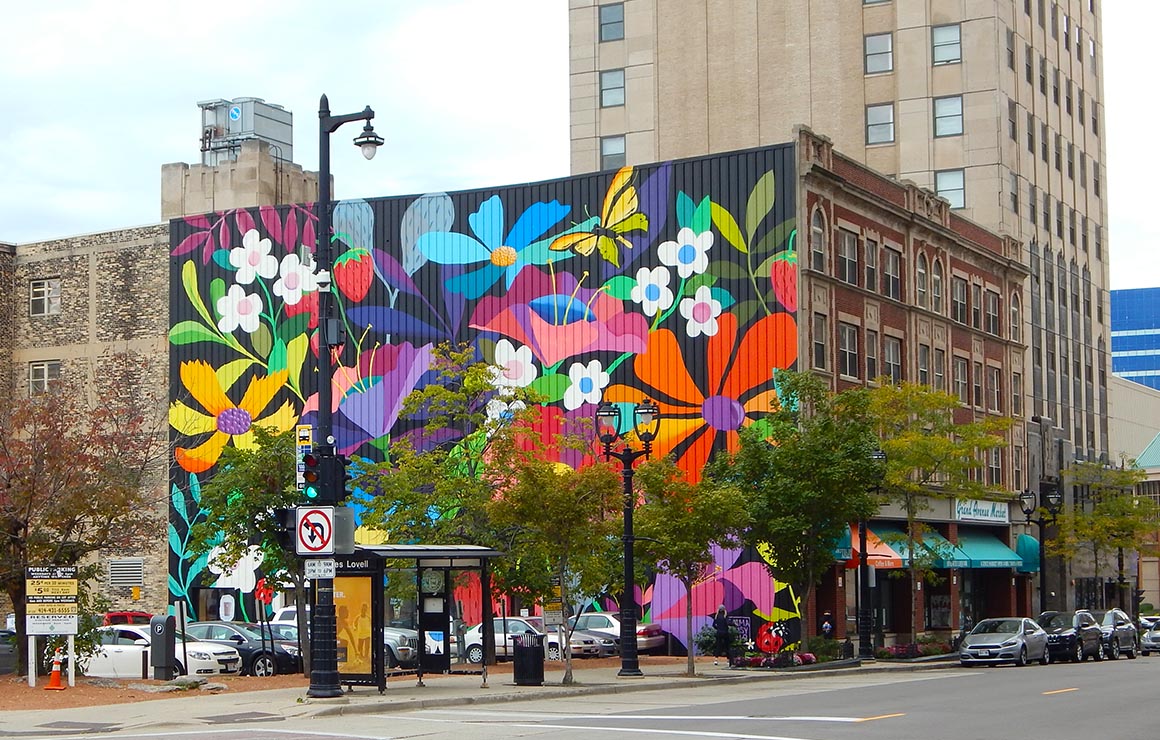 When local artist Emma Daisy Gertel created a Westown gateway mural, its title, "Westown in Bloom," fits quite literally. She painted a collective garden bursting with vibrant colors on a massive 80-ft. x 50-ft. wall.
The mural's inspiration comes from that of a community garden. Everyone needs to put in hard work and dedication so the plants can grow. Just like our city, we need all community members to participate so we all can tend and care for Milwaukee. This piece like all her art comes from a place meant to spread joy, encourage change, and cultivate our strengths. 
"My artistic concept is to create a bright, colorful garden of flora to enliven the space and create a sense of wonder, vibrancy, beauty, and hope that is representative of the revitalization and renewal efforts of Westown," said Emma Daisy.
The mural was finished in July 2019 and we can proudly say Emma Daisy's piece rings true to her vision.
We'll see more of Emma Daisy's art as she works on Milwaukee's first mobile mural: Meat on the Street's food truck! Stay tuned for the food truck's fresh look in May, right in time to celebrate Asian Pacific American Heritage Month.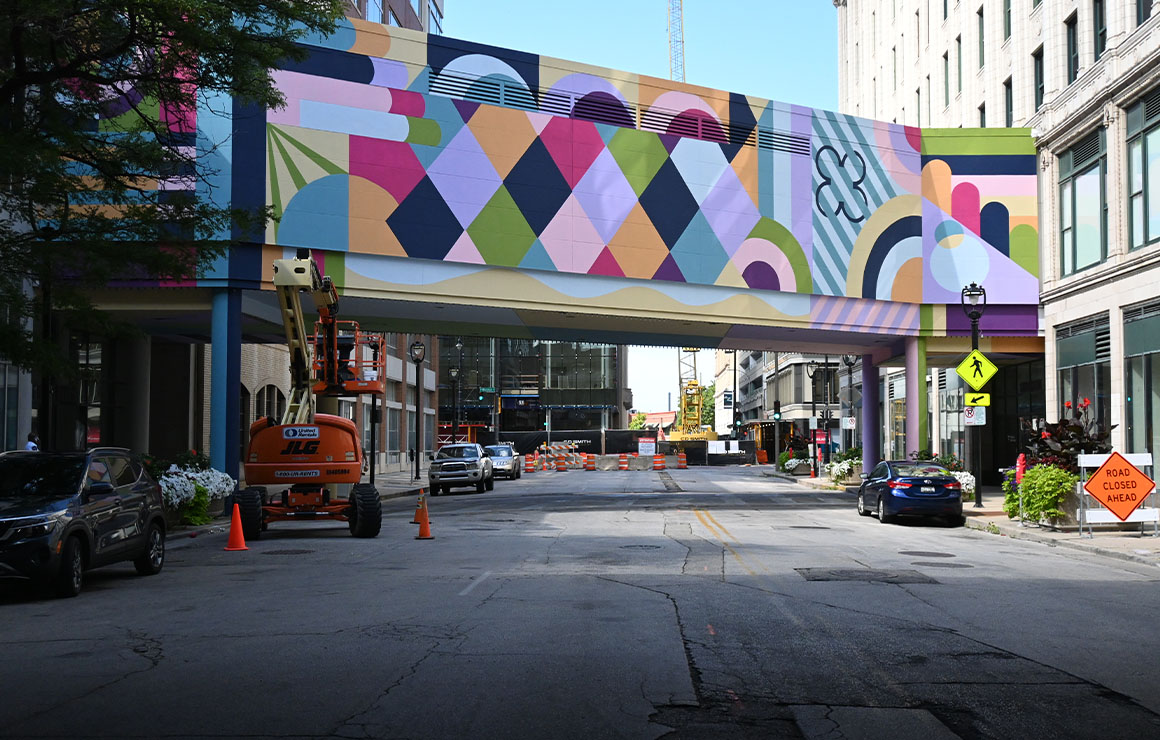 Completed in August 2020, the 2nd Street skywalk mural, "Kindred," adds a fresh and colorful piece to Westown. Wisconsin artist Jaime Brown is the mastermind that designed and painted the mural, along with her collaborator Karim Jabbari. 
The mural resembles a community quilt that incorporates Jaime's own Native American heritage as well as Milwaukee's past, present, and future. Every element and color has meaning. At its core, the mural celebrates people and their culture, and the idea that each person is a kindred spirit and when we all come together, we create a diverse, exciting community. 
Jaime's work in the street art world is inspiring to other girls and women. Her presence shows others that "girls can be involved, Muslims can be involved," and that representation is priceless. 
"For me, I'm definitely trying to get the message clear that women are involved in street art too," says Jaime. "It's not just a male-dominated field. So for people to pass by and say, 'Hey look, it's a girl up there.' I'm a ball of diversity."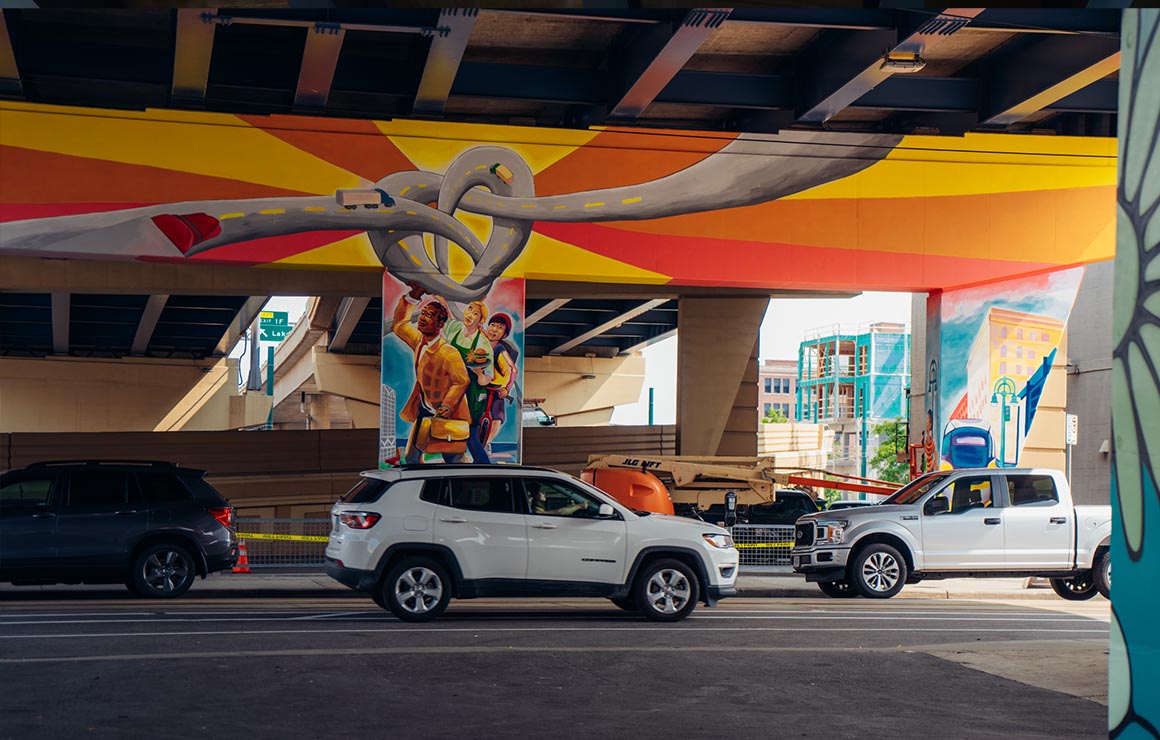 When working on the Brighten the Passage project, the idea of connectivity inspired Tia Richardson - specifically, the roads and transportation methods that connect us all. 
She transformed one of the plain Broadway freeway piers into a piece showcasing diverse people and how they travel around our city. Throughout her mural, "Bridging Milwaukee's Heart," buses, bikes, cars and even roller skates are depicted along a road tied together. When you walk past this mural, you're struck with the endless amount of stories it contains showing how Milwaukeeans live and work, but also stay connected throughout our common streets. 
Highlighting her belief that we are all one community, Tia often shares her skills and experience with students to young professionals. She worked directly with college students through Milwaukee Christian Center's youth program to bring this work to life.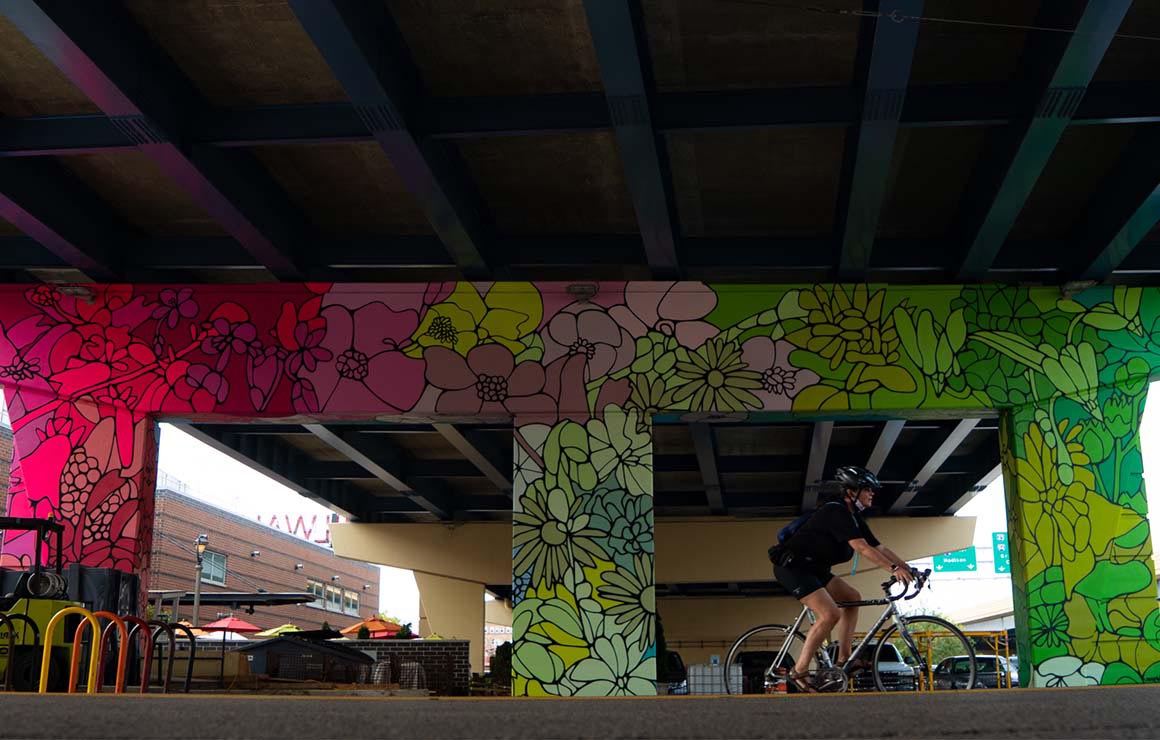 You could say the Historic Third Ward was a main location of Josephine Rice's life. She lived, worked and played in Milwaukee while she attended the Milwaukee Institute of Art and Design and worked at The Wicked Hop.
Though she moved away, when the opportunity to create a mural on Broadway under I-794 arose, Josephine came back ready to leave a mark on a place she called home for seven years. Her mural is called "Full Circle" and it's a beautifully personal gift to the city. 
Josephine's work flows around her experience as a florist and her genuine love of flowers. "Full Circle" showcases that love specifically for Milwaukee. Look closely and you'll see different kinds of Wisconsin wildflowers depicted.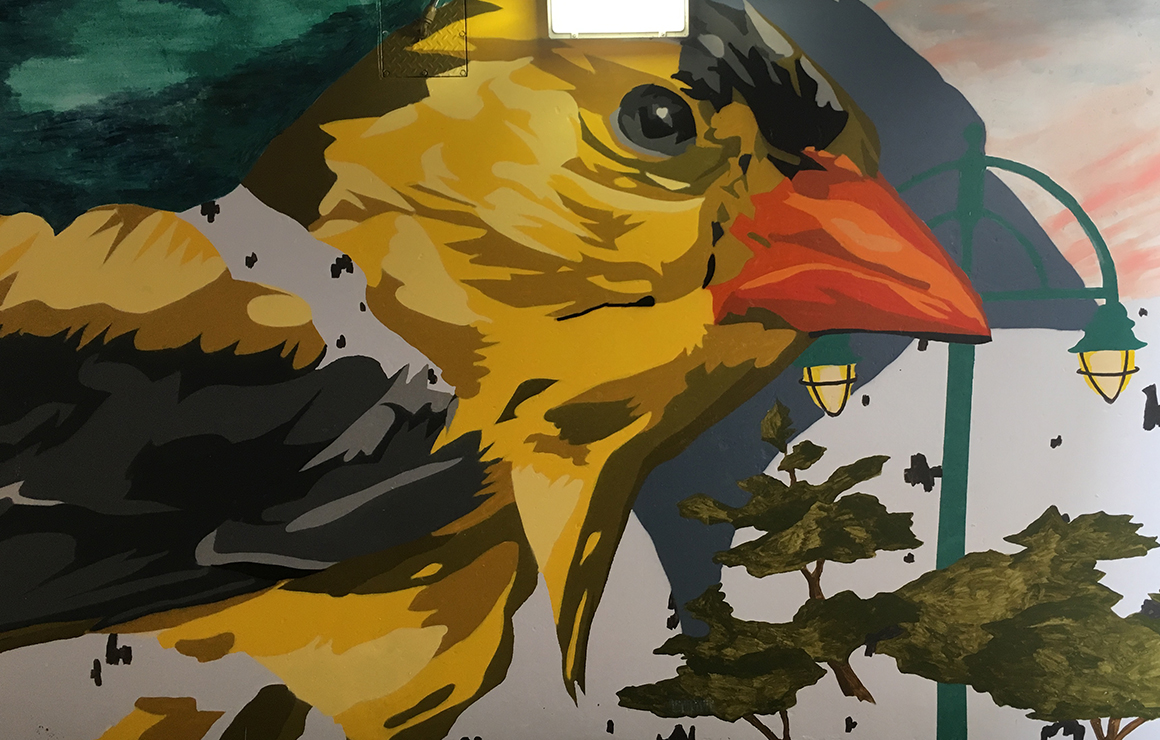 In 2018, Katie Batten and Janson Rapisarda (CERA Street Art), both 2012 graduates of Milwaukee Institute of Art & Design, transformed the 50-ft. length of the Jefferson Street pedestrian tunnel into an encompassing mural: "Migration." 
A once-overlooked area now beams with a collage of Milwaukee-specific finds. From landscapes and iconic landmarks like Milwaukee Art Museum, Gas Light Building, Milwaukee Public Market, and Hoan Bridge to images of Wisconsin's local and migratory birds, the mural is packed with meaning. Both artists did an exemplary job of showcasing the larger meaning behind the art - while Milwaukee has transformed, our city still migrates between city-made and local finds. 
This tunnel-turned-art-piece welcomes pedestrians in the central business district and Historic Third Ward neighborhoods every day. Whether you're a Milwaukee native or a visitor, "Migration" reminds you of the joy of moving around to experience all the city offers.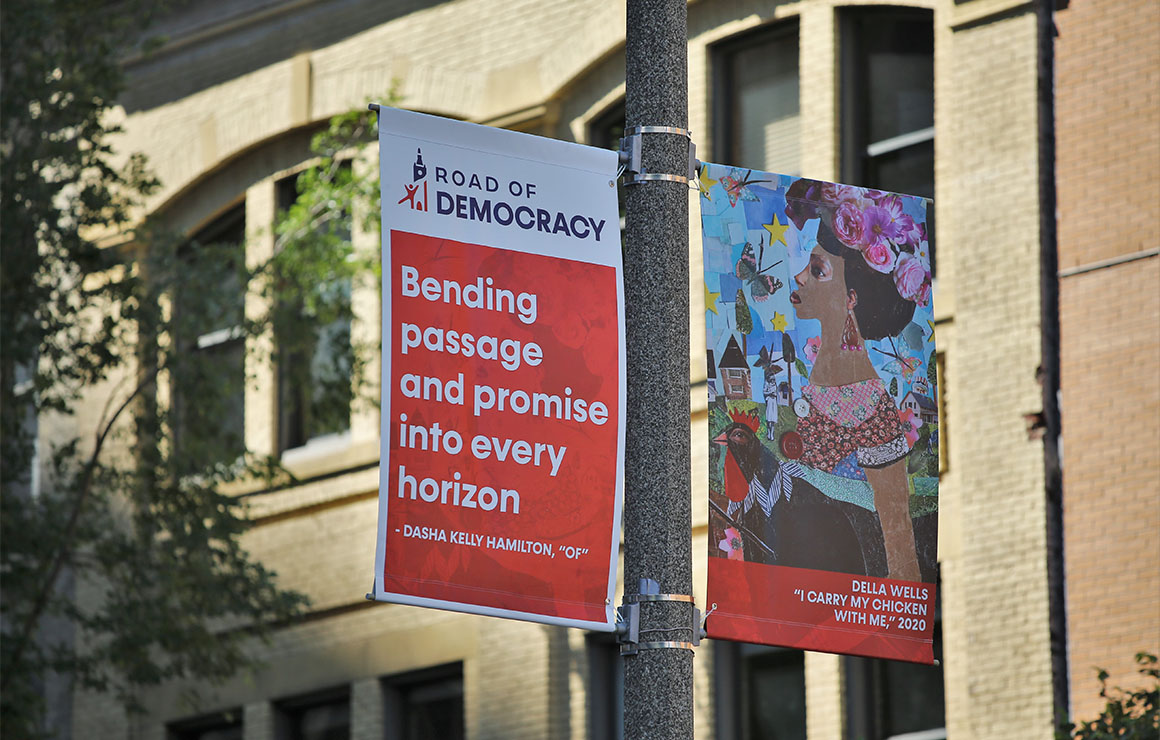 The "Road of Democracy" started as a temporary outdoor public art installation celebrating the virtues of democracy, our public spaces and the historic events that happen right in the city's streets. Previous Artist of the Year Della Wells' artwork and State Poet Laureate Dasha Kelly Hamilton's poetry were paired together to spread messages of strength, hope and encouragement on nearly 60 street pole banners throughout the city.
The project aspired to spur local and national dialogue on race, citizenship and democracy - and it did more than that. Community conversations were facilitated through virtual panels by Imagine MKE. New public artworks sprouted up in surrounding neighborhoods. Even a documentary is in the works surrounding the project. Della and Dasha Kelly's artwork inspired honest conversations, leaving a legacy that continues on past the banner's initial installation.
"Fortunately, since our nation's inception, there have been those that have forced America to continue the journey so we may see and fix the holes and cracks in them so all of us are allowed to travel on it unencumbered and to achieve the betterment and freedom for all of us, not just a chosen few," said Della Wells.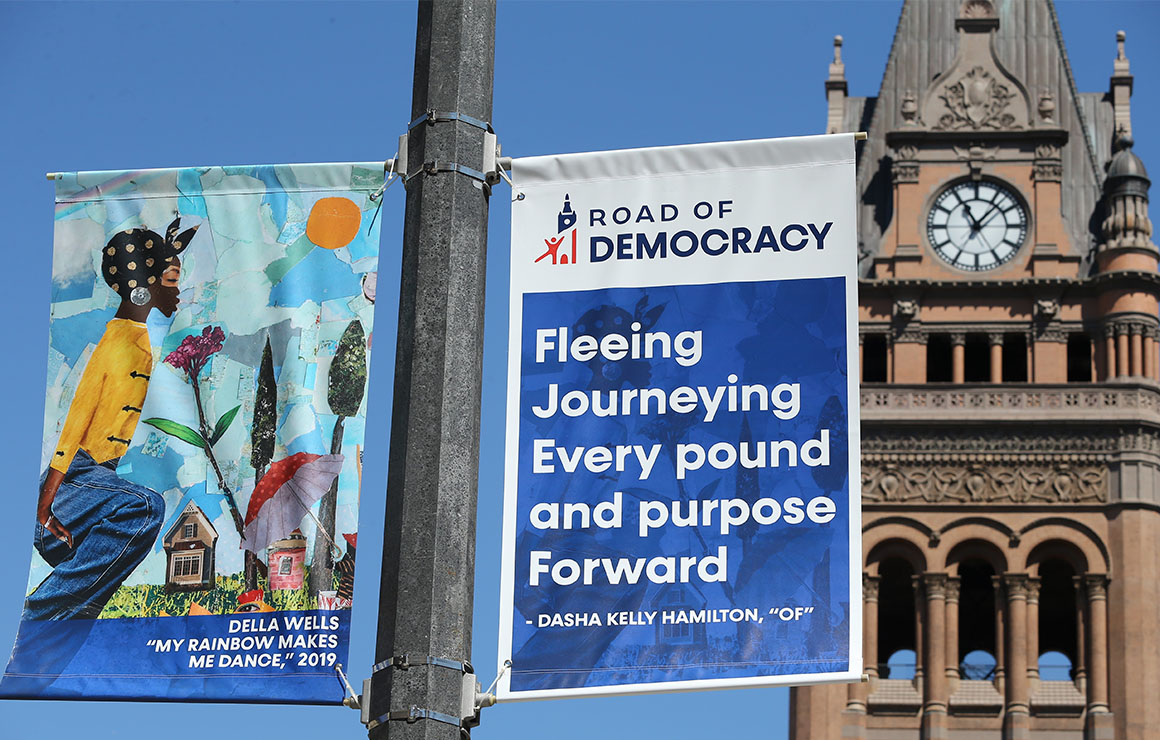 Between August – December 2020, the 58 banners were displayed around City Hall, adorning Water Street and Kilbourn Avenue. The works now reside in America's Black Holocaust Museum, where they will be preserved for future installations and exhibits. 
"One day, it won't be so remarkable but, today, it is a bold statement for two Black women to welcome the nation to Milwaukee," said Dasha Kelly Hamilton. "I'm proud to work with Della, lending language, and offering inspiration during this time of transformation for our city and country." 
Featured works by Della Wells in the "Road of Democracy" installation include: "I Carry My Chicken With Me," 2020; "If You Don't Fight To Remove The Masks That America Has Placed On Us, We Will Never Harvest The Fruit Of Freedom," 2020; "My Rainbow Makes Me Dance," 2019; "Here It Is," 2020; and "Riding The Road To There," 2019. 
Dasha Kelly Hamilton's poem, "Of," written for the "Road of Democracy" project emphasizes the purpose of place in journeying towards one's rights.
---
About the Author: Terese Radke is a recent graduate of the University of Wisconsin-Milwaukee and the Special Events & Marketing Intern with Milwaukee Downtown, BID #21, advancing downtown's strategic priorities through marketing, events and social media.
Posted in:
Arts & Culture