GO Brewers!
October 19, 2018 /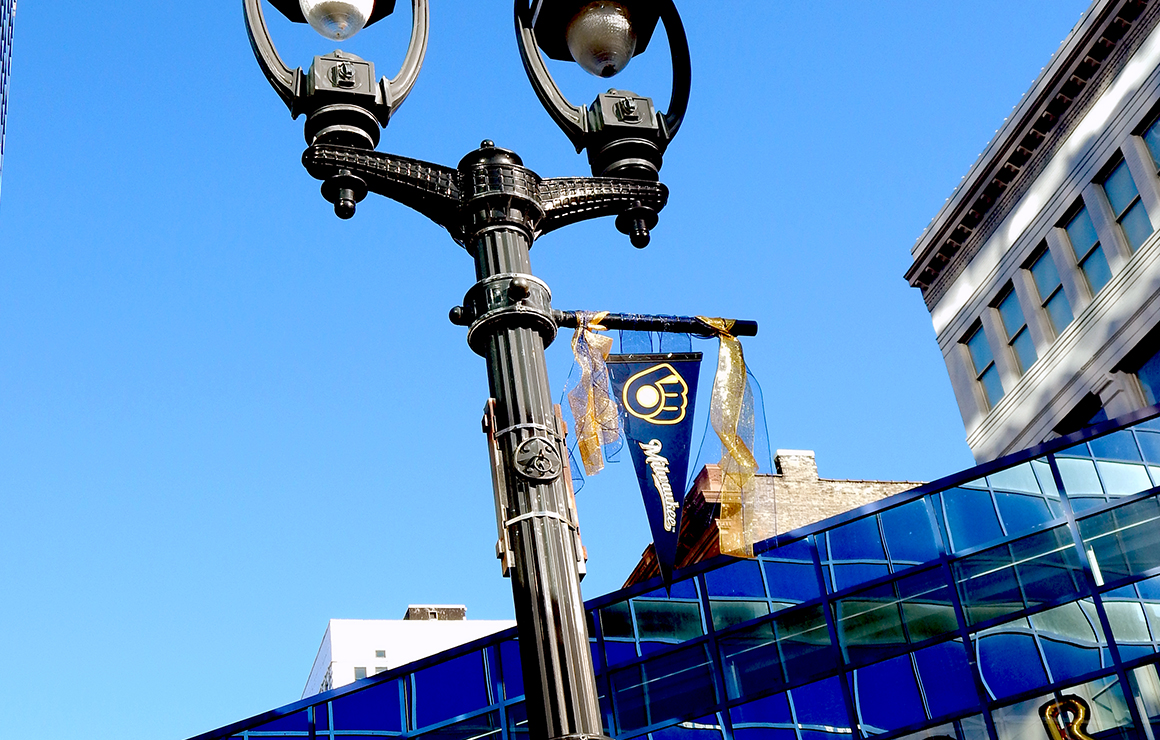 Downtown business community decks out Wisconsin Avenue in support of the Milwaukee Brewers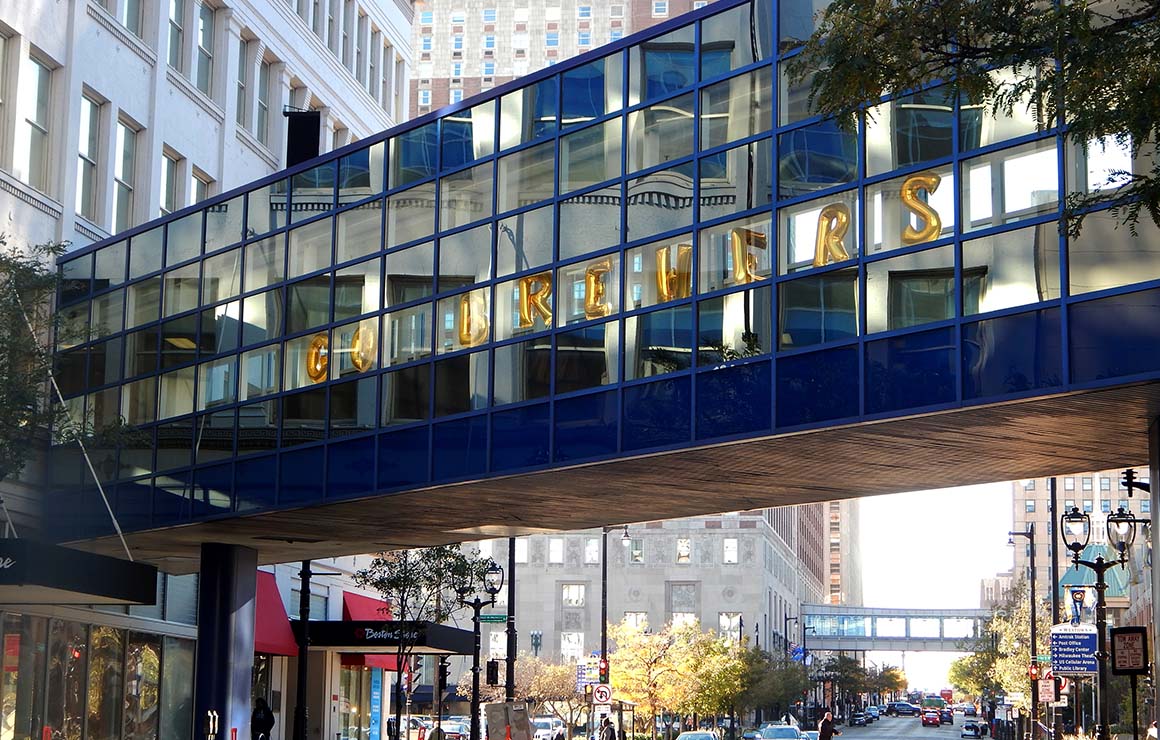 Downtown Milwaukee is rallying its tenants, employees, residents and guests for Game 6 of the National League Championship Series. More than 70 pennants, 1,000 ft. of blue ribbon and 500 ft. of gold ribbon have been installed on harp lamps along Wisconsin Avenue between Prospect Avenue and 10th Street. In addition, 5-ft.-tall "Go Brewers" lettering was installed in two Wisconsin Avenue skywalks – one between Old World Third and 4th streets, and another between Water Street and Plankinton Avenue.
"We're so proud of our Milwaukee Brewers," said Milwaukee Mayor Tom Barrett. "The entire community is pulling for them. We're inspired by the spirit and excitement that the team has brought to our city, and grateful for the economic impact that their post-season is having on Milwaukee."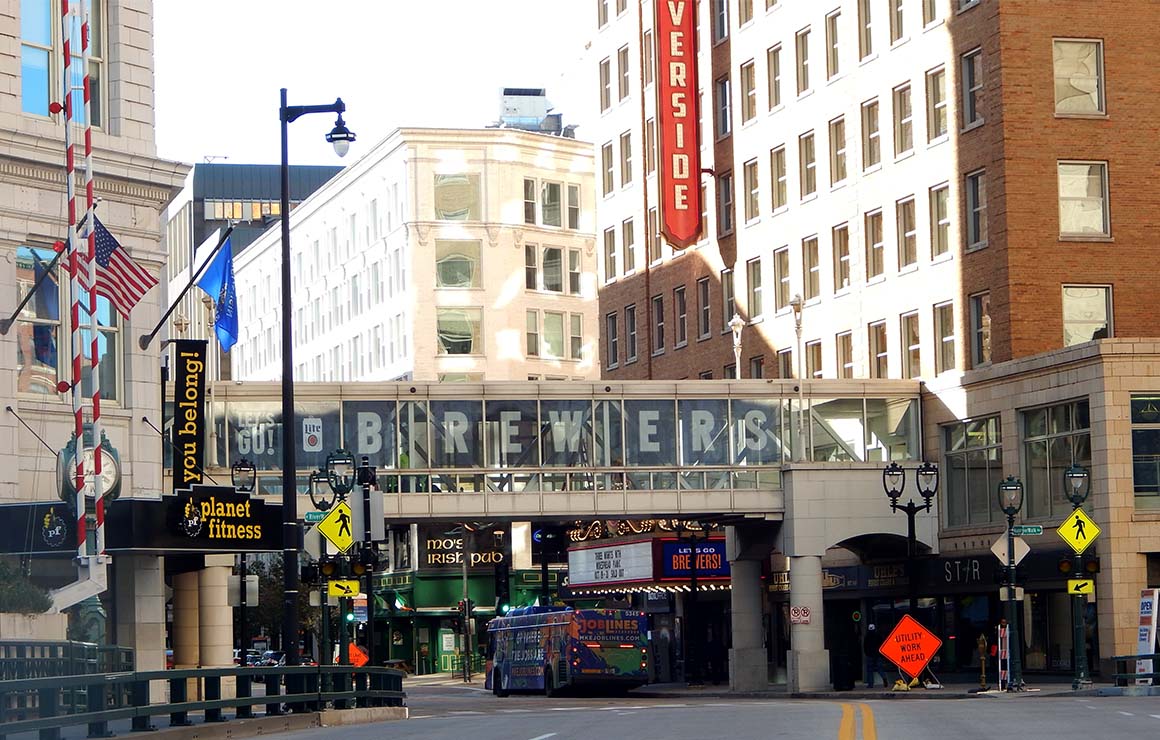 Aside from street décor, Milwaukee Downtown, BID #21's Public Service Ambassadors will be ramping up spirit too. Downtown's team of walking concierges will be sporting the Brewers' mark as they welcome guests to downtown this weekend. Other notable "figures" in the downtown landscape will also be donning their support. "We are so proud of our Milwaukee Brewers and want to show our love," said Beth Weirick, CEO of Milwaukee Downtown, BID #21. "This is an historic time for our city and our downtown. This is an opportunity to showcase how wonderful our downtown is to the rest of the world."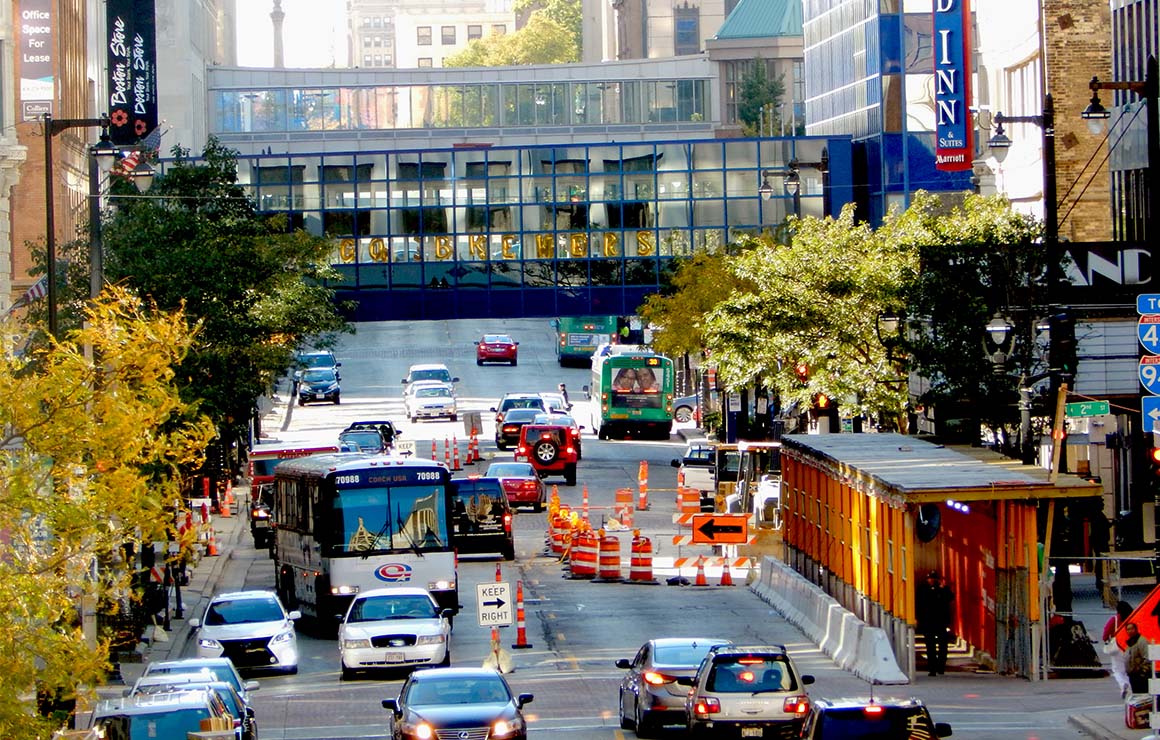 Wisconsin Avenue décor was made possible by The Marcus Foundation, Joe Weirick Family, City of Milwaukee, Pabst Theater Group, Farbman Group | Chase Tower, East Town Association, Westown Association, Pieper Properties, MOD GEN, Marilu Knode, 310W, Beer Capitol Distributing, Milwaukee Kayak Company, Reinhart Boerner Van Deuren, VISIT Milwaukee and Milwaukee Downtown, BID #21. A special thanks to KEI and Bauer Sign & Lighting Company for assistance with the installation.
Posted in:
Sports