Downtown's Most Active Winter
April 24, 2023 /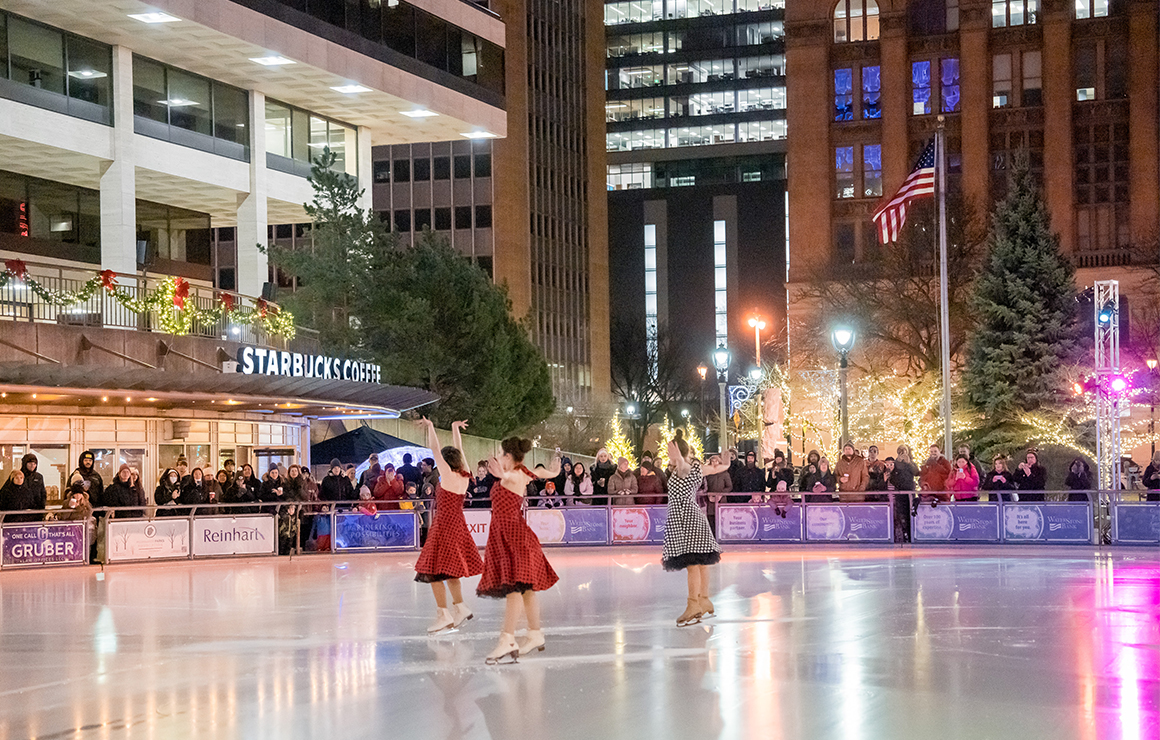 A look back at all the frozen fun we brought to downtown's public spaces this year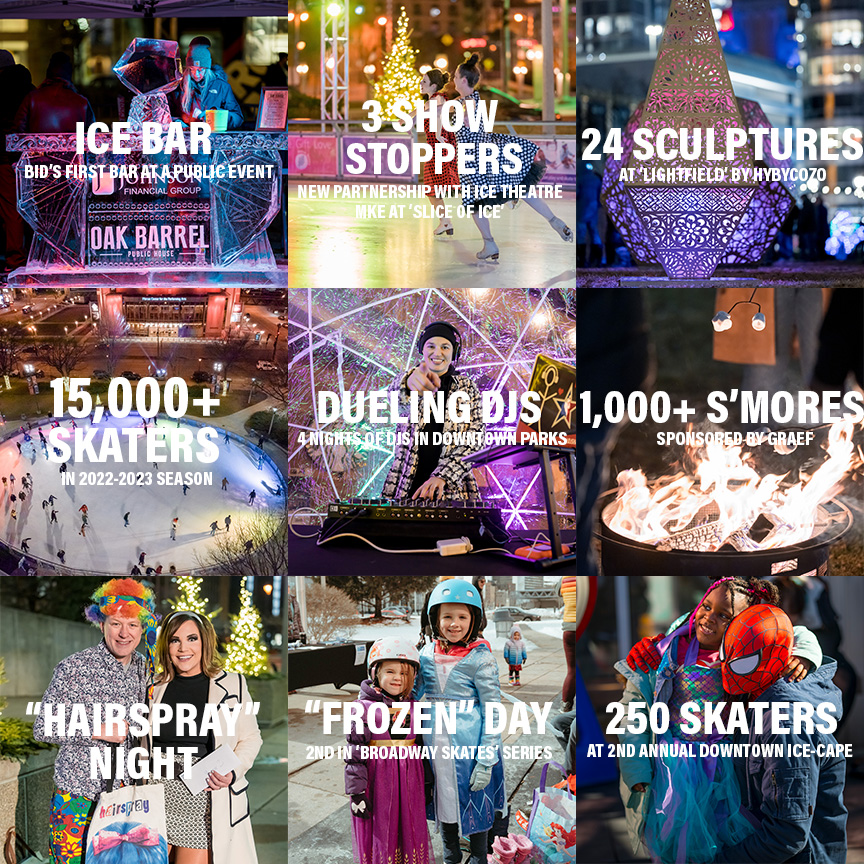 As anticipation grows for our "Summer in the City" programming to return, we thought it would be fun to take a look back at our new initiatives that activated downtown parks as inviting public spaces during the coldest months of the year. "Winter the City" embraced winter nights with light installations, show-stopping performances, and even an ice bar, which also served as our organization's first-ever bar at a public event! 
Headlined by "Lightfield by HYBYCOZO" presented by Johnson Financial Group, the world-renowned art installation by Yelena Filipchuk and Serge Beaulieu brought 24 light-emitting sculptures to Cathedral Square Park in mid-January and is entering its final weeks in Milwaukee before it leaves the city in early May. Not only was the installation a hot spot for Instagram photos, but it also featured an educational component. With a free STEM curriculum, parents have the opportunity to download children's activity pages and lesson plans that accompany the sculptures. 
To drum up additional buzz around the art, Milwaukee Downtown, BID #21 hosted three evenings of programming, including a two-night premiere party on January 19 and 20 and Gallery Night on April 21. The winter event featured an ice bar, food truck fare, roasting marshmallows and building s'mores, and local DJs. "Light Club" on April 21 featured a 20 ft. x 40 ft. dance floor under a white tent, a bar, and food trucks for the picture-perfect springtime reception. Thanks to our partners at GRAEF, Oak Barrel Public House, Meat on the Street, Roll MKE, and Tots on the Street for their hospitality. 
Throughout the winter, Milwaukee Downtown, BID #21 partnered with community partners to activate Milwaukee County Park's "Slice of Ice" rink at Red Arrow Park. For theater lovers, we partnered with the Marcus Performing Arts Center and the Milwaukee Theater District for a two-part series, "Broadway Skates." The events featured music and choreographed theatrical performances from two 2023 season shows, including HAIRSPRAY on January 20 and FROZEN on February 18. The events featured spectacular nighttime lighting effects, giveaways, and costumes galore! Thanks to our partners at the Marcus Performing Arts Center, Events By Design, and Ice Theatre MKE for creating memorable events at the ice rink. 
Back for its second year, Downtown Ice CAPE-ade brought the community together to battle the winter blues with costumed superheroes and real-life heroes from the Milwaukee Fire Department, Milwaukee Police Department, and Team USA. Over 250 skates participated in the Saturday afternoon event and basked in the 50-degree, sunny day in mid-February. 
With so many warm memories made this past winter, we're excited for our summer programs to return to downtown public spaces starting with Big Truck Day on May 20. Mark your calendars for the return of PNC presents Tunes@Noon on June 1 and Heart(beats) of the City powered by MGIC on June 7. New this year, Red Arrow Park's "Slice of Ice" will be reimagined as a roller skating rink for the summer. On three evenings, Roll Train MKE and Milwaukee Downtown, BID #21 have partnered to pull out all the stops for free community skate parties at "Summer Spinz." Keep your eyes peeled for even more announcements to be made soon. 
Have an idea to improve your park experience in downtown Milwaukee, or interested in partnering with us to activate more downtown public spaces? Please contact us today.
See you under the sun downtown! 
Posted in:
Arts & Culture