8 Downtown Spots Perfect for Hammocking
April 29, 2021 /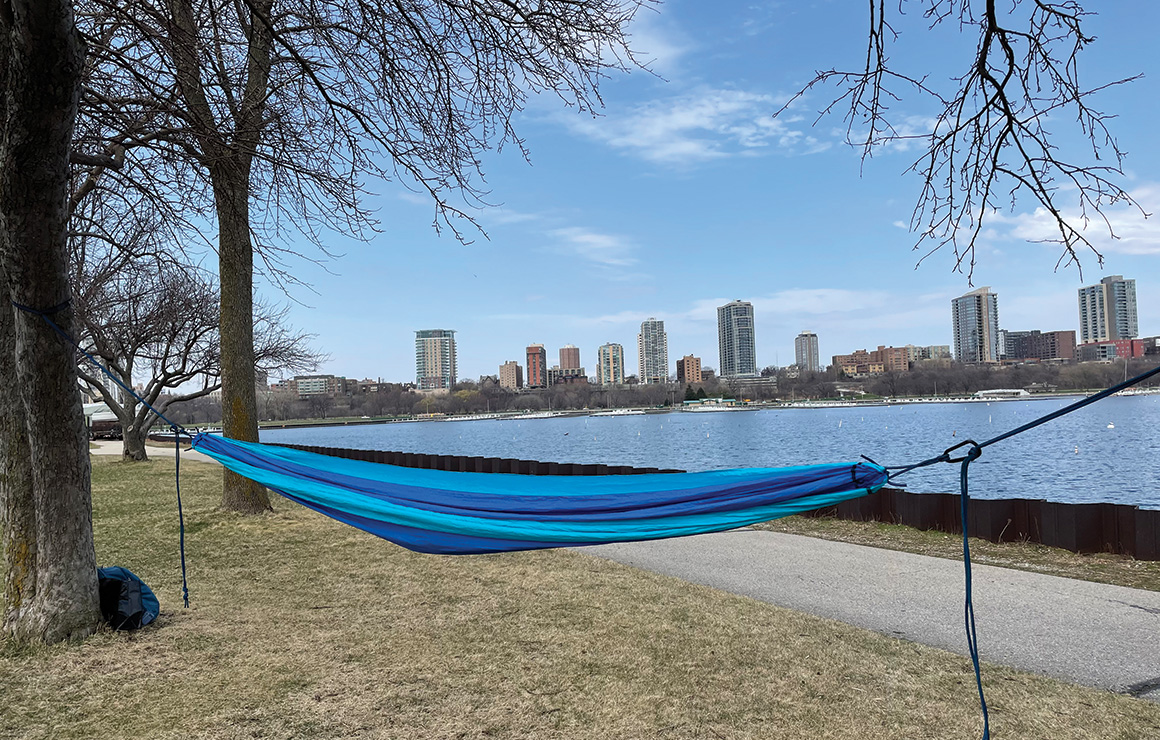 As a novice hammock-er, I went wide-eyed into this new world of outdoor relaxation. And wow, I had a fabulous time exploring and "hanging out" downtown! Now that warmer weather is upon us, I did the research for you on the best spots to set up your hammock.
Pere Marquette Park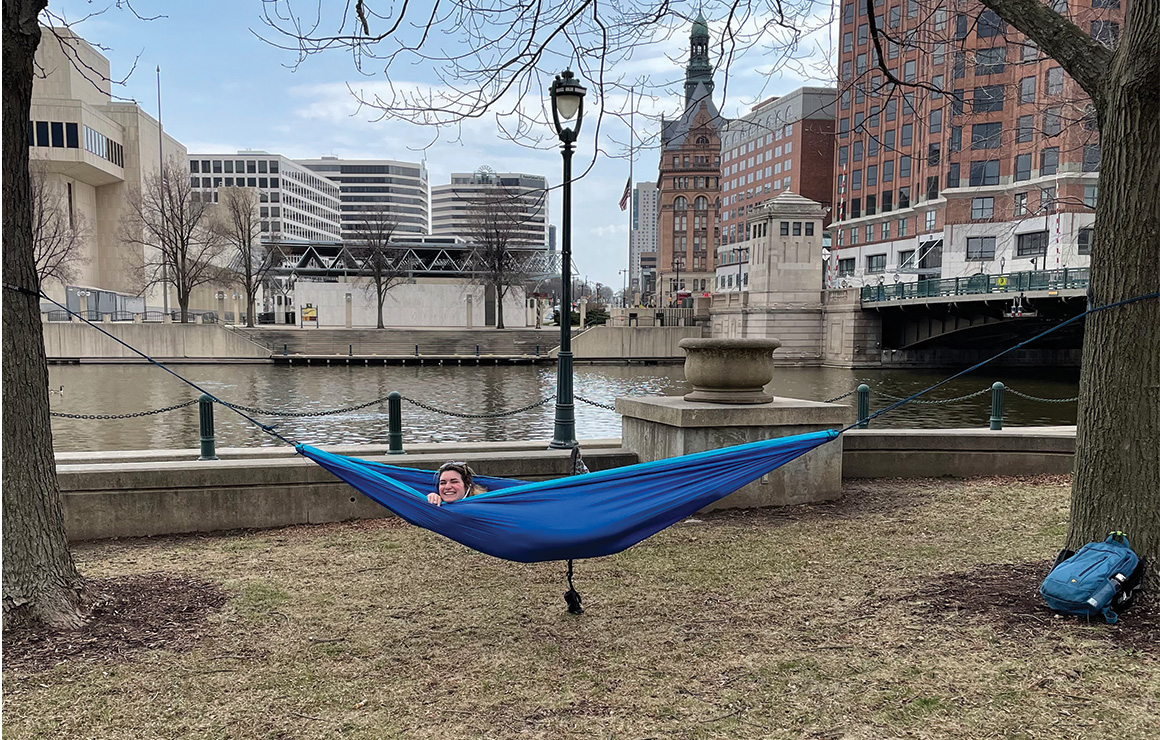 Right along the RiverWalk path in Pere Marquette Park, you'll find a slew of tall trees ready for a set up. You get amazing views from this spot - the river surrounded by our city and all the green space provides ample people-watching opportunities. With the trees tucked into the park, the traffic noises are pretty muted. 
Lakefront
It's a no brainer along the stretch of the lakefront there are many sunny places to hang your hammock. From Veterans Park to McKinley Park to Bay Back Park, take some time to perfect the skill of telling how far apart trees are so you can quickly discern where your hammock can fit.
Veterans Park's Peninsula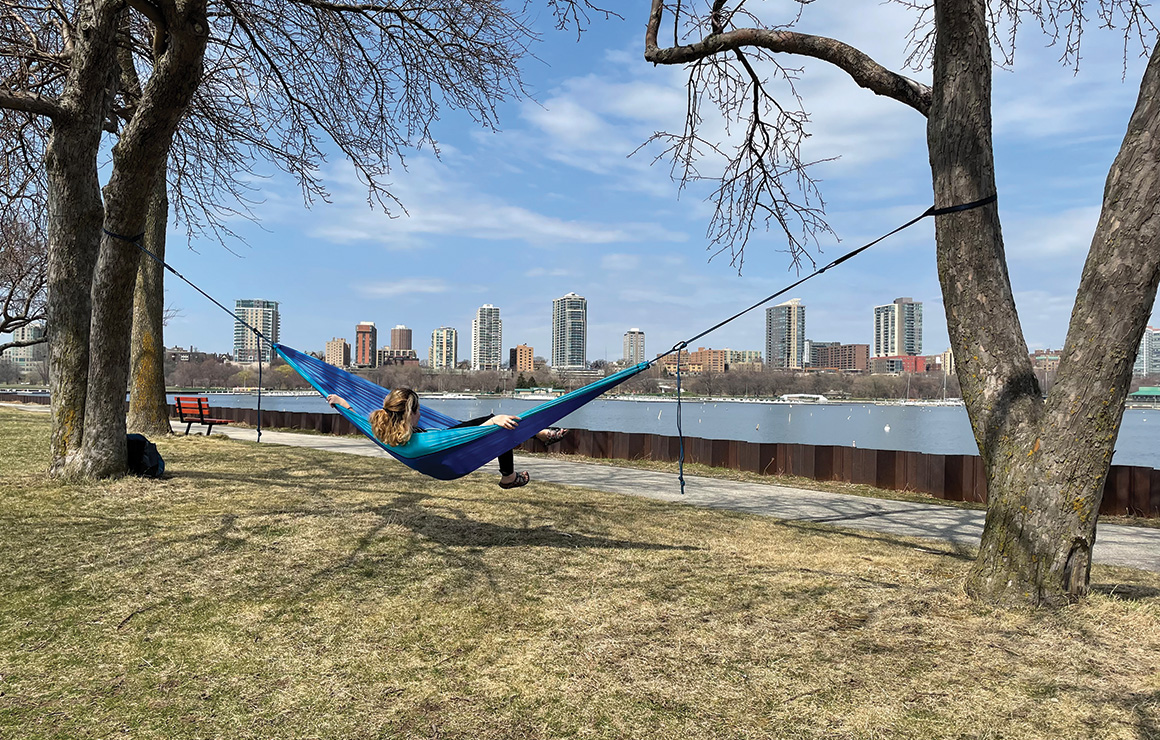 There are many great spots throughout Veterans Park to hang your hammock, but the best area is on the little peninsula east of the Milwaukee Community Sailing Center. First, the handful of trees are the perfect distance away from each other. (Make sure you shorten your hammock's cords so your bottom doesn't hit the ground.) Second, the views of the skyline on one side and the lake on the other are mind-blowing! These trees fill up on a sunny day, so I'd recommend arriving early for morning hang.  
Cathedral Square Park 
Though there aren't many trees to tie your straps to in Cathedral Square Park, I found the open space in the middle of the park is calling out for you to set up your frame and kick back. Enjoy the city-sounds as you sit and peep the "Massimals" by Jason Scroggin, which will have an exciting new look this summer. 
Lake Park
The forest of trees in Lake Park are full of places for you to spend the day curled up in your hammock. After you've had your fair share of hanging, stretch your legs and visit the North Point Lighthouse, Lake Park Waterfall or the staircase behind the Lake Park Pavilion.
Juneau Park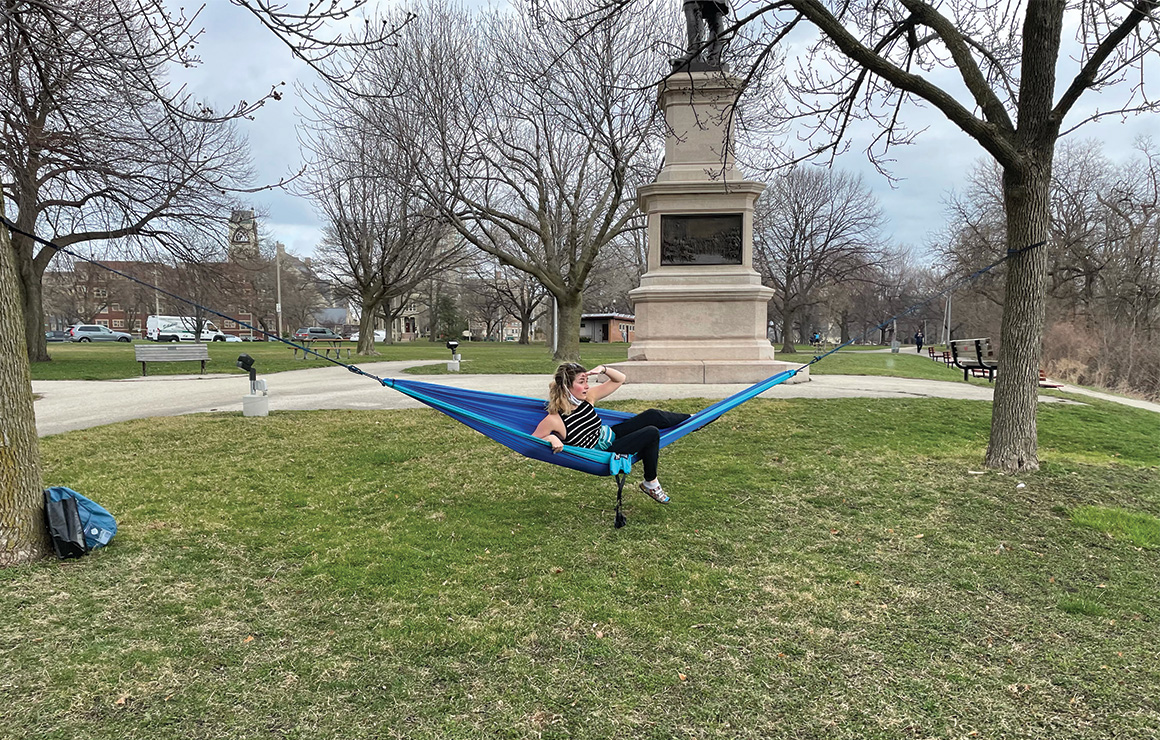 I thought Juneau Park would be ripe for the picking with its forest of trees. But unless you have super long cables, many trees are too far apart from one another. However, I was able to set up near the Juneau Monument. It has a killer view of the city and lakefront. Plus, nearby benches are great for your friends who aren't avid hammock-ers, but still want to hang out.
Milwaukee Art Museum
While I wasn't brave enough to hang my hammock between the trees that line the Oak Leaf Trail behind the Milwaukee Art Museum, it's definitely possible. You'll gaze upon some truly gorgeous sites depending on where you set up - Discovery World, Milwaukee Art Museum, the lakefront or Harbor House. For all my fellow shy friends out there, the green space around the MAM is plentiful. Set your frame up!
Bradford Beach
Raise your hand if you like the beach, but sand... not so much. Upgrade your picnic blanket for a hammock with a frame to relax on Bradford Beach. While I haven't attempted this spot (yet), friends tell me you should bury the bottom part of your stand into the sand and then you're good to swing!
---
About the Author: Terese Radke is a recent graduate of the University of Wisconsin-Milwaukee and the Special Events & Marketing Intern with Milwaukee Downtown, BID #21, advancing downtown's strategic priorities through marketing, events and social media.
Posted in:
Sports