MKE it Back - New Downtown Businesses Guide
April 27, 2021 /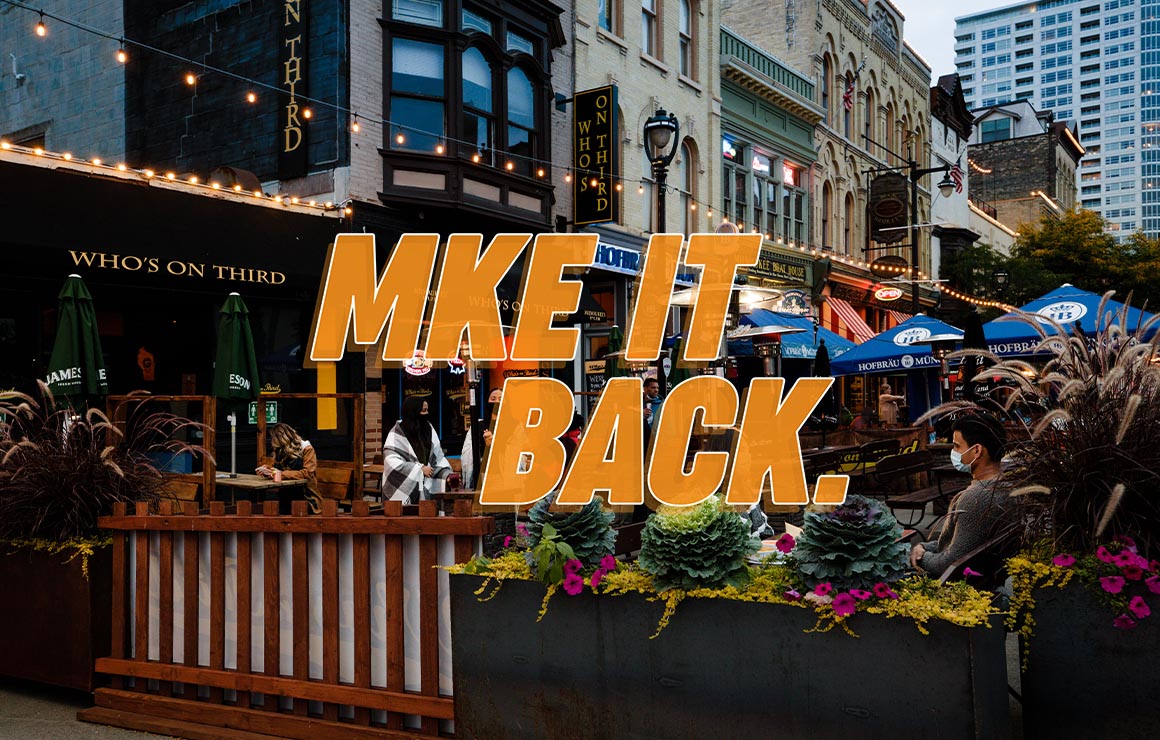 UPDATED: April 27, 2021
Downtown businesses have overcome obvious obstacles this year, but many are coming out the other side stronger. In addition, showing their unbreakable entrepreneurial spirit, an impressive number of businesses opened their downtown doors amid the pandemic. Here you'll find a growing list with downtown's newest restaurants, retailers and professional service providers.
Cathedral Square District
Perk up at Fiddleheads' first downtown location in the BMO Tower, which opened in March. This is the newest spot to grab coffee, bakery, and sandwiches as you return to downtown. Make sure you peep the mural by Milwaukee-artist Mauricio Ramirez in the coffee shop. Fiddleheads is open Monday through Saturday. Location: 790 N Water Street
Rerocc is ready for you to buy, sell or trade shoes. The store's name is an acronym for "recycling everyone's rare objects cash or consignment," says owner Ravaunte Hutchins. Opened in October 2020, Rerocc has limited-edition shoes and apparel. Keep an eye on their Instagram to see the latest the store has to offer! Rerocc is open Tuesday through Sunday. Location: 773 N Jefferson Street
Room Seven is one of downtown's newest nightlife establishments in the vibrant Jefferson Street corridor. Featuring local and regional DJ's and an upbeat atmosphere with a large outside patio area since July 2020, Room Seven is ready to entertain. For now, Room Seven is welcoming guests on Saturday with plans to expand hours in the future. Location: 780 N Jefferson Street
This one-woman business has moved her kitchen downtown into The University Club of Milwaukee. Whisk Chick bakes one-of-a-kind cakes, cupcakes and cookies for any occasion. Since her desserts are made-to-order, place yours online or book an appointment. Location: 924 E Wells St
Deer District/Old World Third Street/MLK Drive
With a new storefront, Foot Locker's downtown location is open for business. There is a wide selection of shoes for all ages and special kicks catering to the sneaker enthusiast you know and love. Stop by Monday through Sunday. Location: 161 W Wisconsin Avenue
Taco Mike's simple menu of tacos and sides is not only delicious, but also 100% gluten-free. Open since August 2020, you can get your fix of affordable tacos as well as beer, margs and wings! Taco Mike's offers dine-in, takeout and delivery options Monday through Sunday. Location: 1001 N Old World Third Street
Water Street District 
Lowcountry Seafood is centered around the classic seafood boil. Build your meal around high-quality seafood at this spot, which opened in February. With a specific carryout entrance and large outdoor patio, you'll feel as safe as possible whenever you visit. Catch Lowcountry on Water Street for dine-in and takeout Monday through Sunday. Location: 1114 N Water Street
Calling all cooking lovers! Penzeys Spice opened a downtown location in August 2020 so you can get your hands on their spice mixes easily. Penzeys is still closed for in-store shopping, but offers touchless pickup and delivery options. Location: 638 N Water Street
Historic Third Ward
Opening April 1, Fool's Errand soon will be your favorite casual neighborhood eatery. Dig into comfort food favorites like burgers, fried chicken, and macaroni and cheese. This new restaurant is brought to you by the owners of the Third Ward's DanDan. Fool's Errand offers dine-in and takeout Thursday through Sunday. Location: 316 N Milwaukee Street
The Explorium Brewpub is the go-to spot to explore small batch, craft beer and pub food. Opened September 2020, kick back on their outside seating with a pint in hand. The Explorium Brewpub is open for dine-in and takeout Monday through Sunday. Location: 143 W St Paul Avenue
Likewise Coffee is making some big changes like a new name and change in ownership, but maintaining the high-quality products this cafe is known for. Located in the former home of Wonderstate, this shop opened with a new vibe in April. Starting with to-go orders only Thursday through Monday, stay tuned for what limited seating may look like in the future. Location: 232 E Erie St
Looking for a glow up? Travel no further then Rose Aesthetics! Equipt with services like waxing, lashes extensions, and brow care, you can trust your skin is in good care. The spa is open Monday through Sunday, and you can make your appointment easily through their website. Location: 159 N Jackson Street, #101 
In the heart of the Third Ward, Wizard Works Brewing is serving up hand-crafted beer since May 2020. Open Tuesday through Sunday for dine-in, you won't want to miss the magic brewing in these beers! Location: 231 E Buffalo Street, Lower Level
---
Downtown Milwaukee businesses are committed to Moving Milwaukee Forward Safely. Please mask up and follow safety measures as you visit these great downtown spots. Check out each business' website or call for more information before you stop by.
Posted in:
News