"You Are Beautiful" Right Here in Milwaukee
April 19, 2021 /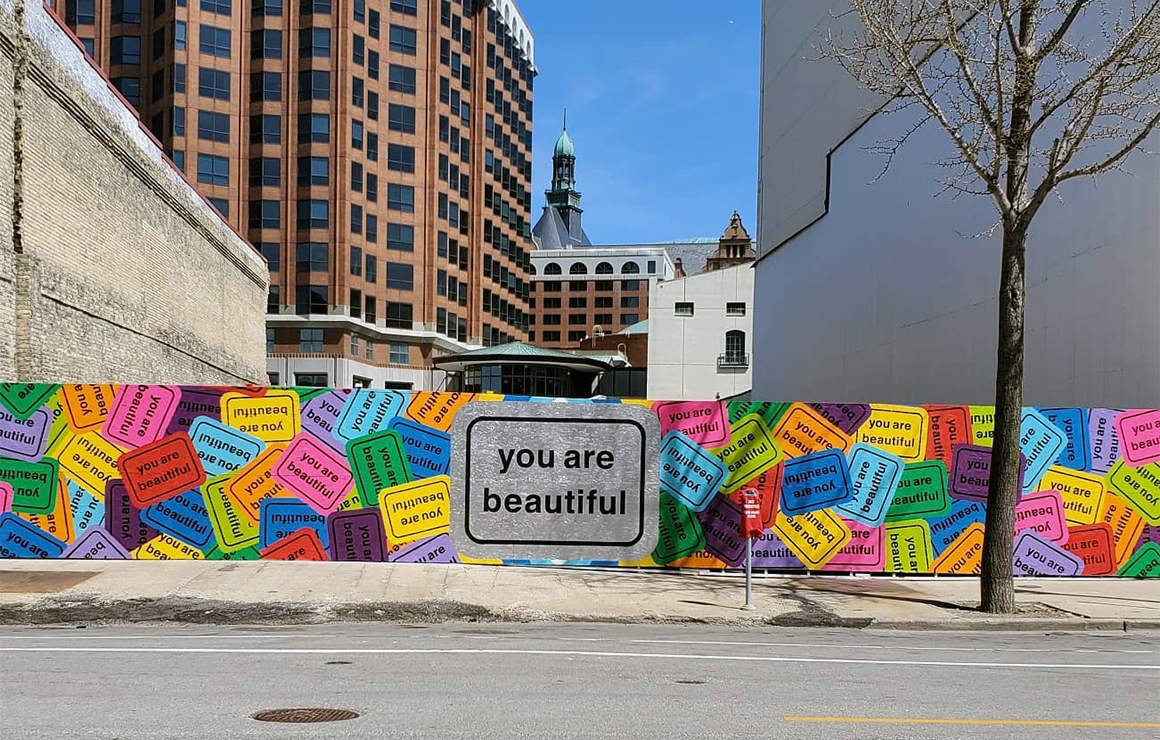 A lovely, positive affirmation is gracing the streets of downtown Milwaukee. Today, you can walk down Plankinton Avenue and be greeted by Milwaukee's latest piece of public art - "You Are Beautiful" by Chicago artist Matthew Hoffman.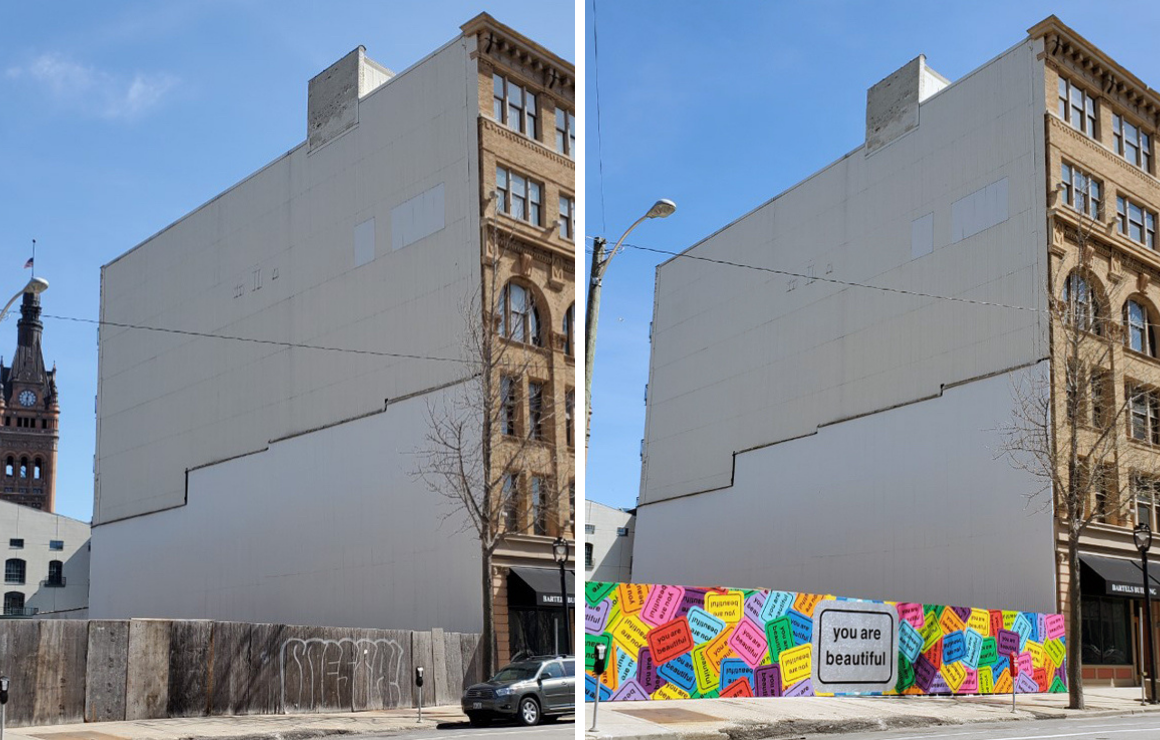 Milwaukee Downtown, BID #21 and New Land Enterprises commissioned Hoffman to transform a blank plywood wall into his "You Are Beautiful" mural​, approximately 60' wide and 9' in height. It's located on the side of a New Land Enterprise's future development site at 834 N. Plankinton Avenue. 
You may already be familiar with the "You Are Beautiful" message, seen on stickers or hats, but now you can visit this destination and bask in the good vibes. This simple phrase evokes a positive reminder that you are worthy. Hoffman aims to help people share uplifting thoughts with each other and feel better every day with these three little words. 
What started with 100 stickers and a good message in 2002 has evolved into a global project. The "You Are Beautiful" team has distributed more than 3 million stickers worldwide as well as producing many large-scale public art installations in America and two in Italy.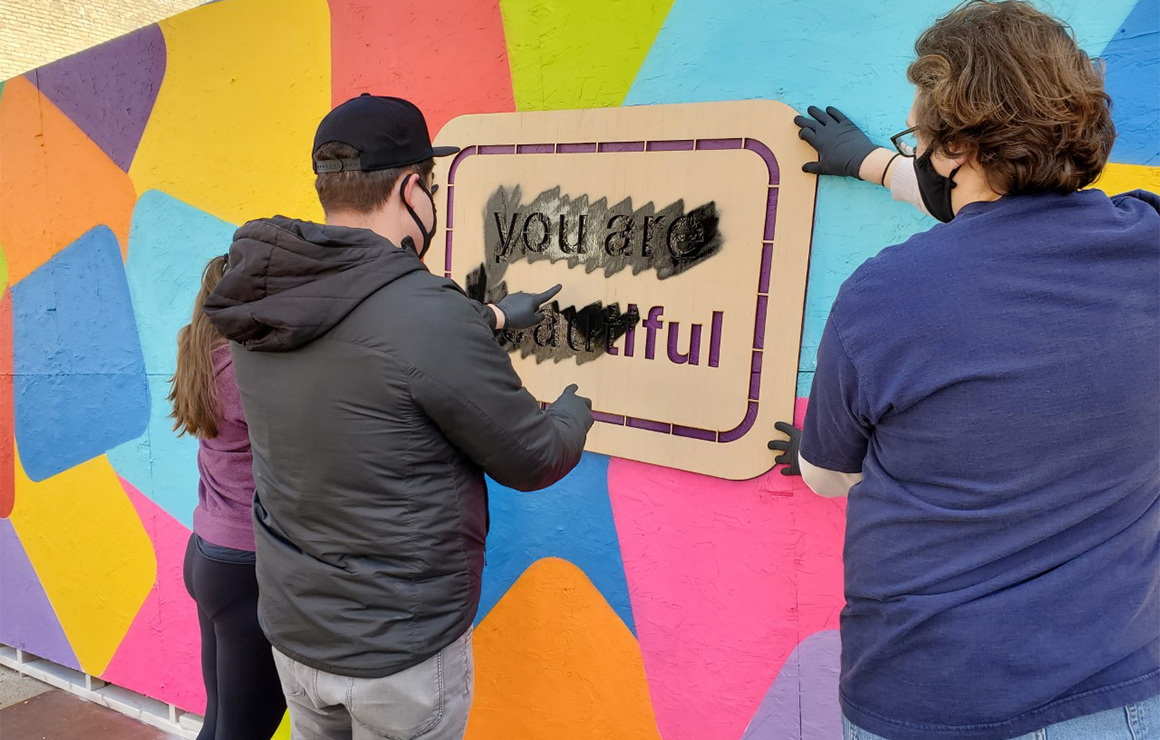 Hoffman began his Milwaukee installation on Friday, April 16 and finished up during the Westown Association's "Team Up to Clean Up" event on Saturday, April 17. ​Students from the University of Wisconsin - Milwaukee's School of Architecture and Urban Planning assisted with the installation, including stenciling the affirmation onto the wall. 
 "This is a necessary statement right now, and one that evokes such a strong emotional connection that you may find yourself going out of your way to pass the mural," comments Richard Hawkins, Director of Development and Strategy at New Land Enterprises. "It's a joy to share that kind of art with our beautiful city and its beautiful people." 
Join us in celebrating this global message right at home in Milwaukee! Share your experience using #YABsticker on social media.
---
About the Author: Terese Radke is a recent graduate of the University of Wisconsin-Milwaukee and the Special Events & Marketing Intern with Milwaukee Downtown, BID #21, advancing downtown's strategic priorities through marketing, events and social media.
Posted in:
Arts & Culture
Posted in:
News