10 Things You Didn't Know About Sculpture Milwaukee
October 4, 2019 /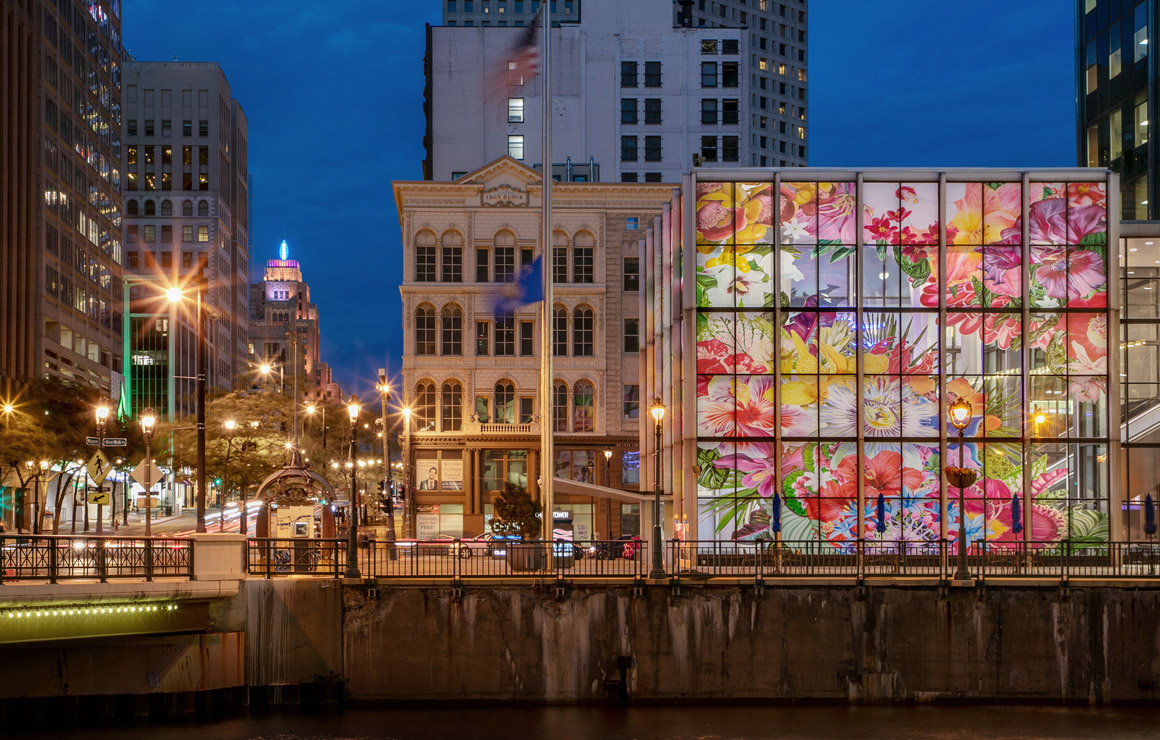 By Cory Ampe
Photos: Kevin Miyazaki. (1) Carlos Rolon, Gild the Lily (Caribbean I, II, III), 2019. (2) Beverly Pepper, Curvae in Curvae, 2013-2018. (3) Tony Matelli, Hera Half, 2018.
In its third year, Sculpture Milwaukee has branded itself as Your Avenue to Art. The vision behind this project is to bring world-renowned sculpture to Milwaukee. Sculpture Milwaukee transforms our bustling downtown into an urban, outdoor gallery—one that is open and free to all who visit. The project certainly has proven itself as an effective means to make art accessible and approachable. But there are some things about Sculpture Milwaukee that even its most die-hard fans may not know about.
Sculpture Milwaukee is privately funded. The project is financially supported by donors, sponsors and through the sale of the artworks. No tax dollars are spent on Sculpture Milwaukee.

More than 100 people are responsible for Sculpture Milwaukee. The exhibition is open for five months but is a year-round effort that requires the time and talents of many dedicated people. Volunteers, staff, suppliers and committee members contribute to planning, curation, logistics, marketing, programming, community engagement, and many other initiatives.
The heaviest artwork in the 2019 exhibition weighs 10,000 pounds. The heaviest sculptures in the history of Sculpture Milwaukee weighed 14,000. This year's 10,000-pound artwork is Roxy Paine's Cleft from the series Dendroids, 2018. Both Mel Kendrick's Marker #2, 2009 and Bernar Venet's 97.5º Arc X 9, 2007 each weigh 14,000 and were part of the 2018 exhibition. The Sculpture Milwaukee engineering team must work diligently to ensure the city sidewalks and public spaces can support heavy loads safely.
The oldest practicing artist in this year's collection is 97 years old. Beverly Pepper is credited as the first sculptor to use Cor-Ten steel. She continues her work from her studio in Italy.

An estimated 250,000 guests visit Sculpture Milwaukee annually.

Nine sculptures have been purchased since the project's inception. Several of the artworks that have been purchased since 2017 have been anonymously donated back to the city and the Milwaukee Art Museum.
Sculpture Buffs, a new membership program, launched in July. After many requests to accept individual financial donations, a membership program was established. Sculpture Buffs receive a digital membership card, free swag, and invitations to special events.
57 artworks have on display through Sculpture Milwaukee since 2017.
Half Hera 2018 by the artist Tony Matelli is positioned on Wisconsin Avenue at the very intersection where the artist worked as a hot dog vendor when he was a student at MIAD. This was a coincidence the Sculpture Milwaukee staff was unaware of until after the opening of the exhibition.
At least one couple met and got engaged as a result of Sculpture Milwaukee. Their wedding is planned for later this month.
About the author: Cory Ampe, Content Marketing Director at Jigsaw - Cory has worked in marketing and communications for more than 20 years. She began her career as a magazine editor where she honed her writing and storytelling skills, which she parlayed into a career in public relations and later, digital marketing. Her experience is broad and her passion for the city of Milwaukee is intense. She has worked for clients such as Johns Hopkins Hospital, Potawatomi Hotel & Casino, VISIT Milwaukee, ManpowerGroup and the AIDS Resource Center of Wisconsin. She has been a featured speaker at a number of events, serves as Marketing Co-Chair for Sculpture Milwaukee and is a newly minted Girl Scout leader.
Posted in:
Arts & Culture
Posted in:
Museums & Galleries