10 Must-See Shows for the Holidays
December 5, 2018 /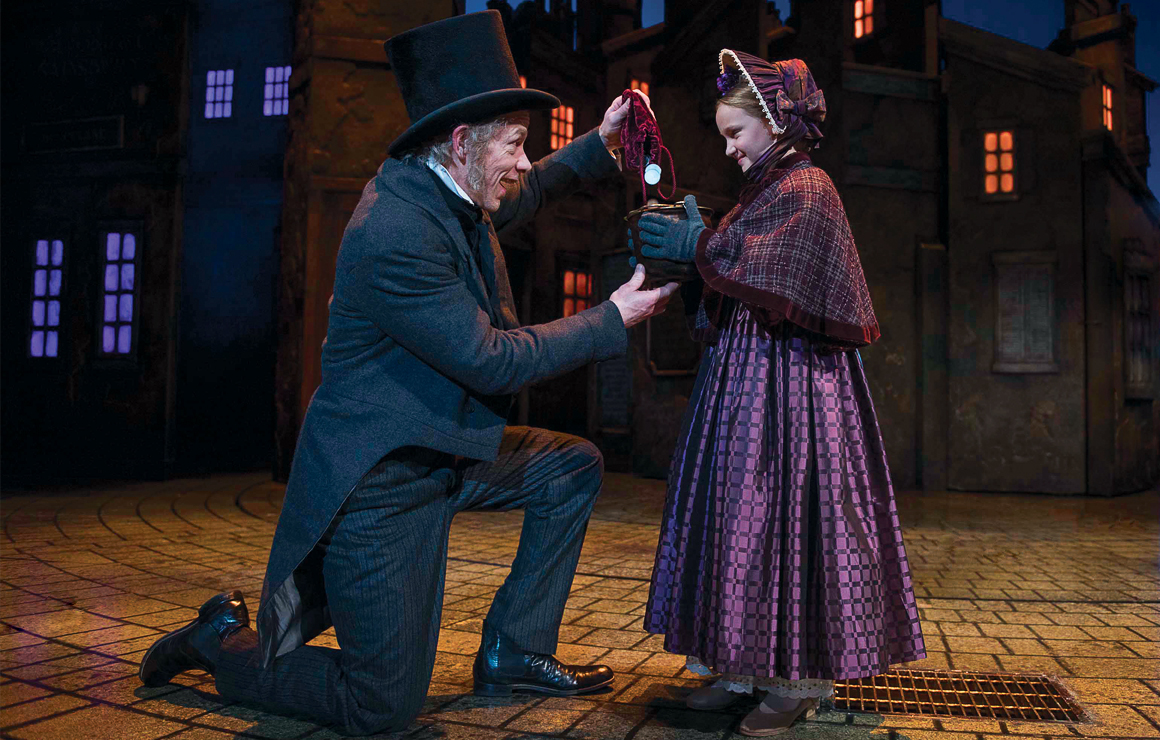 Holiday spirit is in the air and one of the best ways to enjoy the season is experiencing one of these must-see shows for the holidays. You can do it all, from seeing a Yuletide Classic or experiencing a new show, there's nothing like spending time with the whole family this holiday season.
The Milwaukee Rep's "A Christmas Carol"
Pabst Theater – Nov. 27 – Dec. 24
The historic Pabst Theater hosts Milwaukee's favorite holiday tradition, Dickens's tale of love, hope and redemption told through beautiful music, lively dancing, and magical special effects.
In Tandem Theatre's "Merry Chris-Mess"
Tenth Street Theatre – Nov. 29 – Jan. 6
Milwaukee's "go-to" for alternative holiday entertainment, In Tandem features a medley of silly songs, hilarious sketches and parodies. This holiday show is best suited for ages 16 and over.
First Stage's "The Best Christmas Pageant Ever: The Musical"
Todd Wehr Theater – Nov. 23 – Dec. 26
The horrible Herdmans are the worst kids in the world and when these six rowdy siblings are cast in the church's annual Christmas pageant, it's up to good-hearted Mrs. Bradley to help the Herdmans – and the rest of the town – discover the true meaning of Christmas before it's too late.
Christmas In Babylon
Broadway Theatre Center – Studio Theatre – Nov. 21 – Dec. 23
From Wisconsin's own James DeVita comes this world premiere comedy about a Long Island family who is confronted by a guest from the past that shakes up this holiday season. 
A Magical Cirque Christmas
The Riverside Theater – Dec. 6
A holiday blockbuster featuring jaw-dropping magic, breathtaking circus acts and the most angelic voices singing your favorite Christmas carols.
Next Act's "The Twelve Dates of Christmas"
Next Act Theatre– Nov. 15 – Dec. 9
Dumped on Thanksgiving Day by her fiancé, Mary stumbles back into the dating world, where "romance" ranges from weird and creepy to absurd and comical. As newly single Mary's cynicism grows, a five-year-old boy unexpectedly brings her a new outlook on love and life – just in time for Christmas.
Milwaukee Ballet's "The Nutcracker"
Marcus Center for the Performing Arts – Dec. 8 – 26
This Yuletide classic gives the gifts of wonder and enchantment to people from one to 92. Featuring nearly 200 dancers and live music from Milwaukee Ballet Orchestra and Milwaukee's Children's Choir, "The Nutcracker" is a holiday spectacle at incredible value.
Bronzeville Arts Ensemble's "Black Nativity"
Marcus Center for the Performing Arts – Dec. 6 – 16
Milwaukee's newest holiday favorite, "Black Nativity" by Langston Hughes, is a testament to the power of gospel music, telling the story of the nativity through a combination of African American scripture, poetry, dance and song.
A Charlie Brown Christmas: Live on Stage
The Riverside Theater – Dec. 8
Join Charlie Brown, Snoopy and the whole Peanuts gang in this holiday classic as they produce their own Christmas play and ultimately learn the true meaning of the season.
Marcus Center's "'Twas the Month Before Christmas"
Marcus Center for the Performing Arts – Nov. 28 – Dec. 2
Hear the "other" stories that led to that magical night in Bethlehem in this smart, funny and sweet production, featuring an all-Milwaukee cast. Milwaukee playwright and actor Doug Jarecki delivers a hilarious and heartwarming holiday treat fit for the whole family.
Posted in:
Arts & Culture