These Four Public Art Projects Will Inspire You to Vote
October 20, 2020 /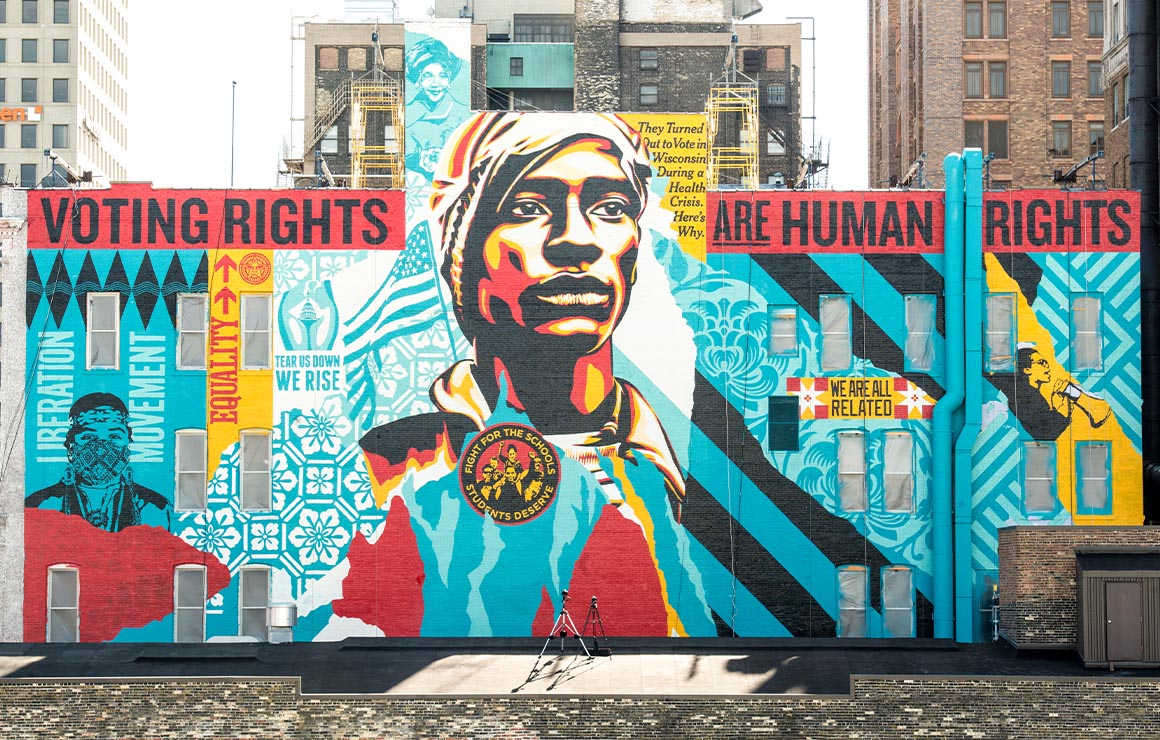 Out of the silence, the voice of a nation emerged. In recent months, the streets of downtown Milwaukee filled with artworks inspiring the public to vote. Most recently, nationally acclaimed street artist Shepard Fairey completed his "Voting Rights are Human Rights" mural on the Colby Abbot Building, at 755 N. Milwaukee Street in East Town. You may recognize his signature style from his now fabled depiction of President Barack Obama in his "Hope" poster. You can see the mural at the intersection of Milwaukee Street and Wells Street, facing south. Fairey was joined by four Wisconsin-based artists to complete the project in just a matter of days, including Tyanna Buie, Niki Johnson, Tom Jones and Claudio Martinez, and Dyani White Hawk of Minnesota.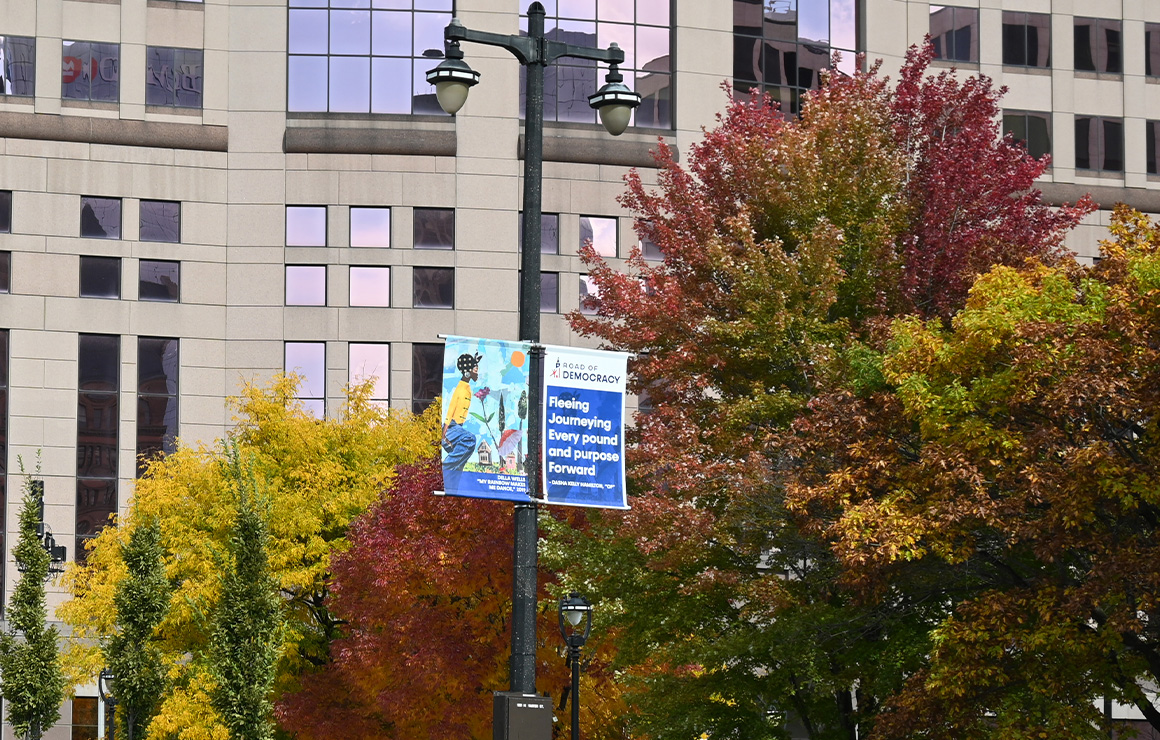 Walk just a couple blocks west on Wells Street, and you'll intersect with the Road of Democracy, where over 50 street pole banners feature the work of Milwaukee artists Della Wells and Dasha Kelly Hamilton around City Hall. The installation runs on Water Street, between Mason Street and Knapp Street, and features six unique sets of banners. Milwaukee Downtown, BID #21, with support from Imagine MKE and the Milwaukee Arts Board, commissioned "Of," an original poem by Hamilton to commemorate the 2020 Democratic National Convention, the 100th anniversary of women's suffrage, and the 55th anniversary of the Voting Rights Act of 1965. Stop by the Marcus Performing Arts Center, at Water Street and Kilbourn Avenue, and scan the kiosk's QR code to hear Hamilton deliver the poem via Drops. The project accomplished its goal to spur community dialogue, including weekly community panels and four public art projects by Imagine MKE. Learn more about here.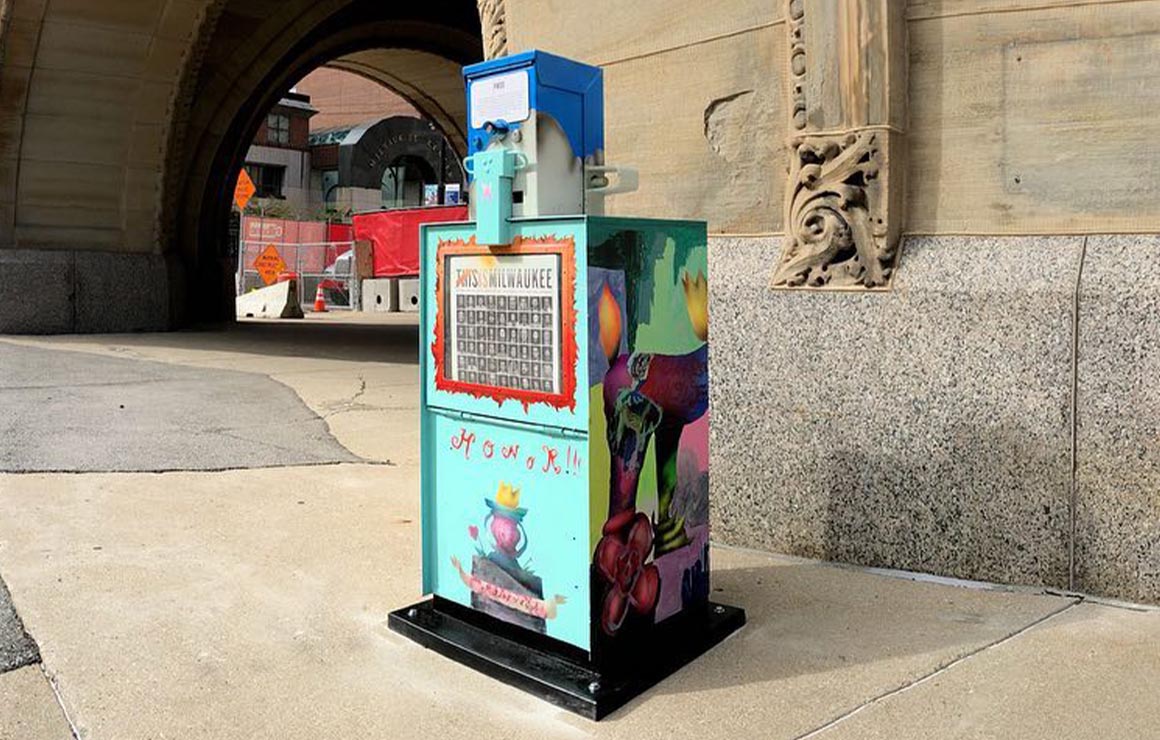 While at City Hall, make sure to pick up your copy of a special printed publication called "This is Milwaukee." You can find the free publication in an artistic newspaper box designed by local artist Zachary Ochoa. The project, led by Milwaukee artist-photographer Kevin J. Miyazaki and independent journalist Mary Louise Schumacher, documented over 100 community members and their views on democracy. Learn more about how this project was elevated by the pandemic and social injustice by visiting their website.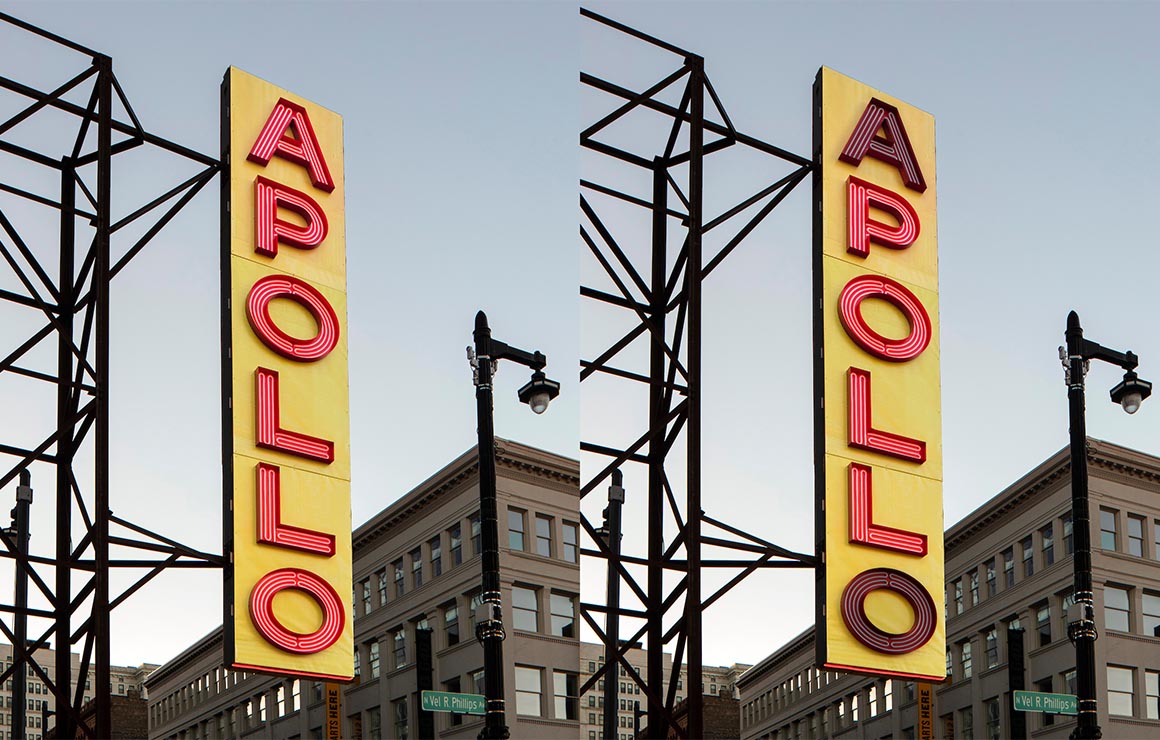 Traverse further west on Wells Street to the Wisconsin Center, where you'll find Nari Ward's Apollo/Poll, 2017, for Sculpture Milwaukee's 2020 exhibition at the corner of Vel R. Phillips Avenue and Wisconsin Avenue. This striking sculpture resembles the infamous Apollo Theater blade marquee in Harlem. This version, however, alternates its glow between Apollo and Poll, where the audience gets to vote on their favorite act – hence the word "poll." To learn more about Apollo/Poll, visit Sculpture Milwaukee's website.
Election Day is November 3, 2020. Drop off your absentee ballot on the east side of Market Street, between City Hall and the Zeidler Municipal Building. For alternative absentee ballot drop-off locations in Milwaukee, click here. 
Contributing photography by Kevin J. Miyazaki and Chuck Kahn. 
Posted in:
Arts & Culture