MKE It an Ice Weekend!
February 4, 2021 /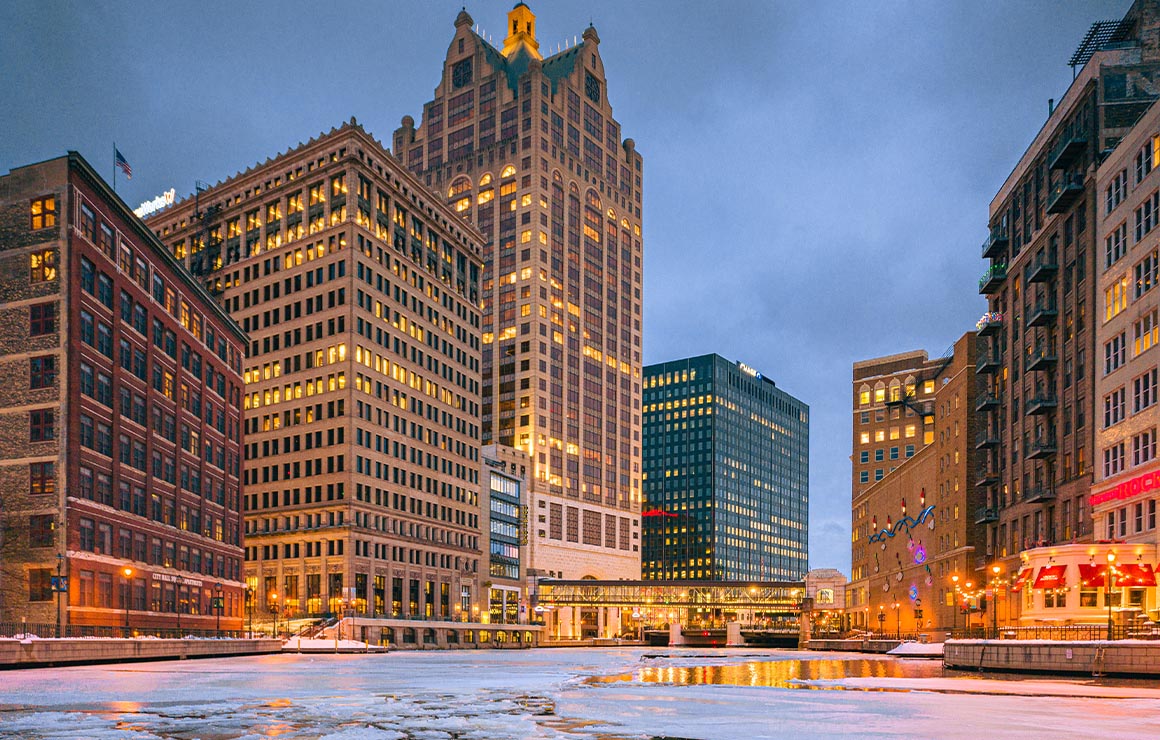 Slice of Ice and Ice Sculptures Break Up Winter Withdrawals
Bundle up the family and zip downtown for a weekend of free winter activities. With Slice of Ice at Red Arrow Park, new ice sculptures each weekend in February, and the breathtaking Milwaukee RiverWalk, it's sure to be a (n)ice visit with a guaranteed family photo op along the way.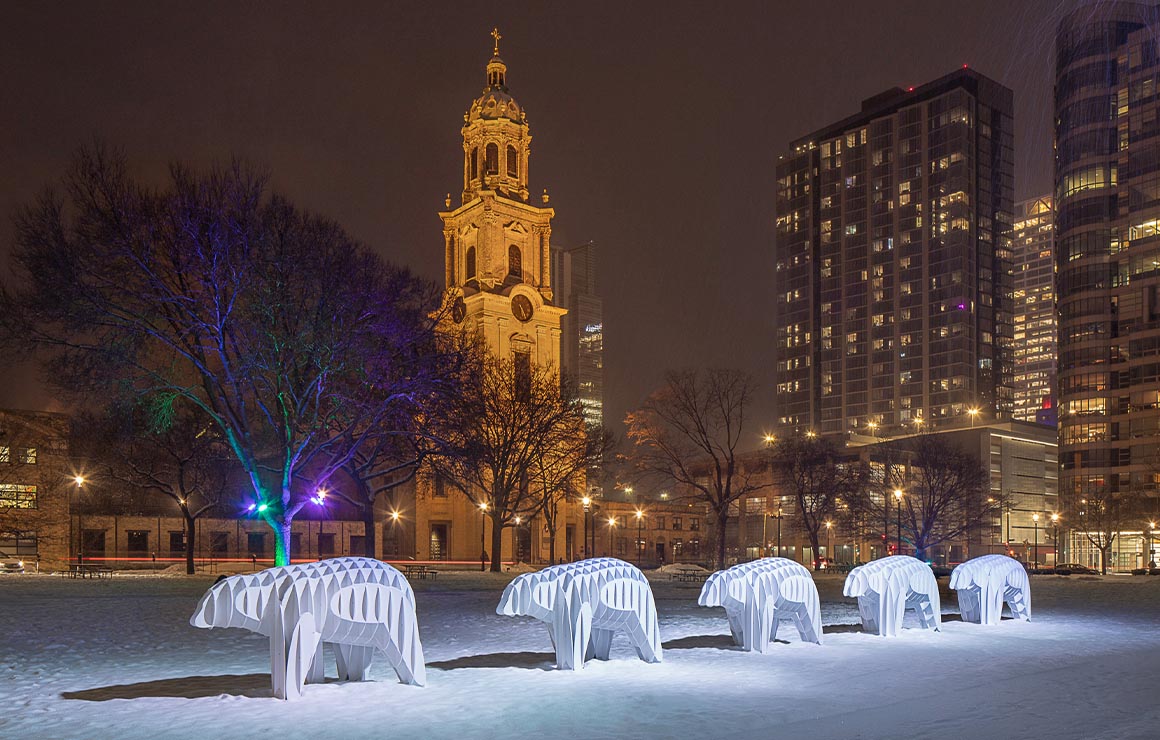 Start your winter weekend excursion with a visit to Cathedral Square Park, where a sleuth of five polar bears roam freely, and the Northern Lights are a nightly sight. Fit for a postcard, this art installation by Jason Scroggin of Scroggin Studios utilizes massing model techniques to construct life-sized bears, appropriately named "Massimals." Read more about this project here. While at Cathedral Square, enjoy downtown's only playground, a sweet treat from Classy Girl Cupcakes, or lunch at Elsa's on the Park, complete with a special Valentine's Day-inspired neon heart installation inside. 
Pro Tip: Looking for more public art? Head south on Jefferson Street, where you'll find a newly installed piece in the Continuum Architects + Planners building at 751 N. Jefferson Street. It's here where you'll see Sculpture Milwaukee's installation of "Mobile Animation Unit" by Amy Yoes and "I'll remember you as you were, not as what you'll become" by Sky Hopinka.
Next, head three blocks south of Cathedral Square Park on Kilbourn Avenue to Milwaukee County Parks' Slice of Ice at Red Arrow Park. There's nothing quite like ice skating in the heart of the city. Skaters are required to reserve their 60-minute timeslot in advance online. This year, the warming house has moved to an outdoor tent in the park, but you can still purchase a warm beverage at Starbucks next to the rink!
Pro Tip: While at Red Arrow Park, take in the grandeur of Milwaukee's City Hall, which when constructed in 1895, was the tallest building in North America at 353 feet in height, only surpassed by the Washington Monument in Washington, D.C. It remained Milwaukee's tallest building until the U.S. Bank Center's completion in 1973.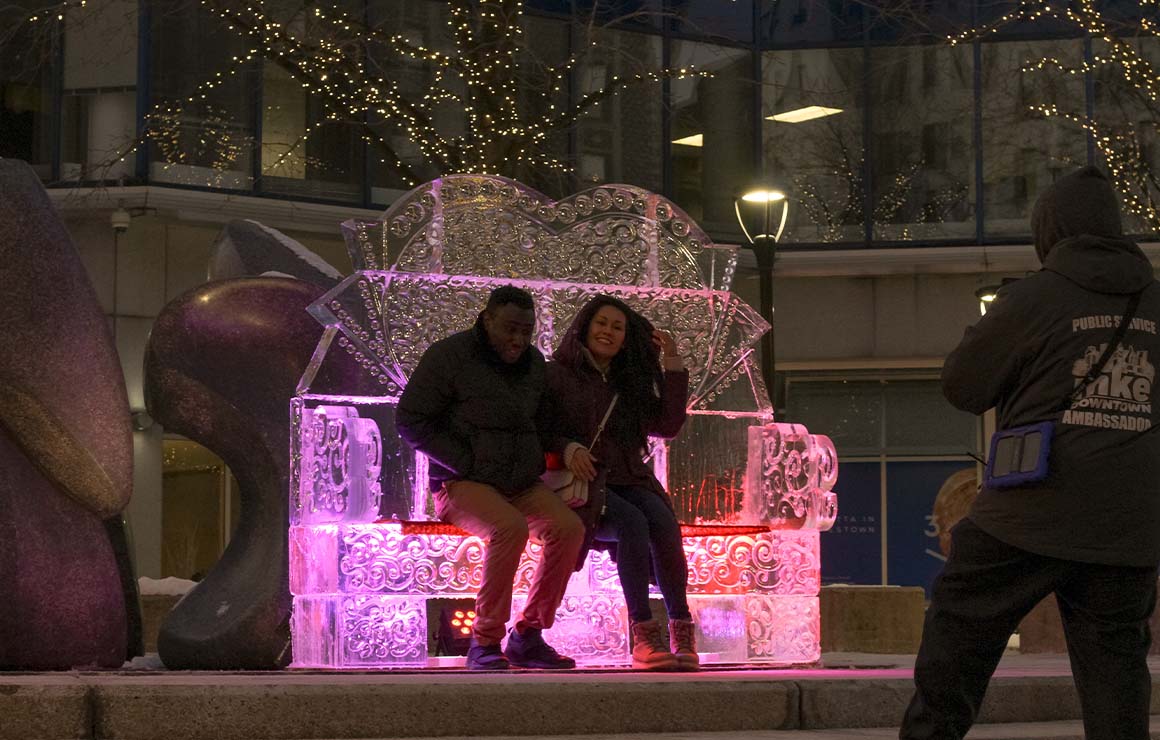 Next, head across Water Street to the Marcus Performing Arts Center to take in the 15-block, 8 ft. tall ice sculpture featuring the friendly MKE It Local bears! Perfect for a family photo op, the ice sculpture will be on display through the weekend. On Valentine's Day weekend, visit Saint Kate - The Arts Hotel for Instagrammable angel wings. 
Pro Tip:  Dear Ruth by The Everyday Feminist opens to the public on February 14 at Saint Kate - The Arts Hotel. To celebrate the Honorable Ruth Bader Ginsburg, community members are welcome to write letters to archive their thoughts, feelings, and memories of the dearly departed Notorious RBG. These letters will be the heart and soul of the installation through March and later transferred to the Library of Congress.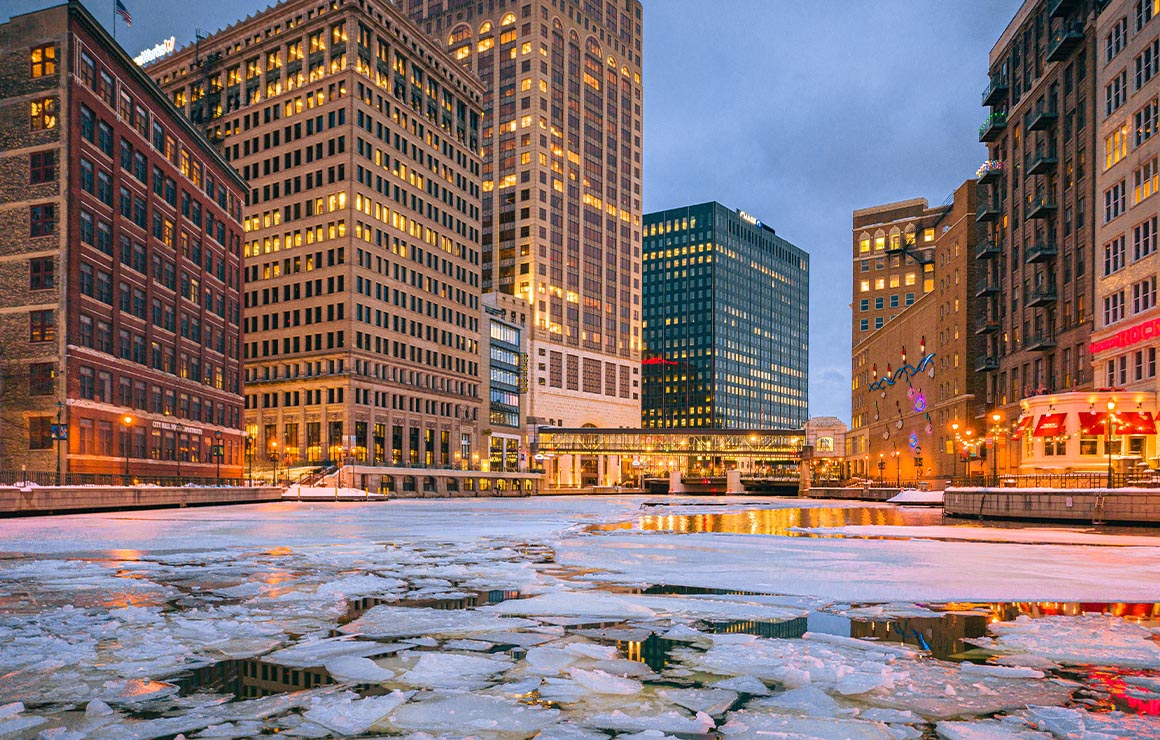 Next, it's off to the Milwaukee RiverWalk to take in the breathtaking icy Milwaukee River. You can enter the RiverWalk on Kilbourn Avenue, just behind the Marcus Performing Arts Center. 
Pro Tip: Take a selfie with Bronze Fonz near the Wells Street bridge and make everyone in your group happy with customized pasta dishes at Tua Pasta, located on the RiverWalk at 100 East Wisconsin, between Mason Street and Wisconsin Avenue.
With so many safe and scenic activations downtown this winter, don't hibernate, celebrate safely! Share your adventures with #mkeitaniceday. 
Posted in:
Arts & Culture