Milwaukee Celebrates Juneteenth Day, June 19
June 19, 2020 /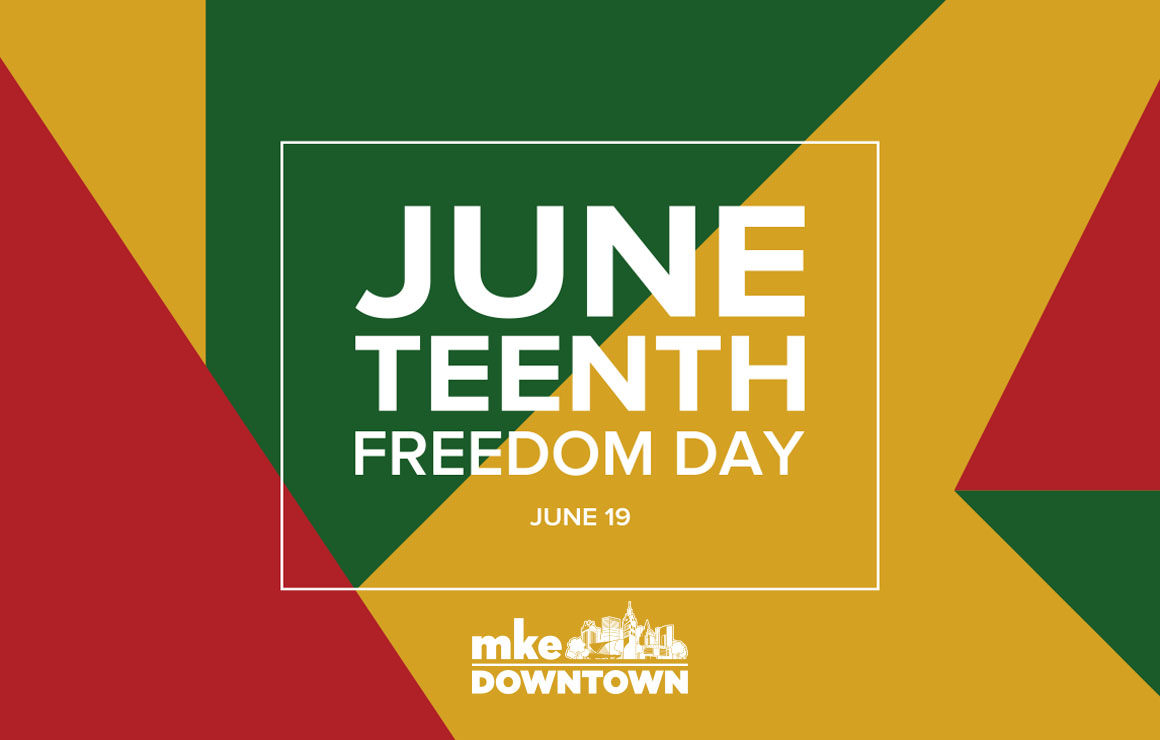 Milwaukee has one of the longest-running Juneteenth celebrations but for the first time, the Juneteenth Day flag will fly over the City of Milwaukee's municipal building at 809 N. Broadway and it was declared a County-official holiday. Even though the city's official event was canceled due to COVID-19, the city will be coming together and celebrating in other ways. 
*All events recommend social distancing and using masks. 
Safe & Sound Virtual Juneteenth Celebration
Join Safe & Sound as they celebrate Juneteenth virtually this year. They'll be celebrating the history, culture and freedom through arts like music, poetry and dance.
Join on Zoom: bit.ly/ss-virtual-juneteenth
Juneteenth: We are Not Free Until All of Us are Free - 2661 N 2nd St.
A solidarity march and program of commemoration from 4 p.m.–6 p.m. This event includes COVID-19 testing from 10 a.m.–3 p.m. and voter registration and census completion from 12 p.m.-3 p.m. 
Juneteenth Sit-in - 365–427 W Concordia Ave.
The marches in response to George Floyd's death and police brutality have continued for 22 days straight. The People's Movement is taking a moment to rest their feet and celebrate the victories made and their ancestors. There will be DJs, local music, spoken word, vendors and food trucks. 
BLACK WMNZ Emancipation Protest & Juneteenth Block Party - Sojourner Family Peace Center 619 E. Walnut St. 
In observance of the Emancipation Proclamation, this protest and block party will celebrate the mothers of the freedom movement. This march was collectively organized to make space for Black Womxn.  The journey starts at the Sojourner Family Peace Center out of respect for Sojourner Truth, a Black Womxn.
Juneteenth Youth Rally and Expo - Carmen Middle and High School of Science and Technology, 5496 N. 72nd St.
Attend the Juneteenth Youth Rally and Expo for an evening of community building, activism, entertainment, collaboration and celebration. Join in solidarity with vendors, giveaways and food. 
Black Lives Matter Mural - 2862 N Dr Martin Luther King Jr Dr
Local artists will paint a Black Lives Matter street mural near the intersection of Dr. Martin Luther King Jr. Drive and Locust Street. The public is also invited to help paint the mural from 10 a.m. to 4 p.m. 
Juneteenth at the Shop - Cream City Print Lounge 8010 W. National Ave.
Cream City Print Lounge will host a community printing event from 10 a.m.-6 p.m. Juneteenth designs and patterns are $18.60 with conversation from Imani Ray, owner of Natural E. Beautiful clothing line. Ten are allowed in the store at a time, but the street has been closed to allow more guests to attend.
Posted in:
Arts & Culture
Posted in:
News