The dream team keeping downtown sparkling clean
June 1, 2020 /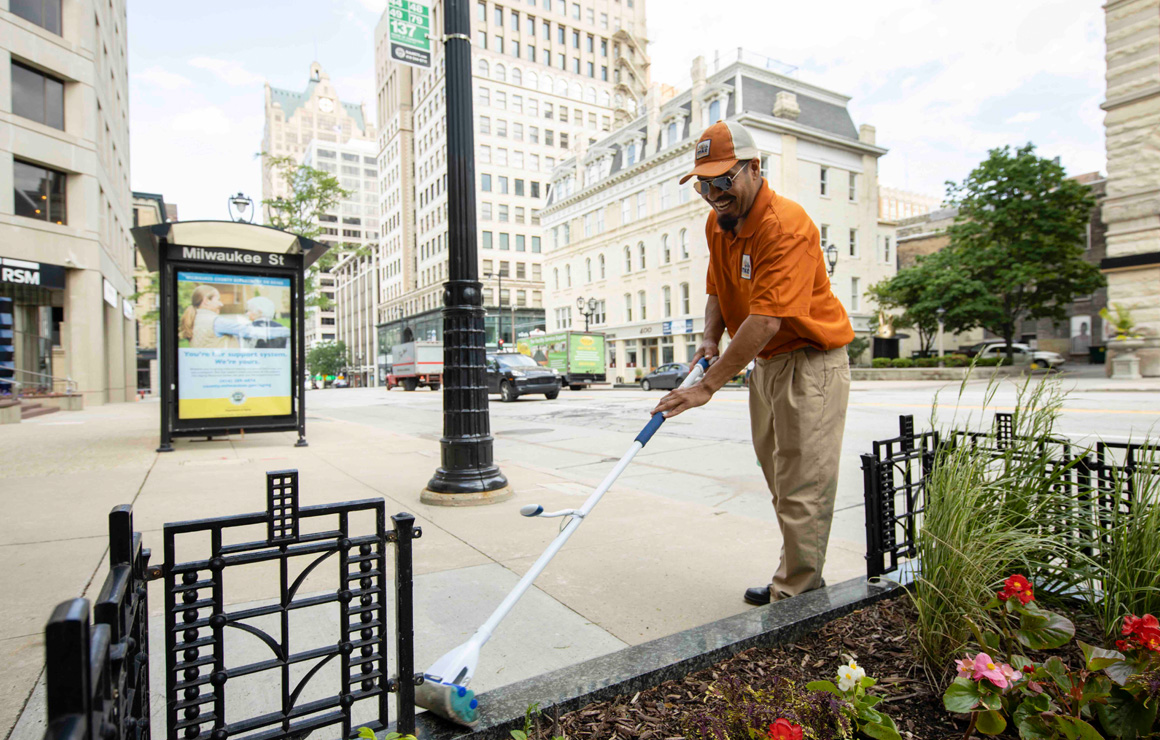 The Heroes Project salutes those who MKE a difference. To engage with our community virtually, we've documented the stories of downtown's frontline heroes, who ultimately inspired our next mural. Titled "The Hero in You," by Milwaukee artist Ken Brown, will transform MacArthur Square this June. For more details, visit www.milwaukeedowntown.com/art. Photography for Milwaukee Downtown by Andrew Feller.
It's something we hear from visitors all the time: "Your downtown is so clean!" That's thanks to the work of our Clean Sweep Ambassadors - the team on the street who helps maintain downtown's signature sparkle.
Victor Prado and the team of CSAs were focused on cleanliness and sanitation long before the COVID-19 pandemic - and their tidying toolkit is a little more beefed-up than what you'd find on your shelf at home. Along with daily panning and brooming and trash collection, the CSAs deploy machines that collect litter, power-wash, remove gum and scrub sidewalks.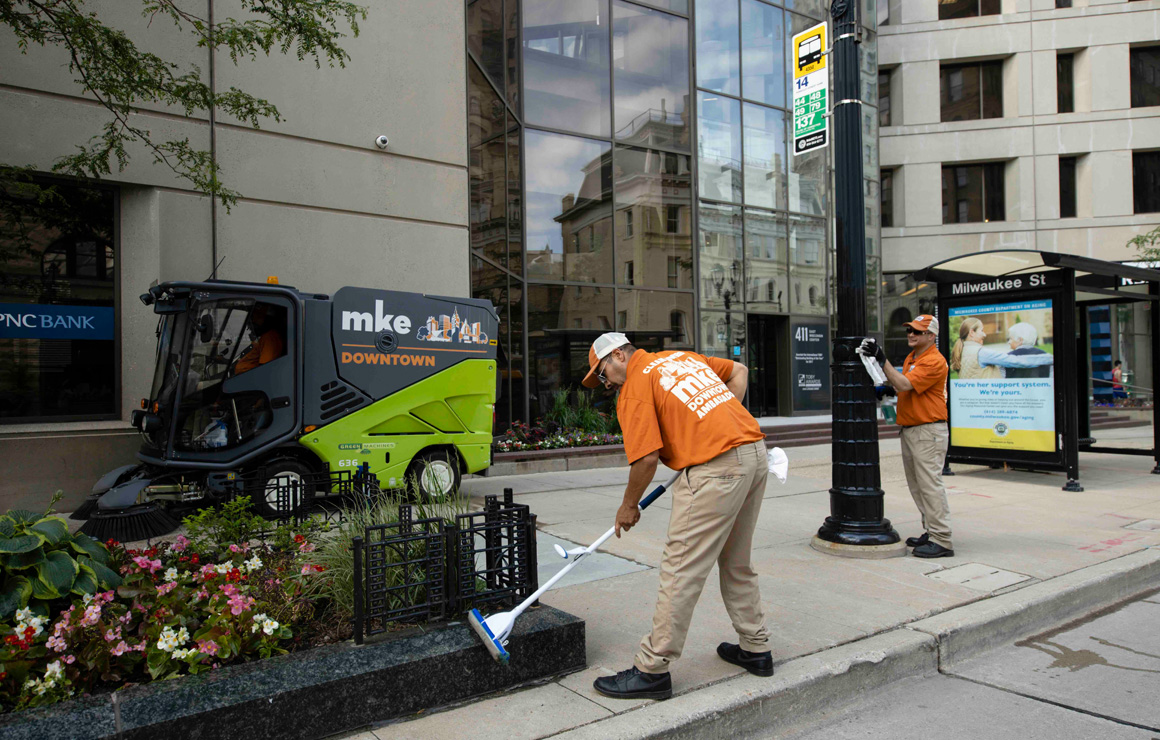 During the pandemic, Victor and his fellow CSAs have continued to clean downtown's quiet streets and prepare for the eventual return of the workforce, the visitors, and the positive energy that brings downtown streets to life. The CSAs' role as cleaning experts has grown even more crucial, and helps to bolster confidence as downtown businesses begin to reopen.
Plus, the CSAs are getting creative with new ways to keep downtown clean and safe. We know that outdoor spaces will be increasingly vital as folks seek to maintain safe practices during the recovery phase. In response, the CSAs have implemented new ideas, like testing new materials to make picnic table surfaces easier to sanitize in downtown parks.
The work of the CSAs helps to define downtown as Milwaukee's living room - a space that feels like home, welcomes connection, and embodies safety and warmth. For Victor, that sense of connection has been amplified during the pandemic.
"It doesn't matter how tough it gets," says Victor, "as long as you have your family, you'll make it through tough times. 
If you see Victor or any of the Clean Sweep Ambassadors, clad in cheery orange on downtown streets, feel free to share a wave and a friendly hello - and enjoy the comfort and confidence that comes with a sparkling clean downtown cared for by a devoted team.
About the author: Erica Chang is the Marketing, Events & Social Media Director for Milwaukee Downtown, BID #21.
Posted in:
News