Can't-Miss Picks for Taste & Toast 2020
February 24, 2020 /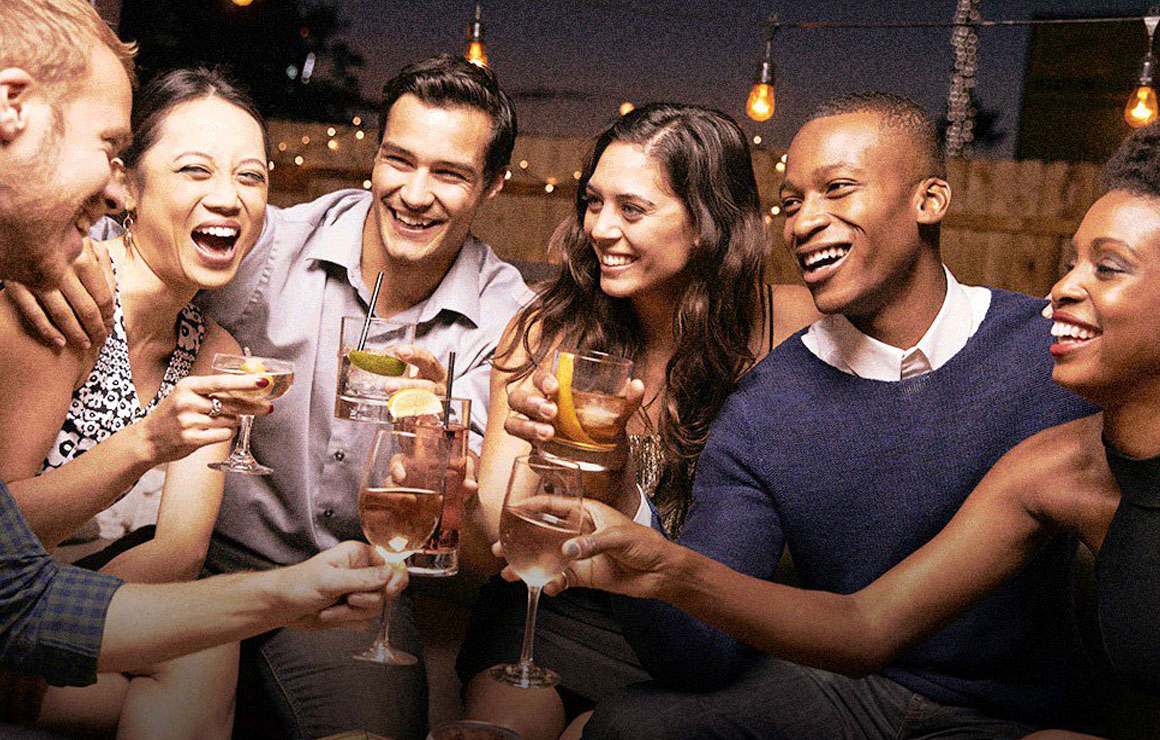 Are you ready to snag that extra special drink deal or sample new small plates? Taste & Toast 2020 is right around the corner, and we've been eagerly counting down the days. The event runs March 2-6 and is offered from 4-7 p.m. Click here for more info or keep reading to check out some of the most highly anticipated appetizers and beverages this year.
AJ Bombers
From the menu: AJ Bombers Sliders - $2 each
With the choice of AJ, Medusa, Milwaukee or black bean, these sliders are a great way to experience the classic AJ Bombers burgers.
Ale Asylum Riverhouse
From the menu: Mint Limeade - $3
An exciting twist on a staple beverage, this nonalcoholic mint and lime combo has us refreshed just thinking about it.
Blue Bat Kitchen & Tequilaria
From the menu: Paloma - $5
Between Xicaru Mezcal or Herradura Silver tequila, this grapefruit cocktail is sure to brighten up anyone's day with a splash of citrus.
CANTINA Milwaukee
From the menu: Blue Pineapple Margarita - $6
Feeling blue? This margarita with Cazadores 100% Blue Agave tequila and Blue Curacao will lift your spirits by showing you how to feel blue in a fun way!
Cubanitas
From the menu: Cuban Guacamole & Plantain Chips - $5
Great for vegetarians, Cubanitas takes chip and dip to a whole new level with their most famous appetizer.
DOC's Commerce Smokehouse
From the menu: Chicken Legs - $3
Two smoked chicken legs with honey butter embody the perfect post-work reward to us.
East Town Kitchen and Bar
From the menu: Bee Is For Blackberry - $6
Bees, blackberries and bubbles, oh my! This cocktail with Aviation, thyme-honey, lemon and blackberries is sure to taste as delightful as it sounds.
Flannery's
From the menu: Bacon Wrapped Cheese Curds - $5.99
Six cheese curds prepared with Leinenkugel beer batter, wrapped in bacon, deep fried and sided with homemade ranch makes this an ideal Wisconsin appetizer.
Harbor House
From the menu: Fish Tacos - $7
Haven't been by the lake recently? Now's your chance to try the daily fresh catch with pineapple salsa and lime crema.
The Harp
From the menu: Reuben Rolls - $5
These wonton wrapped rolls with corned beef, Swiss cheese, cream cheese and sauerkraut are great bites to share with family and friends.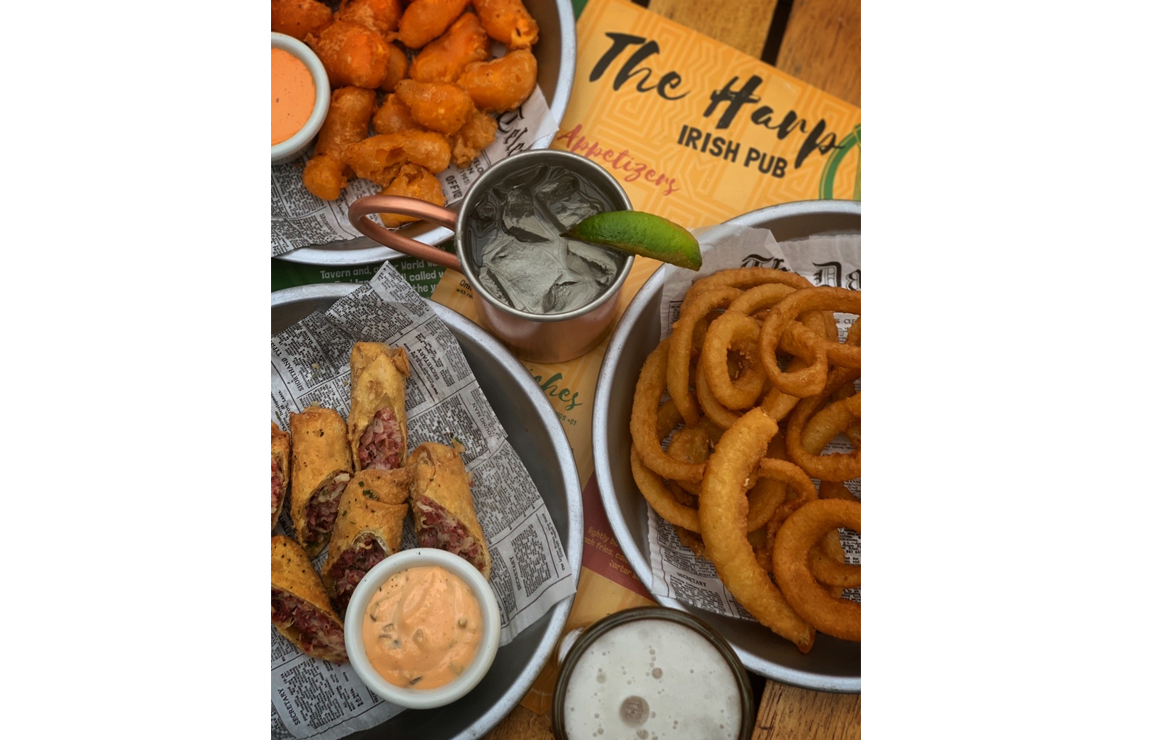 The Knick
From the menu: Rosé Sangria - $5
Put on your rosé-colored glasses, because life is going to feel cheerful after this drink featuring rosé, brandy, raspberry liqueur, Aperitivo Rosato and white cranberry juice.
McGillycuddy's
From the menu: Irish Mule - $5
With Tullamore D.E.W. whiskey, fresh squeezed lime juice and ginger beer, this Irish cocktail might just bring some luck to your day.
Monarch Lounge
From the menu: Short Rib & Fontina Potato Tots - $10
Burgundy braised beef, fontina cheese, Yukon potatoes, savory bread crust and mustard aioli? You've got our attention.
MOTOR® Bar & Restaurant
From the menu: Crispy Pickle Spears with House-Made Russian Dressing - $3.95
These three breaded and fried pickle spears might be too good to share with anyone else, so tell your friends to get their own basket!
Oak Barrel Public House
From the menu: Bier Cheese Mac Cup with Thick Cut Bacon - $5
This triple cheddar Bier cheese mac cup tossed with garlic panko and topped with bourbon cider thick cut bacon is the comfort food we're totally craving.
Onesto
From the menu: Nonalcoholic Sangria - $2
Anyone can enjoy this delectable beverage featuring cranberry, orange, grape, lemon and lime juices. Elevate the experience by pairing it with one of Onesto's delicious Taste & Toast apps.
Red Rock Saloon
From the menu: Funnel Cake Fries - $4
You don't have to wait until summer to satisfy a funnel cake craving with this sweet small plate.
The Rumpus Room
From the menu: Blueberry Basil Caipirinha - $7
Looking for a vacation? This cocktail with Cachaça, blueberries, basil, sugar and lime is sure to feel like the next best thing.
SafeHouse
From the menu: Grenade Launcher - $6
Your taste buds aren't prepared for this explosion of flavors made up of Captain Morgan Spiced Rum, Stoli Vanil vodka, orange, pineapple and grenadine.
Saint Kate – The Arts Hotel | The Bar
From the menu: Roasted Brussels Sprouts - $7
These delectable Brussels sprouts make healthy eating luxurious with parmesan pine nut gremolata and balsamic.
Smoke Shack
From the menu: Alabammy Wings - $5
These house smoked and flash fried wings tossed with Alabama White BBQ sauce are sure to satisfy any meat lover's desires.
Stella Van Buren
From the menu: Burrata Bruschetta - $5
Bruschetta never gets old, and this version with toasted ciabatta, heirloom tomato and burrata is a perfect go-to for those classic Italian cravings.
Trinity Three Irish Pubs
From the menu: Trinity Chips - $3
Who said chips were a side dish? These fresh cut potato chips topped with sour cream chive sauce are tasty enough to become a feature appetizer on their own!
Uncle Buck's/Red Star
From the menu: Hibiscus Sparkler - $8
With Hibiscus tea, white spirits, seasonal syrup and citrus, this cocktail is sure to make it feel like spring. Enjoy a nonalcoholic version for just $6.
Vagabond
From the menu: Queso Fundido - $4
Treat yourself and some friends to a savory queso combo of Chihuahua cheese, pepper jack cheese, sautéed peppers and onions for an easy night out.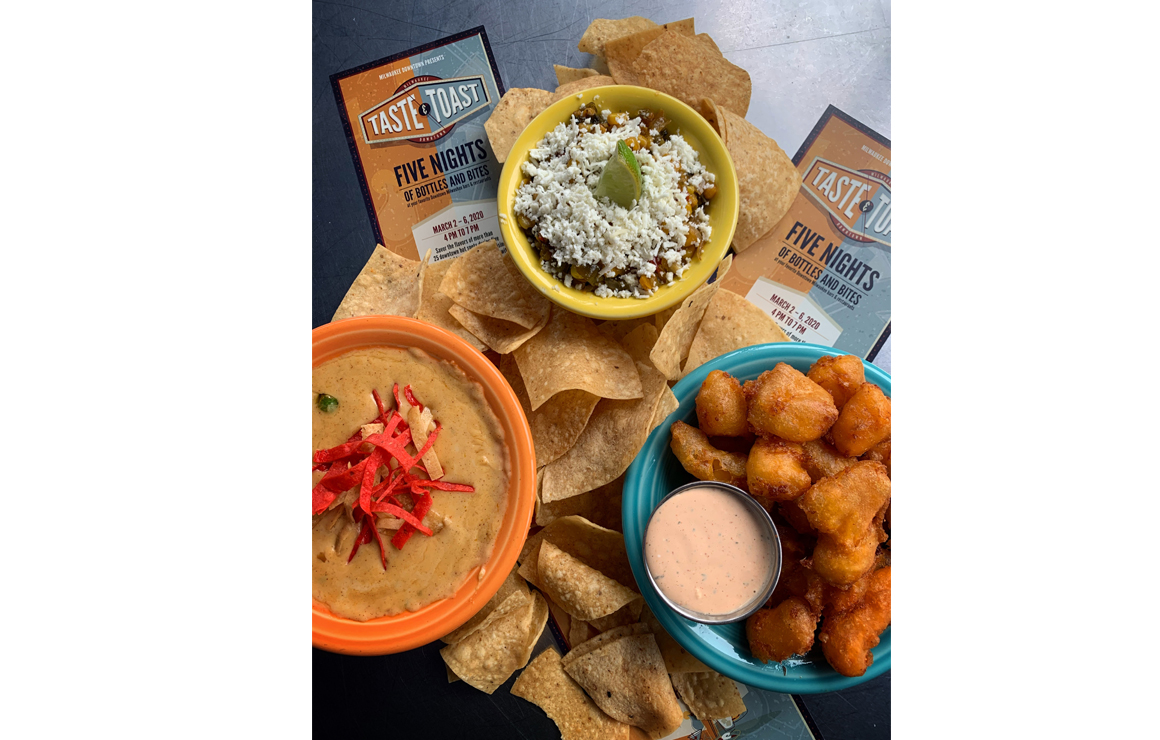 Water Street Brewery
From the menu: Water Street Brewery Draft Beer - $3
We can't wait to try any one of their seven house brew pints this Taste & Toast season. We'll probably need some pretzels and cheese curds too…
Who's On Third
From the menu: Peanut Butter Cup - $6
Why not try something new? This drink spices up a Guinness draft beer by including a shot of Screwball Peanut Butter whiskey for the sake of adventure.
About the author: Claire Barten is Milwaukee Downtown's Special Events & Marketing Intern, spreading Milwaukee Downtown's community ideals through social media and other engaging platforms. 
Posted in:
Dining & Nightlife