Business Spotlight: Cruise the City in Style with Retro Boats MKE
July 18, 2019 /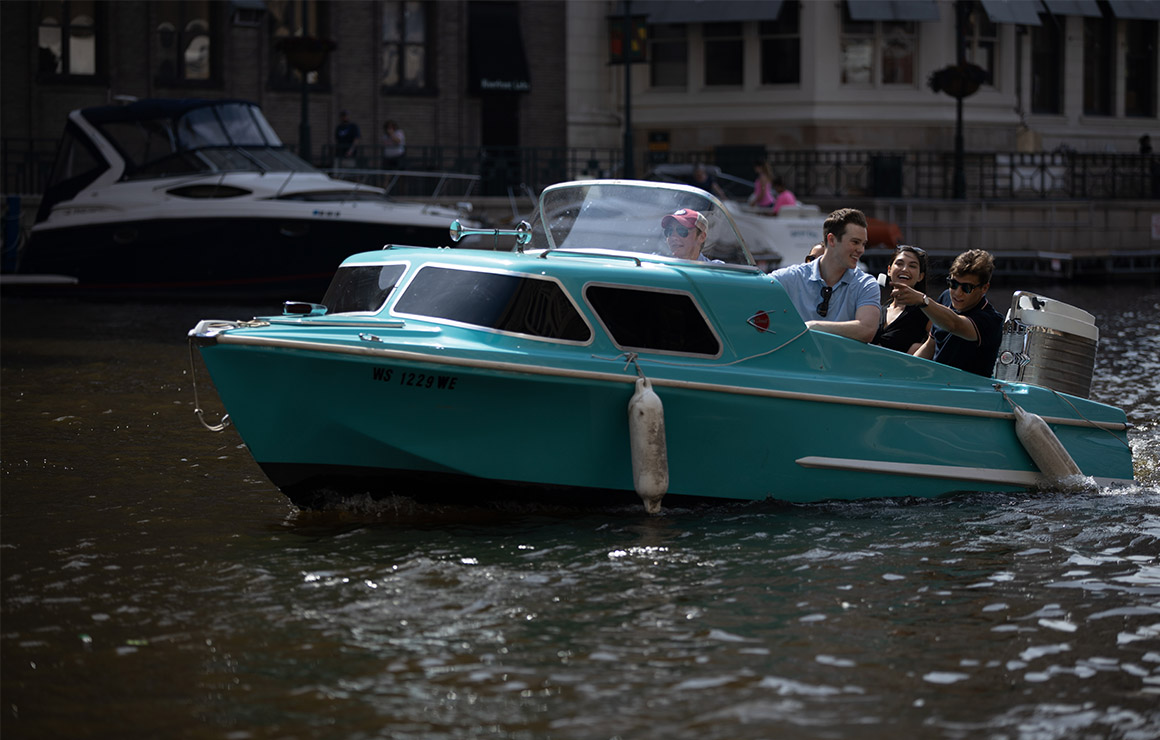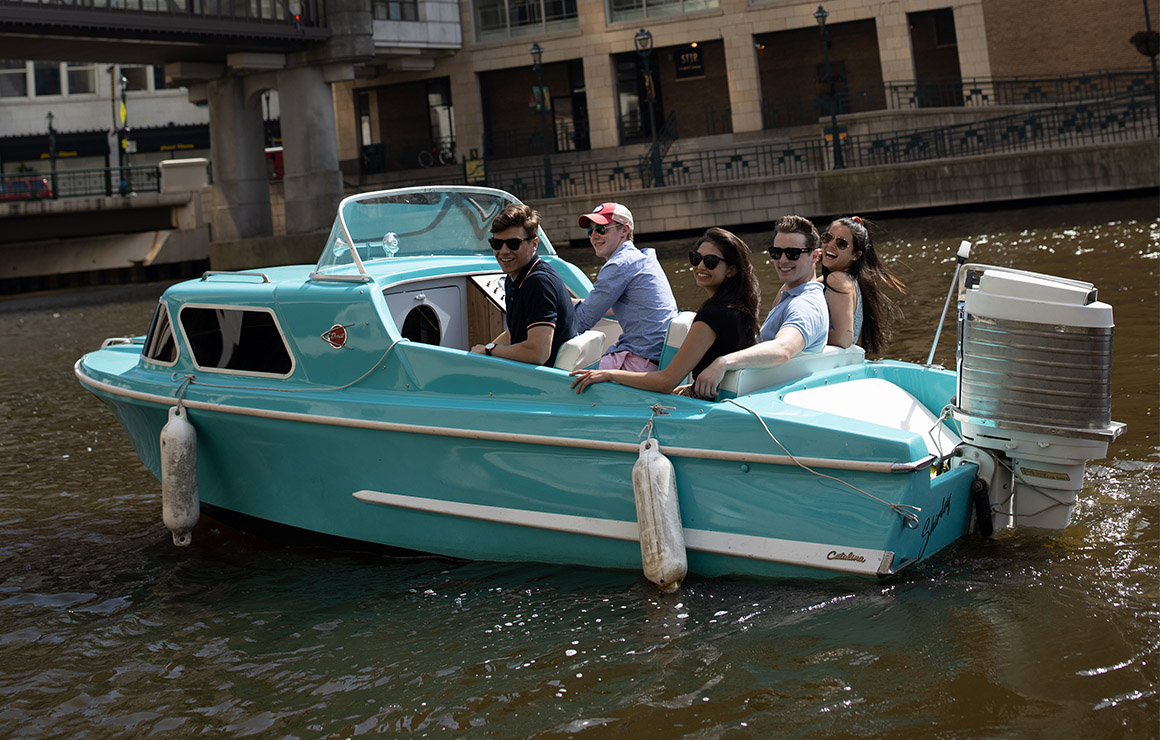 Want to cruise down the Milwaukee River in style while turning some heads? Then check out Retro Boat MKE, which is located at the dock at the end of East Mason Street. Opening his business just last month, owner Redmond Tuttle is featuring two retro-style boats and two "donut" boats that are open for the public's use all summer. Befitting Milwaukee, the two retro boats are named Laverne and Shirley.
Tuttle opened Retro Boat with hopes of getting people out onto the water in Milwaukee, "Milwaukee has such a treasure in its three rivers that run through downtown Milwaukee," Redmond told us, "I have always wanted to help…. [and] I thought our retro and donut boats were a perfect opportunity to get small groups out on Milwaukee's water."
Laverne and Shirley were both restored from antique fiberglass and contain an eco-friendly electric motor inside the motor shell. Both boats are great for small groups or families looking to enjoy a day on the water, as they have plenty of seating and lots of room to get some sun and consume Milwaukee's river scenery. Customers are not only restricted to fun in the boats, as they can cruise past Milwaukee's 7 bars on the river, stopping for a drink or snack along their trip.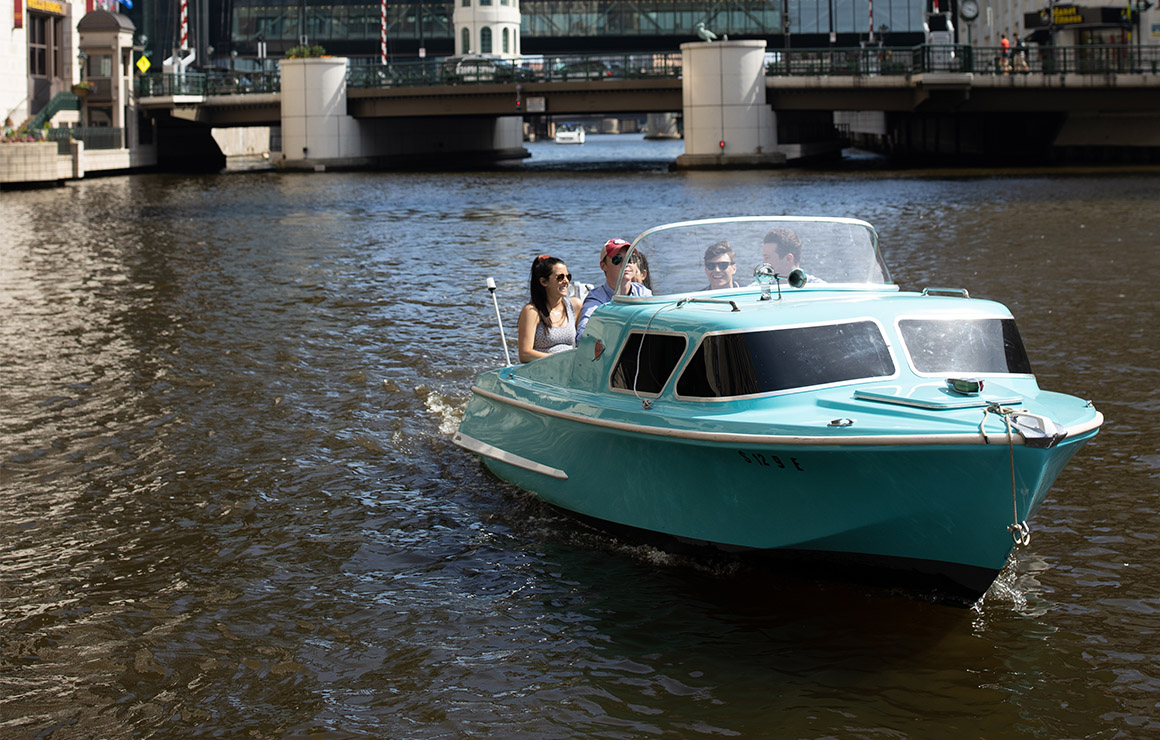 To rent Laverne or Shirley, it costs $200 for a 2-hour ride through the city. Both boats seat up to 5 individuals. The donut boats seat up to 10 individuals while costing $400 for a 2-hour ride. Although you can call, text, or email to book ahead of time, Tuttle is encouraging walk-in business.
Tuttle is excited for his customers to appreciate Milwaukee from the river's perspective, as he believes this city is best viewed from the water. For more information regarding pricing or scheduling, visit Retro Boat's website here, or visit them on Facebook.
About the Author: Joe Franke is Milwaukee Downtown's Economic Development and Public Space Intern, and engages with stakeholders to promote the downtown business environment. 
Posted in:
Arts & Culture
Posted in:
Business Spotlights