8 Ways to Say "I Love You" - Downtown Valentine's Day Ideas
February 6, 2020 /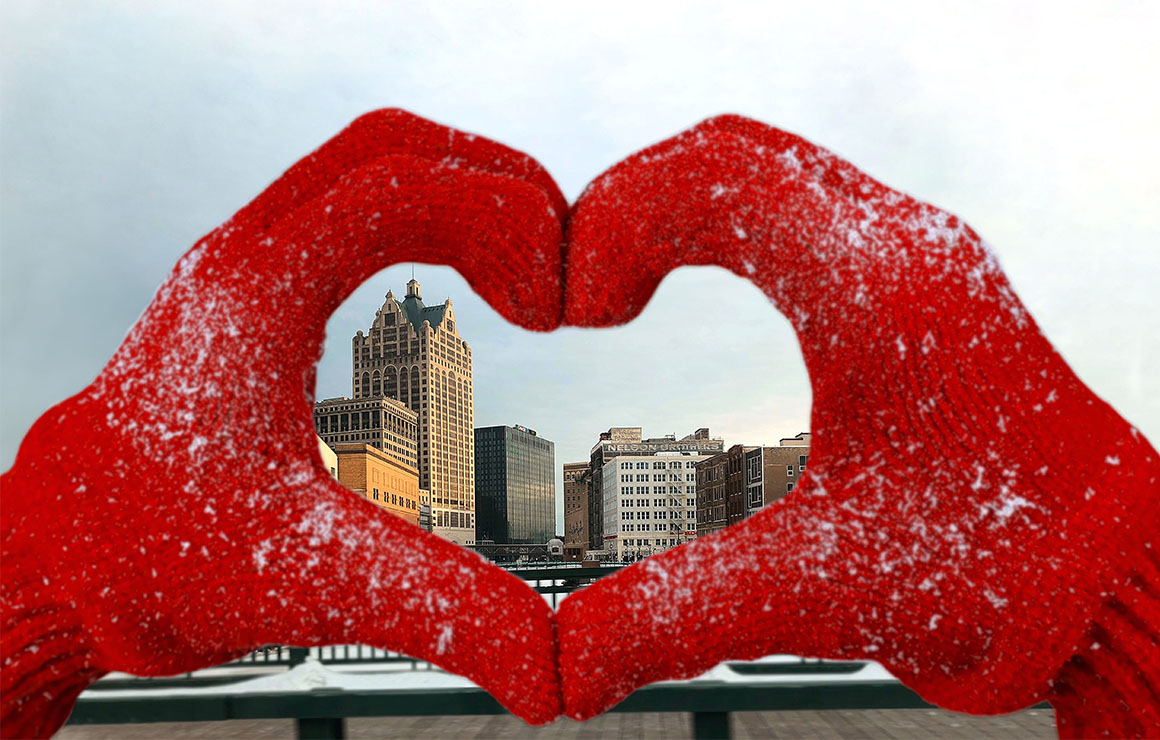 Looking for some fun activities around Valentine's Day? Whether you're single or in a relationship, there is so much to do downtown this time of year! To help you find the love downtown, we crafted this guide to match you with the perfect Milwaukee Valentine's Day event!
---
Romancing the Stars 
Thursday, Friday, Feb. 13 & 14 | Multiple times available
Catch the Valentine's program Romancing the Stars. Couples can embark on an out-of-this-world date at the Planetarium, complete with a romantic tour of the universe and a look at which star clusters are actually "constellations of love."
---
Downtown Ice Sculptures
Friday, Feb. 14 | 12 PM & 5 PM
There's no better place to celebrate Valentine's Day than downtown Milwaukee. For the first time ever, Wisconsin Avenue plazas will be activated with two tons of ice. Experience the Instagram-worthy photo hot spots and stay for free activities. At dusk, the ice sculptures will take on a whole new life with special lighting effects.
---
Valentine's Day Dinner
Friday, Feb. 14 | 5 PM – 9 PM
Treat your date to a memorable evening at the museum with dinner and a walk among the paintings in the Modern Vision exhibition.
---
Heart to Break Valentine's Day Party
Friday, Feb. 14 | 10 PM – 2:30 AM
Get ready to "Woo-AH!" all night long for a Kim Petras-themed drag show you're ready to get heartbroken over! Hosted by Chanel D'Vine, make this Valentine's Day one to remember.
---
Valentine's Day on the Rooftop
Friday, Feb. 14 | 3 PM – 2 AM
Celebrate with the ones you love at The Outsider's Valentine's Day on the Rooftop. There will be cocktail specials, fire pits ablazing and music to get your heart pumping. Check out one of the best date spots in the Historic Third Ward neighborhood! 
---
Play Date with Art: We Heart Art
Friday, Feb. 14 | 8 AM – 12 PM
It's never too early to learn to love art! Drop in and make art together at this monthly program designed especially for the youngest visitors, ages five and under (with an adult). Spend Valentine's Day with the little ones you love. Stop by and sing along during Singing Time at 10:30 and 11:15 AM, too!
---
Celebrate Love at Saint Kate - The Arts Hotel 
Dear Ruthie's Valentine's Day Spectacular 
Picture yourself sipping on cocktails, enjoying a divine dinner with your choice of delicious Braised Short Rib, Crab Cake Crusted Salmon, or Potato Gnocchi, and laughing the night away as Dear Ruthie and friends make your night spectacular!
Unforgettable: An Evening with ​"Nat King Cole"
Is there anything better than dinner and a show? Especially when that show takes you on a trip back in time to hear "Nat King Cole" live and in person! Allow Robin Adkins aka "Nat King Cole" and special guest Chris Pipkins to serenade you with all of your favorite classic hits while enjoying a delicious buffet. 
---
15th Annual Valentine's Weekend Laugh-a-thon
Saturday, Feb. 15 | 7:30 PM
With an amazing lineup featuring DeRay Davis, Rickey Smiley, Michael Colyar, Mark Curry and Melanie Comarcho, the annual Valentine's Weekend Laugh-a-thon returns once again!
Posted in:
Arts & Culture