8 New Additions to Summerfest
June 12, 2018 /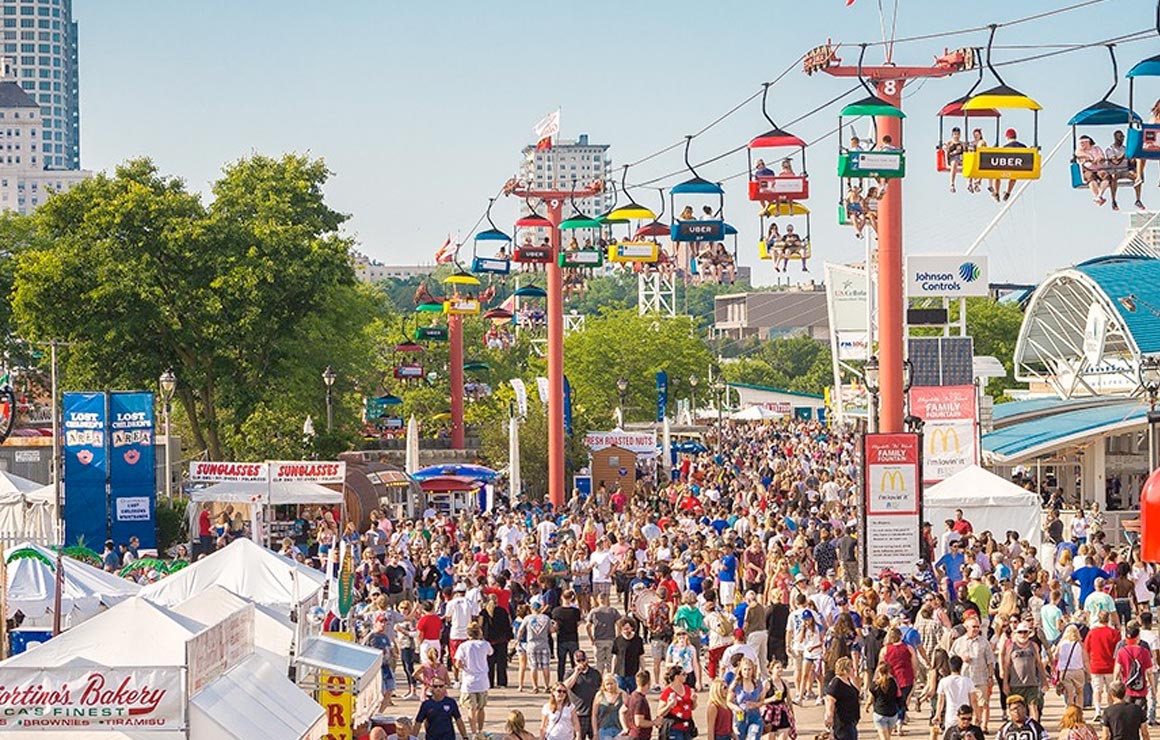 Summerfest comes around every year for the last 50 years, but that doesn't mean that it's the same festival year after year. In addition to a broad line-up, the festival park is updated frequently. Enhancements are made to improve the experience for festival-goers every year. Read on to find out eight new additions to Summerfest in 2018:
1. NEW CONSTRUCTION: In 2018 alone, Milwaukee World Festival, Inc. constructed a new North Gate and Community plaza, rebuilt the U.S. Cellular Connection Stage, and even added a brand new stage that will highlight local artists – the Klement's Sausage and Beer Garden! 
2. NEW BEER: Milwaukee loves its adult beverages, and so does Summerfest. This year, the festival is introducing THREE new Terrapin IPAs and Crispin Rosé. There's even an interactive map where fans can find their favorite, cold, adult beverage in the app, which leads us to our next point…
3. NEW APP FEATURES: The Summerfest app got even better in 2018. In addition saving your favorite artists into a scheduler, you're now able to share your schedule and plan to meet friends right through iMessage, explore the grounds in a Summerfest Photo Hunt, and participate in a crowd-sourced synchronized light show at U.S. Cellular shows.
4. NEW MERCH: This year, Summerfest added a new a pet line featuring collars and a leash, a fanny pack for hands-free storage of your festival essentials and a coloring book from Milwaukee artist James Steno! Merchandise is available NOW on Store.Summerfest.com.
5. NEW TECHNOLOGY: In a world where we rely more and more on our phones, charging those devices has become more and more essential. New this year, U.S. Cellular has added a charging patio with a lake view at the new stage.  Just bring your cord, plug in, and charge up!
6. NEW PROMOTIONS: Summerfest is the people's festival, and the people of Milwaukee love a good deal. Every day of the festival, Summerfest has admission promotions that allow guests to get in FREE or at reduced costs. This year, they've added admission promotions such as Show Your College Pride Day on June 29 (wear a shirt or hat from participating colleges or universities), Sunday Fun-Day presented by Subway on July 1 (get in for $10 between 4-6pm and enjoy 50% all beverages excluding ice cream drinks) and Red Lobster Day on July 6 (bring a receipt of purchase during Red Lobster's Lobster & Shrimp Summerfest event). Details available at Summerfest.com.
7. NEW LAKEFRONT ACTIVITIES: A fan-favorite on a hot summer day has always been to take a paddleboat out for a ride on the lagoon. This year, there are even more water activities available because Summerfest has partnered with L.L.Bean to bring 60-minute kayak and stand-up paddleboard courses led by Outdoor Discovery School experts the first weekend of the festival! See you in the water!
8. NEW FROM THE GREEN & GOLD: Summerfest will debut the Lambeau Field Live! Experience, which celebrates 100 Seasons of Green Bay Packers football. It's free of charge on the Mid-Gate grass.
Kellie McGinnis is the Social Media & Digital Content Coordinator for Summerfest.
Posted in:
Music