Greeters, Guardians & Gatekeepers Recognized During Downtown Employee Appreciation Week
July 31, 2018 /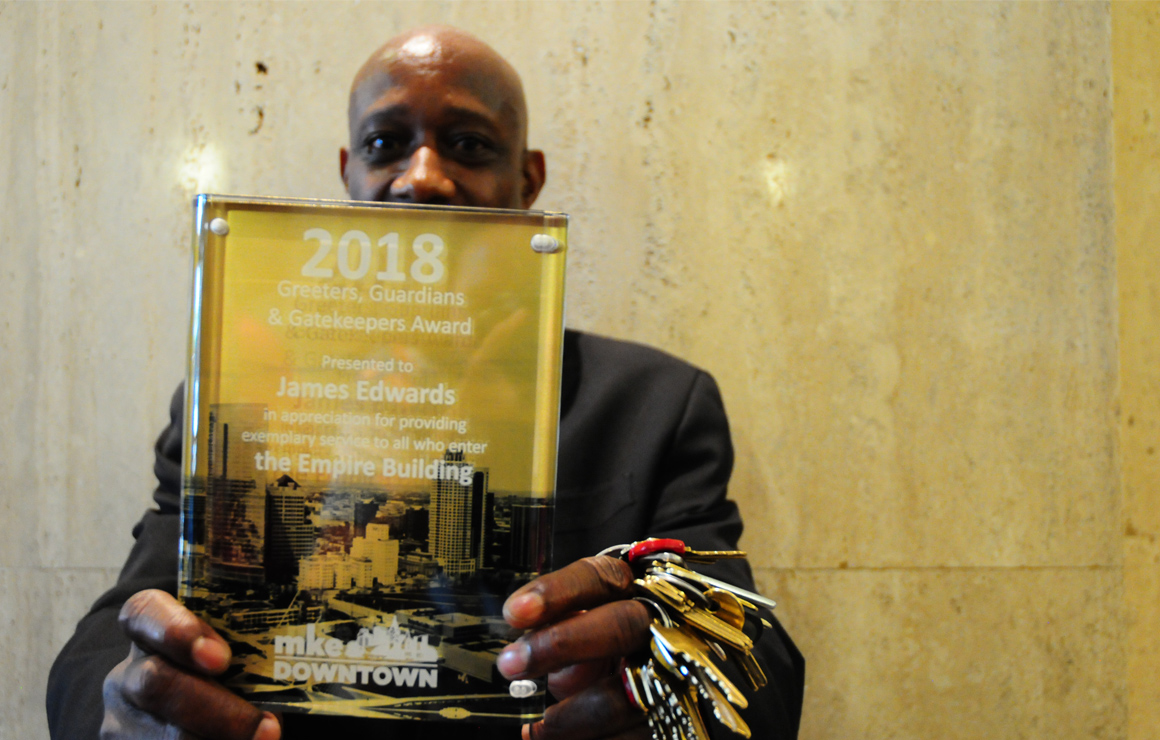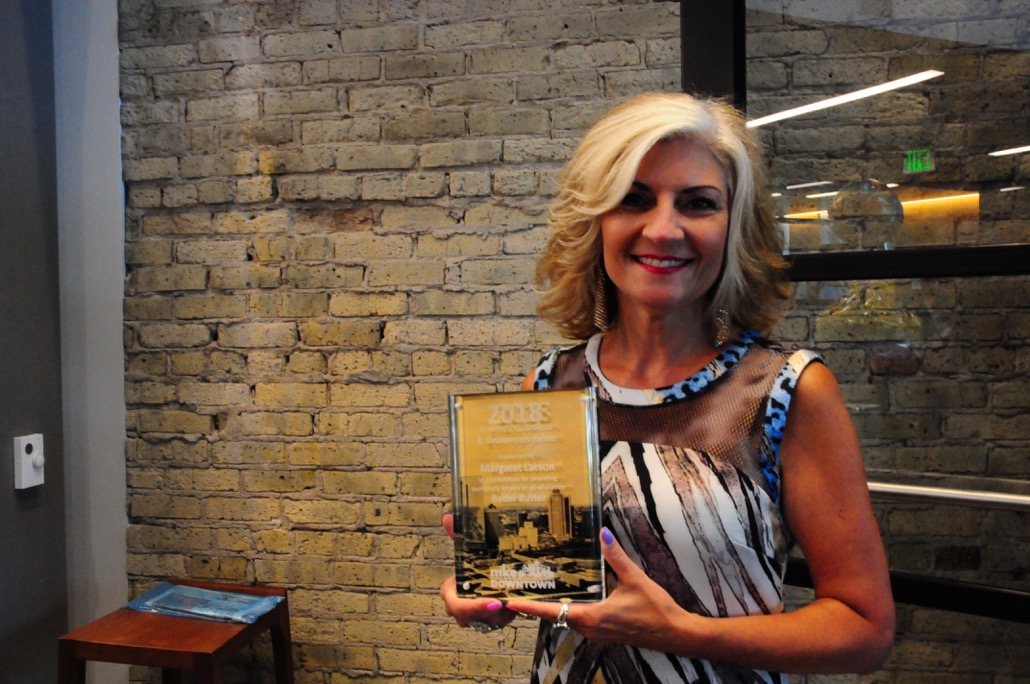 "Just give me a moment. I'm not used to getting all the attention," said a very surprised Margaret Larson after her team at Bader Rutter, members of Milwaukee Downtown and Roundy's revealed that she was a winner of the 2018 Greeters, Guardians & Gatekeepers Award.
Giving praise and attention to hardworking, unsung heroes is what the newly launched awards program is all about. As part of Downtown Employee Appreciation Week, the awards are designed to thank and recognize the doorpeople, concierges, lobby guards and gatekeepers who care for and protect the commercial thresholds in downtown Milwaukee. These professionals are on the front lines and wear many hats — sometimes literally. Doorpeople and concierges are the face of a business or building and have the power to shape a brand. They are charged with protecting real estate assets and property value. And they are integral to security operations, keeping guests and tenants safe and comfortable.
"When we published the call for nominations for Greeters, Guardians & Gatekeepers we hoped to hear a few stories about Milwaukeeans who go above and beyond the call of duty," said Beth Weirick, CEO of Milwaukee Downtown, BID #21. "We were blown away with more than 30 nominations, each with personal and heartfelt descriptions of remarkable individuals who add real value to the buildings they serve. It was incredibly difficult to select only five winners."
The judging criteria was organized by the following categories:
Loyalty and longevity
Brand ambassador
Property steward
Customer service champion
Safe and sound
Going above and beyond
The winners were notified at their place of work on July 25 and were surprised with a plaque and beautiful gift basket from Roundy's/Metro Market.
The first stop was at Bader Rutter, where Margaret Larson was celebrated by much of the agency's staff. Larson was hired just over one year ago as the company's first concierge. Bader Rutter CFO Eric Kirkhofer shared how the role has grown due to Larson's exceptional customer service, positive attitude and contributions to employee morale and team building. Larson is especially known for her "magic water" recipes. Each day she infuses water with fruits and unique flavors as a refreshing treat for visitors and staff.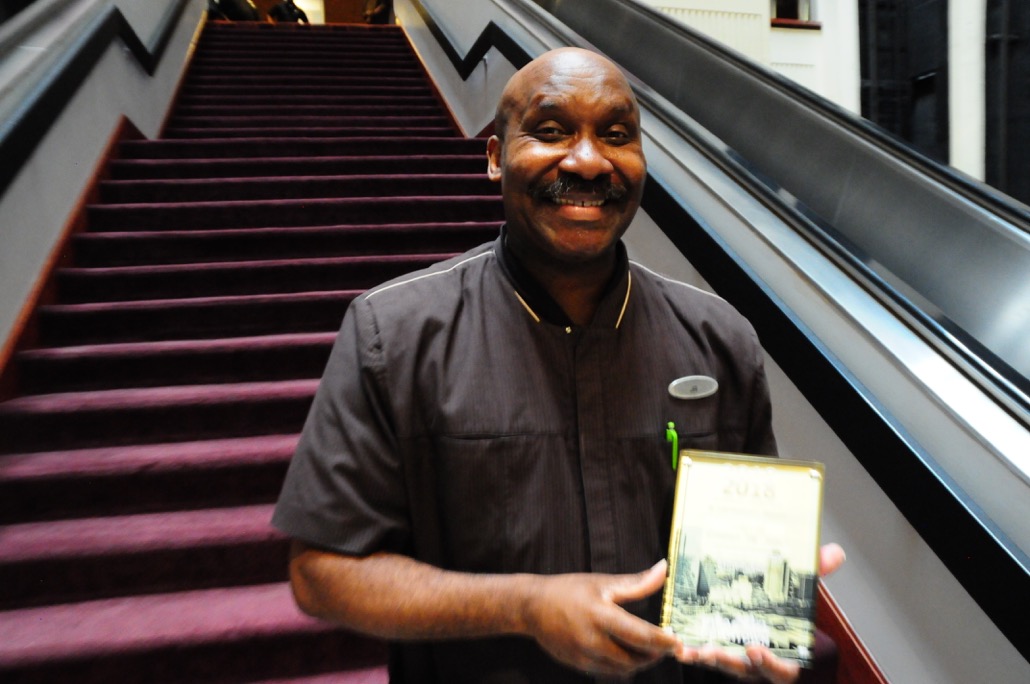 Claxton "JR" Tate, a bellman at the Hyatt Regency Hotel, was honored next. The awards committee were secretly ushered into the hotel through the service entrance so that they wouldn't be spotted by Tate. More than 50 of the Hyatt Regency team members filled the lobby to aid the surprise, which is a testament to how much Tate is cherished. After 36 years of service to the hotel, his positive impact was clear. Numerous team members shared stories of how Tate will physically run to expedite service for hotel guests and drops everything to help anyone in need.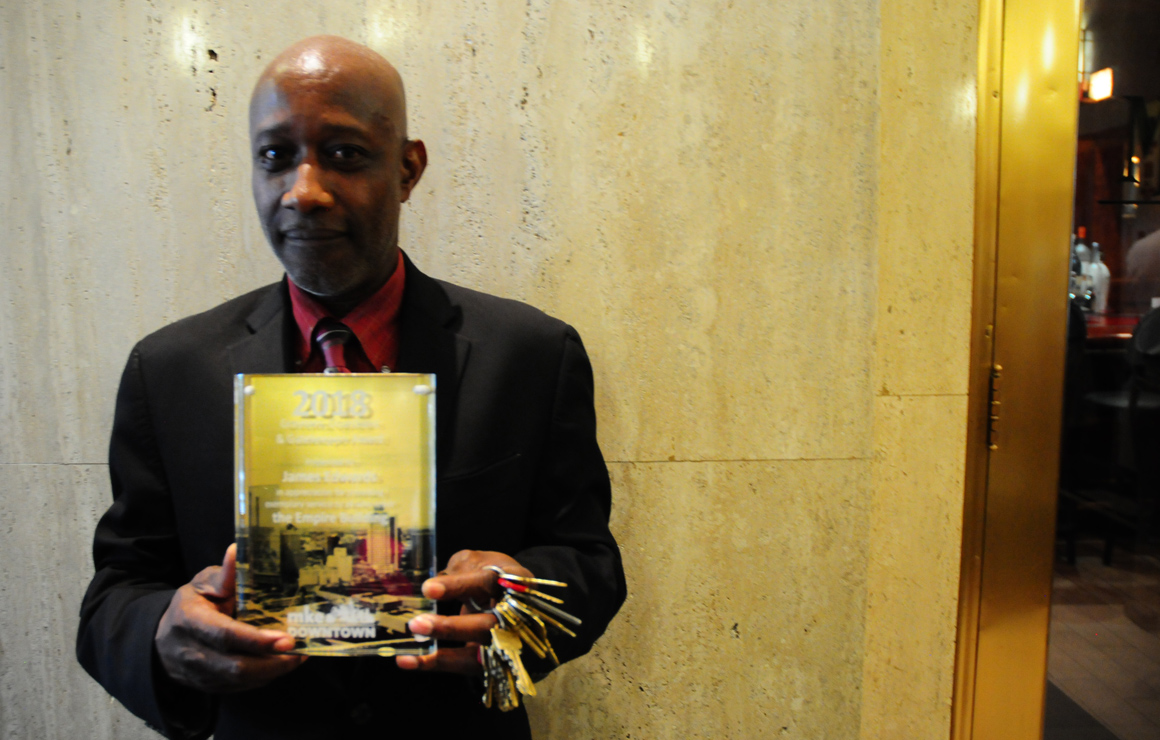 From the Hyatt, the awards committee traveled to the Empire Building on Plankinton Avenue, which is the home of the Riverside Theater and 12 floors of commercial office space. Lobby guard James Edwards was honored with a celebration arranged by the Zilber Property Group, which clearly caught him off guard. Weirick joked that this was the first and only event that went undetected by Edwards in his 10 years at the Empire Building. Edwards was hailed as a selfless protector of his building and the people who work in it. Tenants and co-workers affectionately refer to Edwards as the Sheriff of Plankinton & Wisconsin. Edwards also has a knack for remembering the names of nearly every vendor, guest and tenant who enters his building.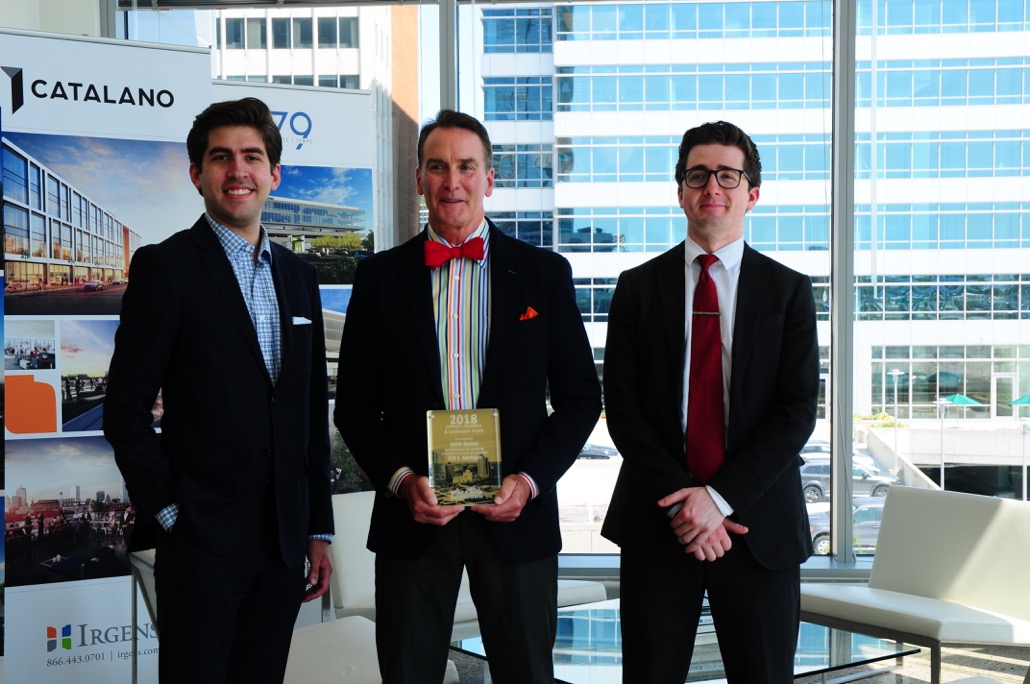 The final surprise was at the 833 East Michigan building. This class-A multi-tenant office tower is a newer addition to the Milwaukee skyline and is situated in close proximity to the Henry Maier Festival Park. Keith Sexton, the security director for the property, is an expert at prioritization while maintaining the building's uncompromising level of tenant service and steadfast security. Known as a snappy dresser and engaging storyteller, Sexton puts people before protocol and is a builder of genuine relationships. At his celebration, his peers gratefully described Sexton's unwavering dedication to his profession and the 833 building.
One remaining winner has not yet been able to accept the Greeters, Guardians & Gatekeepers award, but will be surprised in the coming weeks.
Although not on the award delivery route, it should also be noted that Millie the concierge dog at the historic Hilton Milwaukee City Center was nominated for and received a "paw"norary mention for delighting visitors and providing a comforting home away from home for two- and four-legged guests at her hotel.
The 2018 Greeters, Guardians & Gatekeepers Awards achieved its goal to transform a sometimes thankless job into a thankful one. Not only were five exemplary and deserving professionals elevated and recognized, but also, entire teams and tenant rosters gathered to celebrate their collective hard work and contributions to our city.
With congratulations and appreciation, we thank Margaret Larson, Claxton "JR" Tate, James Edwards, and Keith Sexton for making downtown Milwaukee's commercial buildings truly special places to work and visit.
Additional thanks are due to the official sponsors of the 2018 Greeters, Guardians & Gatekeepers Awards, Roundy's, and the building and property owners who embraced the program and hosted memorable celebrations to honor the winners.
Posted in:
Shopping