Give thanks! Downtown's chefs have Thanksgiving meals ready for you
November 20, 2020 /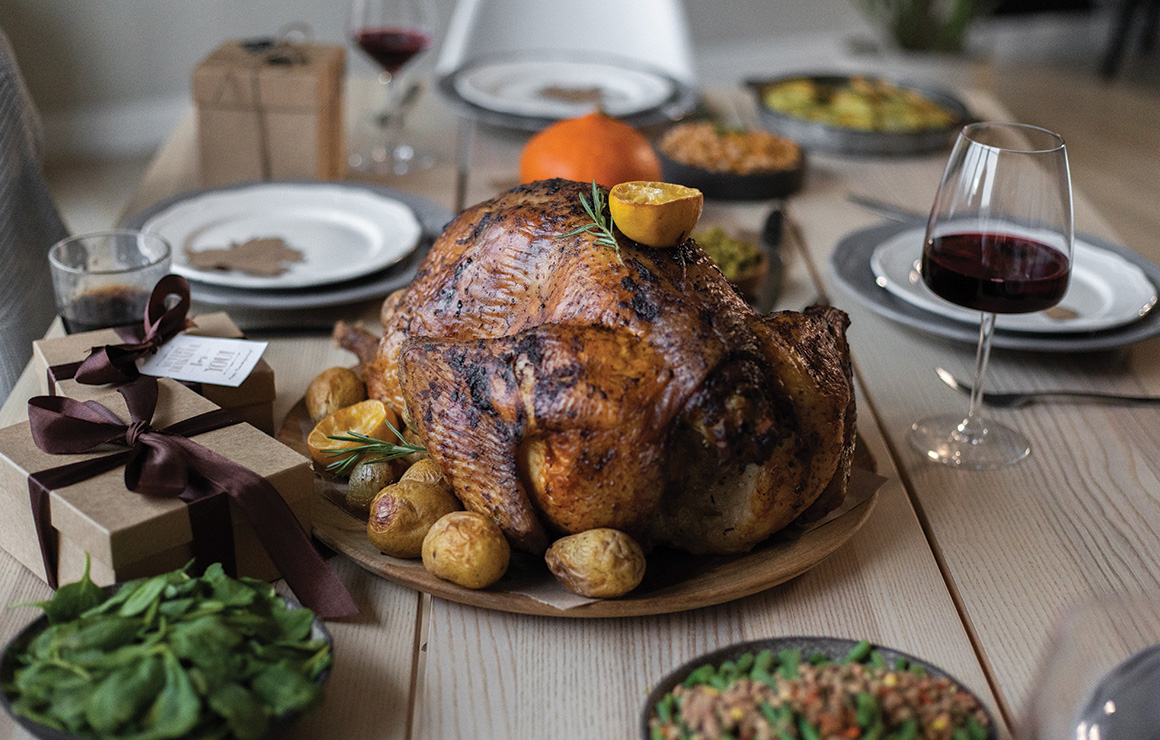 With Thanksgiving around the corner, take a load off and let downtown's chefs cook! It's a marvelous opportunity to take a break from the kitchen, indulge in a delicious meal, and support local restaurants. With heat-and-eat or ready-to-go takeout options, meals are available for pick-up and some restaurants have their dining rooms open. We have some of this year's options for Milwaukee restaurants ready to make your Thanksgiving meal (that you can still order this week).
Reminder that many holiday pre-orders for takeout and table reservations are required. Deadlines for Thanksgiving meals are coming up quickly - so order soon!
Enjoy an all-American grill for this holiday with wood-grilled steaks, seafood and a special Thanksgiving prix fixe menu. Mason Street Grill has both curbside takeout and dine-in on Thanksgiving day. For takeout, the holiday meal ($29 a person) includes a sage and orange basted turkey with roasted shallots, gravy and cranberry tangerine sauce, plus traditional sides like roasted fennel stuffing, whipped sweet potatoes, and green bean almandine. Dessert is included - choose either pumpkin pie or carrot cake. Get Holiday Side Dishes to-go, like roasted garlic mashed potatoes or truffle creamed spinach, that serve up to 12. Takeout can be hot or packaged to heat at home. Order at least 48 hours in advance by calling (414) 298-3131 or emailing info@masonstreetgrill.com. View the full Thanksgiving menu.
Mason Street Grill's dining room is open Thanksgiving day from noon to 7 p.m. A three-course turkey dinner will be available ($49.50, or $15 for children 12 and younger) alongside the usual menu of steaks, chops and seafood. Private dining rooms are also available for your family gathering. Reserve tables by calling the restaurant or at OpenTable.com.
Spending the holiday with close family this year? Ward's House of Prime has both individual turkey dinners and family-style dinners ready to eat. You can order a prime rib dinner for two ($100) up to whole prime rib (for 9 to 16, $425) along with sides such as buttered corn and mashed potatoes. A whole-turkey dinner feeds 10 to 20 ($250) and includes sides plus apple and pumpkin pie. Individual turkey dinners ($19.99) include sides of mashed potatoes, stuffing, corn, gravy, and cranberry sauce. Treat yourself to cake slices ($6) or whole pies ($16).
Order online or call (414) 223-0135 by November 25 to place your order. Curbside pickup is from 10:30 a.m. to 1 p.m. on November 26. View the full Thanksgiving menu.
The Thanksgiving Take and Bake packages include sliced turkey breast, garlic herb mashed potatoes, gravy, green beans, stuffing and Hawaiian dinner rolls. Various meals packages are available for dining at home including for 2 ($49.95), for 4 ($89.95) and for 8 ($159.95). You can order yummy extras like more turkey ($9.95 a pound), wine, and a whole apple or pumpkin pie ($14.95 each). Order online by November 20 and pick up between 11 a.m. and 7 p.m. on November 25. View the full Thanksgiving menu.
Make it a Rare Thanksgiving this year. With dinners for families of 2, 4, 6 available, the Thanksgiving Menu includes herb-crusted turkey breast and legs, classic mashed potatoes, cranberry compote, roasted tricolor carrots and more ($40 a person). For dessert, enjoy a pumpkin cheesecake with sweet cream. A kid's meal is available with options like mac & cheese and corn dogs if your little one prefers a different menu this holiday ($15 a child).
Call (414) 273-7273 to place your order by November 21 and pick up from 2 to 6 p.m. November 26. View the full Thanksgiving menu.
The Pfister Grand Ballroom is the perfect destination for your family's Thanksgiving Bountiful Brunch. On Thursday, November 26 from 11 a.m. to 2 p.m., each table will have a family-style feast of fresh salad, a Wisconsin cheese board, freshly baked goodies , and tasty carved meats with all the traditional trimmings. Reservations are required - call (414) 390-3898 or email matthewsmith@thepfisterhotel.com. Prices are $59 per adult, $21 per child 3 to 10 years, and 2 and under free.
Leave the cooking to Mader's this year. Dine in on Thanksgiving for a holiday brunch or enjoy a Mader's Thanksgiving from the comfort of your own home. The holiday menu includes apple & herb roasted turkey with gravy, whipped potatoes, roasted corn, candied sweet potatoes and dressing ($28 per person). Pumpkin pie, of course, for dessert.
Call (414) 271-3377 to place an order by November 25 and pick up on November 26 between 9:30 and 11 a.m. View the full Thanksgiving menu.
Enjoy a full Thanksgiving meal with a slow-roasted turkey and traditional trimmings in the Capital Grille dining room ($43, or $15 for children). Reserve your table online or call (414) 223-0600.
And what's better than chef-prepared Thanksgiving sides? Avoiding all the extra dishes! You can take home Capital Grille Thanksgiving sides this year. Sides at home include brioche stuffing, french green beans, cranberry-pear chutney, Sam's mashed potatoes and more (7 sides for $125). Each side serves 4-6 people.
Order online by November 25 and pick-up is available on November 24, November 25 or November 26. If you pick up before your Thanksgiving meal, refrigerate the prepared sides and simply reheat when ready to eat! View the full Thanksgiving side menu.
---
About the Author: Terese Radke is a senior at the University of Wisconsin-Milwaukee (graduating December 2020!) and the Special Events & Marketing Intern with Milwaukee Downtown, BID #21, advancing downtown's strategic priorities through marketing, events and social media.
Posted in:
Dining & Nightlife