Explore Great Downtown Hotel Deals Throughout March!
March 16, 2021 /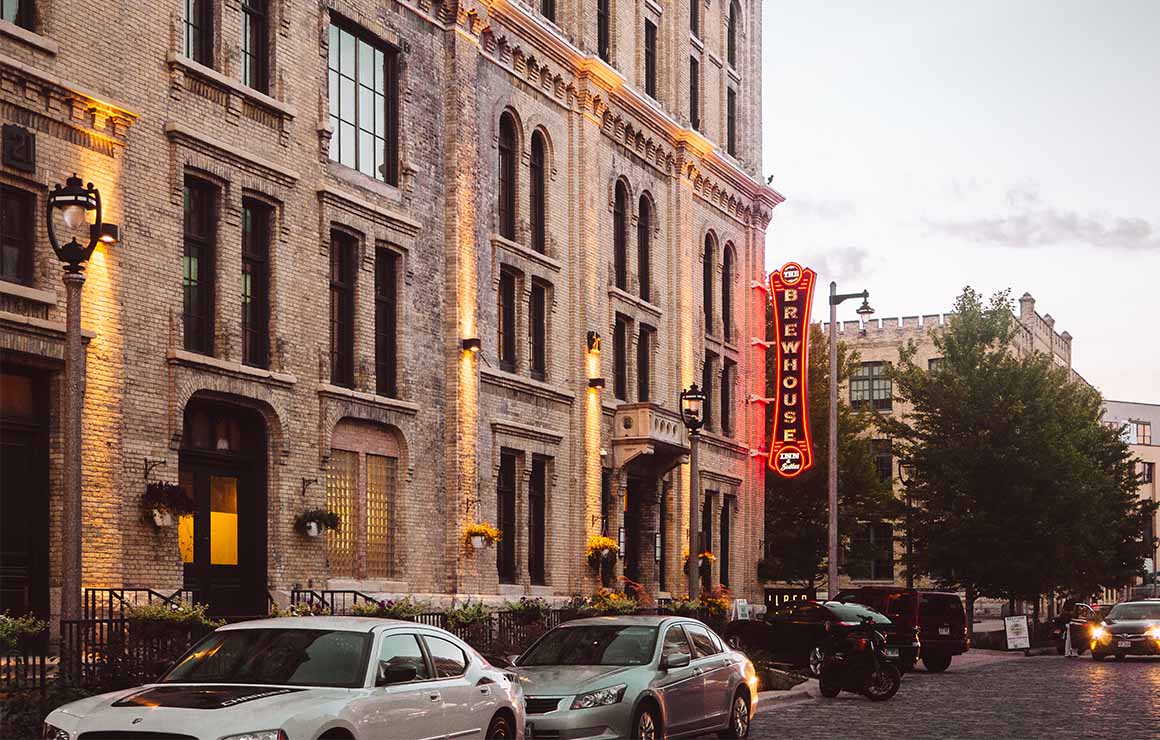 If the middle of March has you in a rut, then a getaway is exactly what you need! You're in luck since March is Milwaukee Hotel Month, and almost 20 downtown hotels are offering exclusive packages and rates starting at just $75. With so many options, let's break down each enchanting spot - perfect for a week, weekend, or night away.
Check out VISIT Milwaukee's Milwaukee Hotel Month page for full details and book your getaway today! Make sure you explore all that Milwaukee Downtown has to offer during your stay. 
$75/NIGHT
Right in East Town, the historic Loyalty building is surrounded by restaurants, boutiques, and just a short walk from the Historic Third Ward. With this amazing rate, you also receive complimentary breakfast for two! 
Spend the day exploring the Historic Third Ward and make sure to stop by the Milwaukee Public Market when you stay at Homewood Suites. And if you don't want to miss your workout during your stay, there's a fitness center clean and ready for your use with this offer.
Tru by Hilton is a fresh hotel between East Town and the Historic Third Ward. Just a few minutes away from the lakefront, you'll feel relaxed in their modern rooms.
$100/NIGHT
Soak in stunning views of the Milwaukee RiverWalk and city from your room at Aloft. Plus, this hotel is right on Old World Third Street just steps away from beloved bars and restaurants. This special package gives you an upgraded River View room, valet parking, and your choice of Romance or Family themed welcome gift at your arrival.
The Brewhouse is a boutique hotel in the Historic Pabst Brewery, located in Milwaukee's Brewery District. Get in the Brew City spirit with delightful bars or breweries close-by, like MKE Brewing Company. The cherry on top is a gourmet snack bag (including local treats from Usinger's Famous Sausage and Jane's Popcorn) waiting for you at check-in. 
Get a good night's sleep at the Cambria Hotel! You'll have downtown at your fingertips when you stay in the Westown neighborhood. From restaurants on Old World Third Street to the RiverWalk, you won't be bored. 
The Courtyard Marriott is a quick walk to many great sights downtown. Visit the Milwaukee Public Museum or take a stroll through Zeidler Union Park during your stay. Looking for great views? Relax in a balcony room, a complimentary upgrade for Hotel Month. 
No need to leave your furry friend home during your getaway because the Drury Plaza Hotel is pet-friendly. This hotel is a gorgeous historic renovation with a pool and it's a hop, skip, and a jump away from the Third Ward. 
Built in 1927, the Hilton Milwaukee City Center is a classic art deco hotel. Enjoy the public art and historic architecture Westown has to offer during your stay. This package also includes overnight self parking.
The Hyatt Place hotel is located in the Brewery Area, nearby the Fiserv Forum. Whether you chill in your room or take in the sights of downtown, when you stay here during Hotel Month, a complimentary bottle of wine or champagne is included with your stay.
$125/NIGHT
The DoubleTree is a perfect spot to relax. On the edge of Westown, you're still close to the independently-owned restaurants on Old World Third Street and fun attractions like the Harley Davidson Museum. Kick back on their seasonal sun deck or indulge in a meal from the Avenue Bar & Grill, which is full of local Milwaukee flavor. 
Recharge at the Hyatt Regency. Stroll the Milwaukee River or Pere Marquette Park all the while being close to the buzzing Old World Third Street entertainment district. With this package, you receive breakfast for two at the onsite Starbucks!
Right on the river, bask in the natural light and stunning views from the Residence Inn's oversized windows. This comfy ambience will have you ooo-ing and ahh-ing during your stay. Also, the TVs have Netflix at the ready.
The Plaza Hotel is brimming with 1920s art deco vibes that will leave you feeling revitalized. Located on the lower east side, find neighborhood favorite spots to explore in walking distance. This package includes parking and a complimentary cafe beverage. 
$150/NIGHT
The Dubbel Dutch has transformed an empty 1898 building into a charming hotel. Each room is unique with its own character - ask for the Building Tour and History Talk included with your stay to learn more about this gem.
Feel absolutely artsy when you stay at Hotel Metro, a boutique hotel in a central downtown spot. Look out over the city from the rooftop bar or grab a bite at their restaurant, Oggie's.
This hotel in the Yankee Hill neighborhood is a short distance to Brady Street or the Lakefront Brewery. The Knickerbocker is offering one $100/night deal and two $150/night deals - choose between a $50 gift certificate to The Knick Restaurant or a $60 credit toward services at The Knick Salon & Spa.
Built in 1893, The Pfister Hotel is an iconic landmark in the heart of East Town. Enjoy dazzling views and luxury drinks from their 23rd floor bar, Blu. The complimentary upgrade to a Pfister King Suite is no joke -  this suite has two rooms: a parlor and a bedroom with one king-size bed. 
Take an art-lover's getaway at Saint Kate. You won't tire from exploring the art exhibits and three bars (yes, three) located inside this beautiful building. This package provides a complimentary upgrade to a Superior King room which is a roomy suite with a King bed with separate living room area. 
When you stay at the Westin, you're near the lakefront and Milwaukee's multitude of museums with an unparalleled view of downtown. Plus, the hotel's steakhouse, Stella Van Buren, has delicious eats and fun cocktails.
---
About the Author: Terese Radke is a recent graduate of the University of Wisconsin-Milwaukee and the Special Events & Marketing Intern with Milwaukee Downtown, BID #21, advancing downtown's strategic priorities through marketing, events and social media.
Posted in:
Hotels