Spring walking routes for when you have 30 minutes, an hour and 2 hours
March 11, 2021 /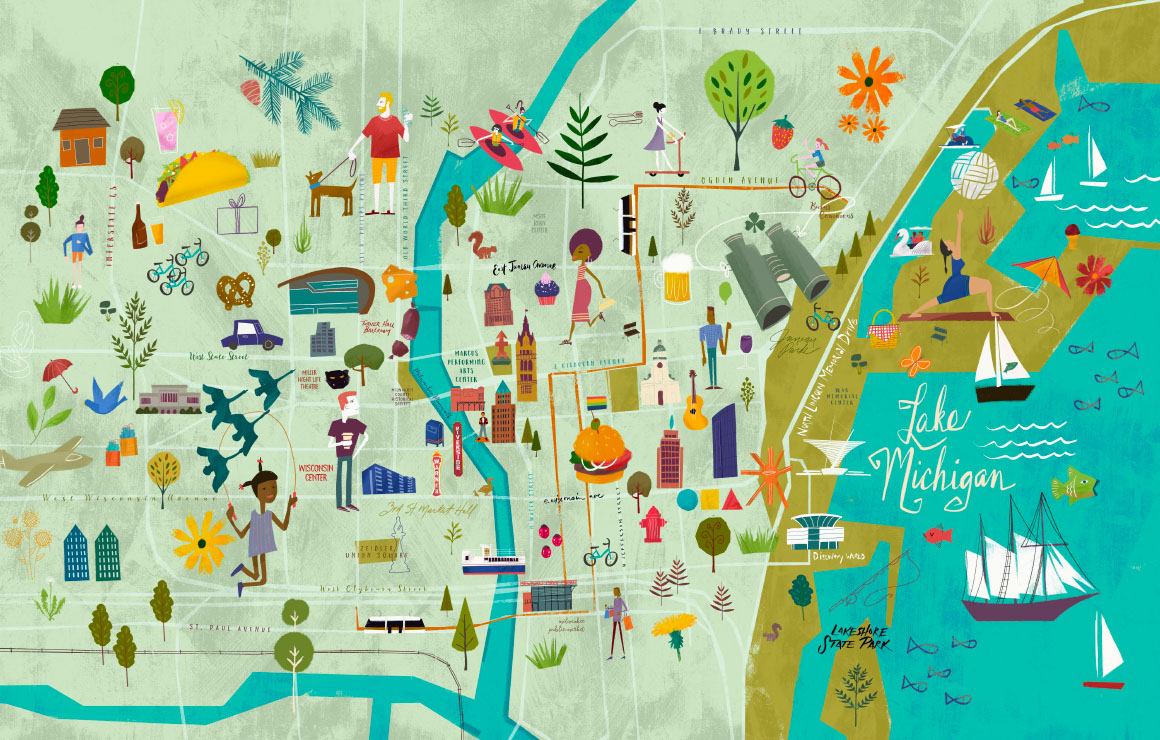 As snow is melting, the warmer temperatures and sunshine means it's time to bust out of hibernation and stretch your legs. Strolling about downtown in the early morning, mid-day or evening for fresh air is not only great exercise, but an awesome way to explore what Milwaukee has to offer.
If you have 30 minutes… try a Westown Stroll (1.4 miles)
Start at: Pere Marquette Park, facing south (towards Benihana)
Points of interest: Postman's Porch,  Bradley Symphony Center, "Apollo/Poll," "Kindred," "Westown in Bloom,"  "Heart & Sol," "The Hero in You" 
Start your walk off right in the wide space of Pere Marquette Park. There's plenty of public art at the edge of the park so be on the lookout for public art gems. Head down Plankinton Avenue toward the Letter Carrier's Monument. Stay tuned for Postman's Porch returning in the summer as a beloved urban outdoor space. Make a right onto Wells and then left onto 2nd Street. Once you hit Wisconsin Avenue, view all the gorgeous architecture along the street. 
But first, take a quick detour south down 2nd Street to see the 2nd Street skywalk mural, "Kindred" by Jaime Brown. Back up to Wisconsin Avenue, you'll pass by the Bradley Symphony Center, the new home of the Milwaukee Symphony Orchestra, featuring the historic Warner Grand Theatre sign outside. You'll also see the new facade of The Avenue where the work for the 3rd Street Market Hall is advancing. 
Continue your stroll west where you'll find Nari Ward's "Apollo/Poll" for Sculpture Milwaukee at the corner of Vel R. Phillips Avenue and Wisconsin Avenue.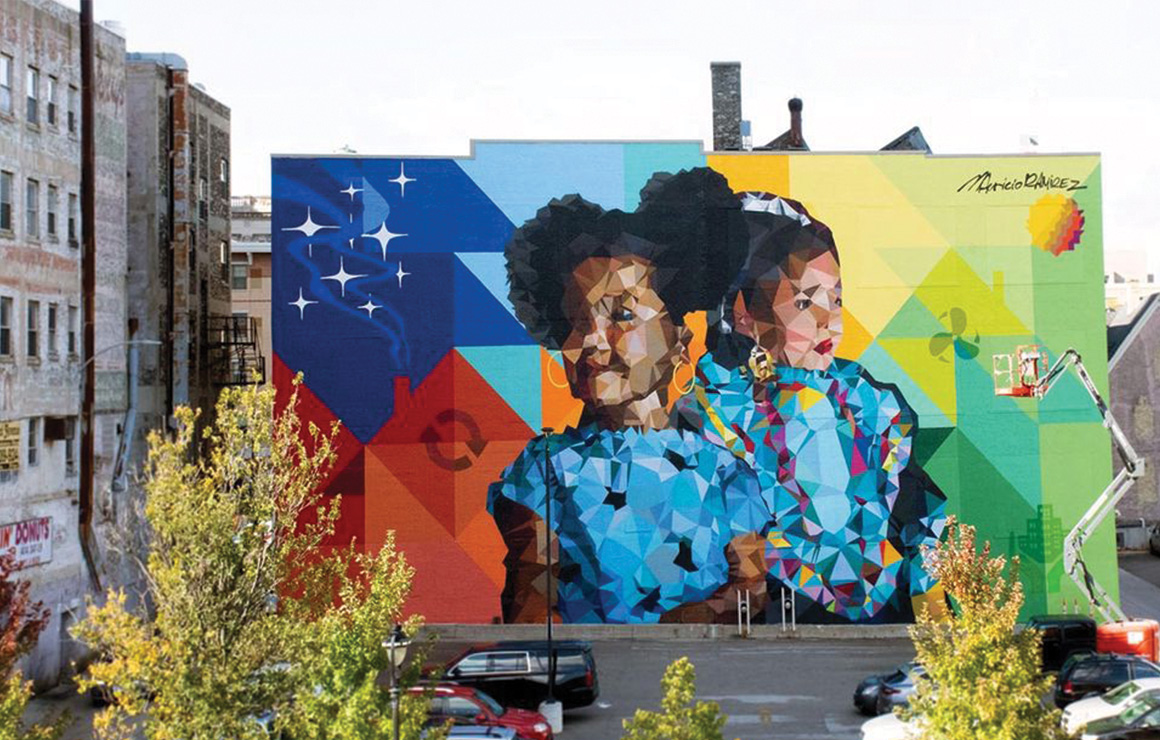 Don't forget to peek around the corner of Dunkin' at Wisconsin Avenue and James Lovell Street to see Emma Daisy Gertel's mural "Westown in Bloom." From there, walk a short distance back to 6th Street to see the "Heart & Sol" mural by local artist Mauricio Ramirez (pictured). Painted on the side of Community Advocates, Inc., this mural is downtown's largest to date. After gazing at this colorful masterpiece, walk west on Wells Street to James Lovell Street and stop by the Milwaukee Public Museum. The museum is reopened to the public so plan a safe visit today! 
Continue north towards the MacArthur Square parking structure, located at 841 N. James Lovell Street, to see Milwaukee artist Ken Brown's mural "The Hero in You." This mural celebrates the city's essential workers and frontline heroes during the COVID-19 pandemic. From here, walk east towards the river on Kilbourn Avenue to make your way back to Pere Marquette Park. 
After you've taken your walk, consider grabbing a bite from Calderone Club or San Giorgio right across the street. Head north on Old World Third Street (soon to be King Drive) to choose from a plethora of delicious restaurants. 
If you have an hour… take on an East Town Trip (2.5 miles)
Start at: Grohmann Museum
Points of interest: Grohmann Museum's "Men at Work," RiverWalk, The Bronze Fonz, Milwaukee Public Market, Brighten the Passage, "Blob Monster," "Massimals," City Hall
Ready for a walk full of public art, architecture and parks? Begin your walk at Grohmann Museum. Glance up and find "Men at Work" on top of the museum (don't worry, they're sculptures). Head west on State Street towards Broadway til the Marcus Performing Arts Center comes into view. Pro tip: at night, the building comes to life with fun colored lighting painting the sides. Make your way towards the river and turn south to stroll the RiverWalk. You'll see The Bronze Fonz, Mason Street Dock and Carlos Rolón's "Gild The Lily (Caribbean Hybrid I, II, III)" at the Chase Tower as you walk beside the river. Enjoy the RiverWalk all the way to the Milwaukee Public Market. Stop in if you're feeling hungry - you'll find a diverse array of eats!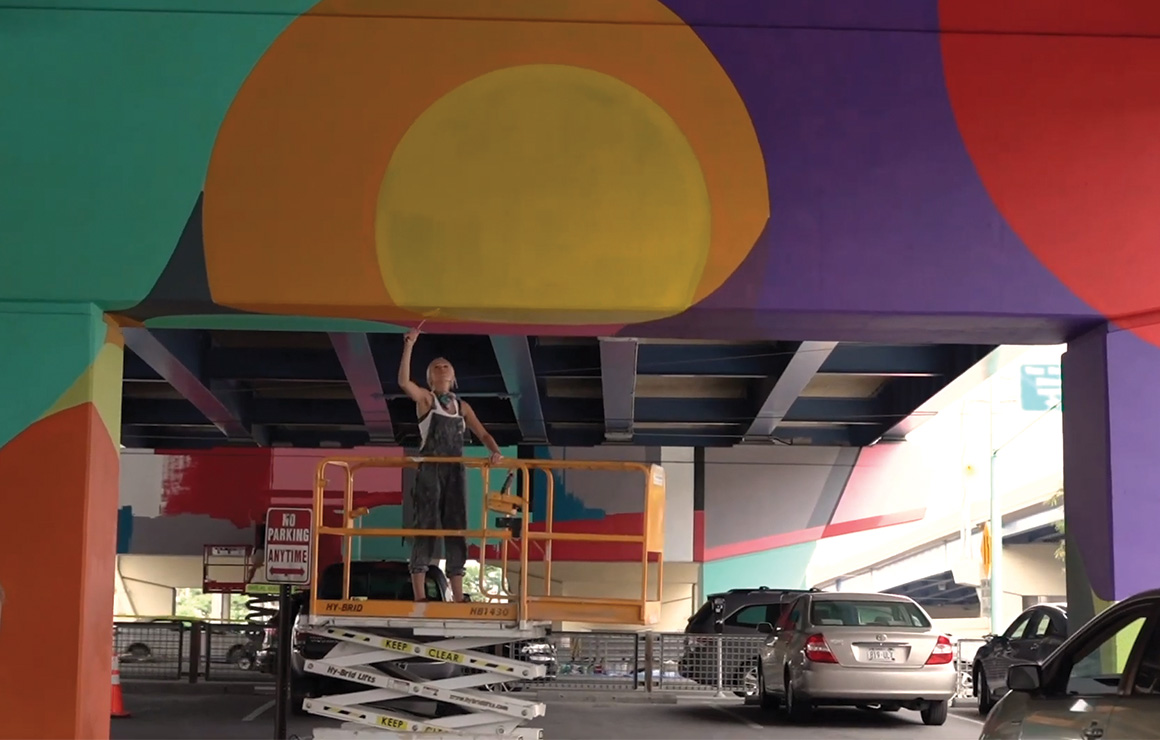 Walk north on Broadway to see Brighten the Passage, an outdoor art gallery under the freeway. After posing for some cute photos at one or all four of the murals (pictured: "Underpass" by the Couto Brothers), head to Wisconsin Avenue. Once there, take a right. There's plenty to enjoy along your walk like Tony Tasset's giant sci-fi "Blob Monster" on the corner of Wisconsin and Jackson. Next, you'll walk past the Wisconsin Gas Building. Ever wonder what the different colored flame on top of the building means? Check out this article for the scoop.
At the end of Wisconsin Avenue, you'll see one of Milwaukee's biggest and brightest sculptures, "The Calling" by Mark di Suvero. Nested in Museum Center Park, you'll also find "Holiday Home"  by Richard Woods from Sculpture Milwaukee. Sneak a peek at the beautiful Milwaukee Art Museum on the lake.
Head north on Prospect Avenue and walk along the edge of Juneau Park. Feeling adventurous? Take a detour and walk the Oak Leaf Trail through the park. Swing a left on Kilbourn Avenue and walk towards Cathedral Square Park. You'll see something unusual there… a family of bears strolling through the park! "Massimals" by Jason Scroggin is a delightful reminder to get out and enjoy our city. Check back for a fun summer surprise with these bears. Around the park you'll find some great places to dine. Enjoy takeout or patio seating at Taylor's or SportClub. Finish your walk up by heading west on Wells Street towards the Milwaukee City Hall.
If you have two hours… stride all over Downtown (about 6 miles)
Start at: The Fountain in the Deer District
Points of interest: Milwaukee Public Central Library, Brighten the Passage, Catalano Square, Hoan Bridge, Pierhead Lighthouse, Lakeshore Park, Milwaukee Art Museum, Red Arrow Park and many murals
Follow this map to Juneau Park, then this one.
This one's a 6-mile walk, but if you're game, you'll see gems all over downtown. First, start at the Deer District. Walk south down Old World Third Street (soon to be King Drive). Enjoy the historic, Germanic architecture along Old World Third Street and the stunning Fiserv Forum. If you're looking to eat before your walk, this district features some great outdoor dining spots. 
Take a right at Wells Street and walk past the Milwaukee Public Museum. Swing by Clas Park and head south towards Milwaukee Public Central Library on 9th and Wisconsin. It has some of the most impressive architecture in the city. Pro tip: head inside and peek at the ceiling - it's gorgeous!
Along Wisconsin Avenue, you'll find "Westown in Bloom'' by Emma Daisy Gertel on the side of Dunkin' Donuts. Make sure to duck up 6th Street to see downtown's mural, "Heart & Sol" by local artist Mauricio Ramirez.
Continue on Wisconsin Avenue pass The Avenue and Bradley Symphony Center until you hit 2nd Street. Walk south to see "Kindred," another new mural by Jaime Brown adorning the 2nd Street Skywalk. 
Turn on Michigan Street and cross the river. Once you reach Broadway, head south to walk through Brighten the Passage. Completed in the fall of 2020, these four new murals celebrate the connection between downtown and the Historic Third Ward. Pro tip: At night, check out the dazzling lights that literally brighten the passage.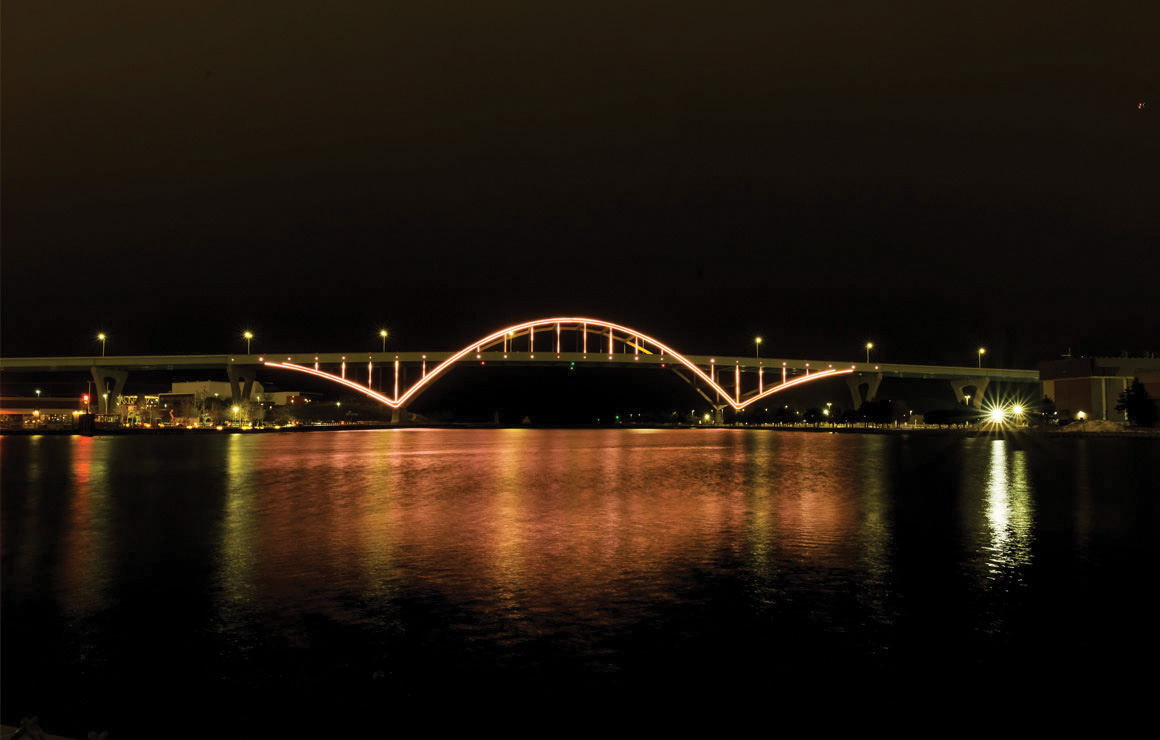 Enjoy the walk through the Historic Third Ward to Catalano Square. Make sure to check out the sculptures around the square. Next, follow Erie Street all the way to the Hoan Bridge. Put seeing a Light the Hoan show on your bucket list if you haven't seen the bridge aglow yet. Walk under the Hoan towards the Milwaukee Pierhead Lighthouse. Follow the trail to the left and head behind the Summerfest grounds. (Photo Credit: Front Room Photography).
Here you'll find one of Milwaukee's greatest public spaces, Lakeshore Park. Take a moment to look at Milwaukee's skyline from this park - it's truly stunning. Rest on one of the many benches for a quick break and then continue past Discovery World, re-opening March 27, towards the Milwaukee Art Museum (now open!). Walking up the stairs and across the bridge over Lincoln Memorial Drive. Pass by "The Calling" by Mark di Suvero and walk through Juneau Park. In need of a refreshing drink? Stop by Fairgrounds Coffee and Tea as you make your way on State Street. 
Take a left to get to Kilbourn Avenue. You'll stroll past Cathedral Square Park - wave to the "Massimals" bears! Continue west on Kilbourn to find Red Arrow Park. Watch this space for exciting improvements in the summer months.
Walk north on Water Street to Knapp Street, making your way across the river to Haymarket Square Park. Head down Old World Third Street to where you started at the Deer District.
Happy Walking, Milwaukee!
Explore downtown's 140+ sculptures, monuments, and murals, and learn more about Milwaukee's public art here.
About the Author: Terese Radke is a recent graduate of the University of Wisconsin-Milwaukee and the Special Events & Marketing Intern with Milwaukee Downtown, BID #21, advancing downtown's strategic priorities through marketing, events and social media.
Posted in:
Arts & Culture
Posted in:
Museums & Galleries